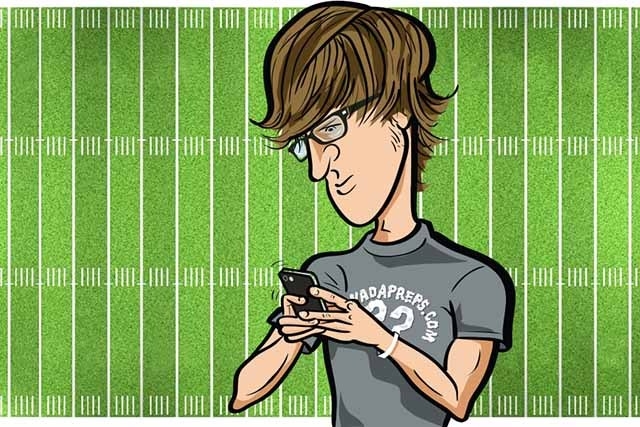 This is my favorite time of the prep football season.
Not only is the weather finally cooling off, but the chase for the playoffs really heats up. Plus, this is usually when the "Silverado Slide" starts to kick into gear, although we don't really need to worry about that from coach Andy Ostolaza's crew this season.
Typically, that's more than enough to keep me entertained for a couple of weeks before Halloween — well, that and all the homework my Spanish teacher keeps piling on. Dios mio!
But as an added bonus this season, there's a grip of quarterbacks in town who have made for some enjoyable viewing.
Last week, Liberty senior QB Tyler Newman tied the state record by throwing nine touchdowns in a 62-12 victory over Del Sol. I'm not sure what's more amazing: The fact Newman threw that many TDs or that someone else did, too. (Hopefully, Newman won't carry a samurai-style sword into a Dairy Queen like the late Bongkuk Pak, who threw nine TDs for Las Vegas High against Valley in 1993.)
Newman's Arena Football League numbers managed to overshadow the spectacular QB duel that took place under the Thursday night lights between Foothill's Drew Doxtator and Basic's Antraye Johnson.
Doxtator threw for 329 yards and three scores in the Falcons' 30-27 win. Johnson racked up 499 all-purpose yards, kicked the tying field goal with 4:19 left and scored on a 67-yard scramble to open the third quarter that one R-J writer tweeted was the "play of the year." He might be right.
Of course, I haven't even mentioned Green Valley's Christian Lopez and Las Vegas' Trevor Swenson, who staged a pretty epic head-to-head duel of their own Friday, or the five-TD performance by Cimarron-Memorial's Derek Morefield.
The valley isn't typically known for producing QBs, but it seems like almost every top team is getting solid play from that position. Looks like I need to finish my Spanish homework earlier so I can check out a few before the end of the regular season.
While the QBs in the area were dazzling, I had a lackluster week going against the spread. Hopefully I can turn it around with these picks, and make sure to visit Nevadapreps.com for a few more.
■ Cimarron-Memorial at Bishop Gorman — The Spartans ruined my "upset special" last week by shutting down Desert Oasis and carry their 5-0 record into this Southwest League showdown against the No. 1 Gaels. Cimarron coach John Parcells believes his team can compete with mighty Gorman and wants his players to believe, too.
I believe the Gaels had a letdown six days ago against a quality in-state opponent and won't let Cimarron running back Michael Barnson grind out yardage and chew up the clock. … Gorman by 21.
■ Bonanza at Legacy — The Southwest League is the most competitive in the area from top to bottom, and neither team can afford to fall to 0-2 if it wants to reach the postseason.
The Bengals held Centennial to one touchdown last week and will need to do the same against the Longhorns. Don't count on it, though. Even Gorman couldn't hold Legacy running back Casey Hughes to less than 100 yards last week. … Legacy by 10.
■ Coronado at Foothill — Is it just me or is there a big game in Henderson every week?
Last week, the Cougars got a reprieve after playing four straight ranked teams and scored 62 points against Eldorado. Now they'll face Doxtator and the Falcons' potent passing game. I hope the scoreboard is ready because it's going to get a workout. … Foothill by 2.
■ Moapa Valley at Virgin Valley — It will be rocking in Mesquite when these bitter rivals square off with the "Victory Hammer" on the line. The game lost a bit of luster when the Bulldogs dropped a heartbreaker last week, but there's still plenty at stake. A win by the Pirates would set up a battle for the Division I-A Sunrise League title against Desert Pines next week. … Moapa Valley by 3.
Last week: 7-1, 4-4 (with points)
Season: 45-11, 38-18 (with points)
Contact Fielder at Fielder@nevadapreps.com. Follow him on Twitter: @FielderNVP.