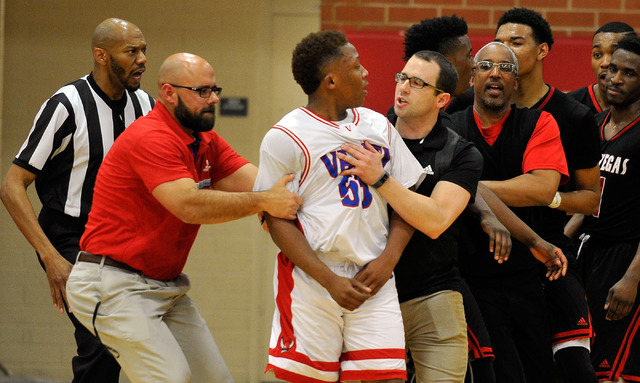 Guards Darrion Daniels and Cameron Burton are the leading scorers for Valley's boys basketball team. But it was the frontline that sparked the Vikings on Tuesday.
Shea Garland, Taveon Jackson and Nick Brannon combined for 47 points, and Valley knocked off visiting Las Vegas 77-61.
During one stretch early in the fourth quarter, the second-ranked Vikings (19-2, 2-0 Northeast League) got the ball to Garland and then Brannon on the left block on consecutive possessions for easy buckets.
Garland finished with 21 points and seven rebounds.
"Those are probably two of the best athletes in Las Vegas, two of the strongest guys in Las Vegas," Valley coach Brian Farnsworth said. "I know (Las Vegas High has) some decent size, too, but knowing what they do in practice every day and how big and strong they are, I'll take my chances with them on the block."
Garland had nine points in the fourth quarter to help Valley extend its lead. The Vikings led 57-51 after three quarters.
"Down the stretch, I think defense became the biggest factor in the game," Farnsworth said. "Our guys buckled down and were determined. We've got a good group of seniors that are determined to win despite anything and put all their differences aside."
Fourth-ranked Las Vegas (14-4, 2-1) was 9-for-30 (30 percent) from the field in the second half.
While Garland finished strong, Jackson got the Vikings off to a fast start. He had 12 points and six rebounds in the first half.
Jackson, a 6-foot-7-inch senior, was especially impressive crashing the offensive glass. He finished with 14 points, 10 rebounds and three steals. Six of his seven field goals were put-backs.
"I think he flies under the radar a little bit," Farnsworth said. "People don't think he's very good. And he's a really good basketball player.
"He kind of got us going early. He had double digits in the first half and really got things going and played with energy, and guys just fed off that."
Daniels had 16 points, and Burton and Brannon each scored 12 for the Vikings. Burton also had nine assists and three steals.
Devon Colley led Las Vegas with 15 points. Tyler Bey had 14 points and 11 rebounds, and Patrick Savoy scored 11 for the Wildcats.
Things got ugly with 1:12 to play after Jackson fouled Bey hard on the baseline. Players had to be separated several times, and one adult was escorted off the floor and out of the gym.
After the dust settled, officials called four technical fouls and ejected Savoy.
"It's a rivalry game," Farnsworth said. "They're all friends. In the heat of the battle, it's just like playing against your brother in the backyard. It happens."
Contact prep sports editor Damon Seiters at dseiters@reviewjournal.com or 702-380-4587. Follow him on Twitter: @DamonSeiters.