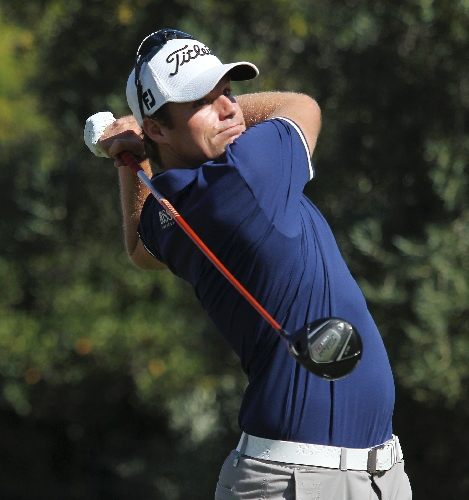 Even Nick Watney was surprised to find himself in the position he's in.
Despite having two PGA Tour victories this year and being the highest-ranked player in the field at No. 9 on the FedEx Cup points list, the 30-year-old Henderson resident didn't see himself contending for the title at the Justin Timberlake Shriners Hospitals for Children Open. He had just come off four exhausting weeks of competition in the FedEx playoffs, and he admitted he was tired before he teed off in Thursday's first round.
Yet here he is, tied for the lead with Las Vegas' Kevin Na heading into today's final round at TPC Summerlin.
"It's a pleasant surprise," Watney said after a 7-under-par 64 Saturday, which gave him a 17-under 196 total. "My main thing was I didn't want to miss the cut at a home tournament."
That's the last thing he needed to worry about. Watney has kept the ball in play all week and made enough quality putts to earn his spot atop the leaderboard. He birdied five of his last six holes Saturday — including 16, 17 and 18 — and has not had to gamble to put up a number.
"I'm trying to keep it really simple," Watney said. "I've driven the ball pretty well, and I've hit quite a number of greens, and I think that's what you need to do — give yourself as many chances as possible. The course is right out there in front of you. It's fairly short for tour standards, and it's just about execution."
Na has used the same strategy, moving into position to win the first prize of $774,000 this afternoon. He has just two bogeys in 54 holes, and he continued to hit fairways and greens, then make putts in shooting 66 on Saturday.
"I got off to a really good start on the front nine and made five birdies," Na said. "I felt like I could go real low with a bunch of birdies on the back. Unfortunately, I slowed down a bit and missed a few short ones. But to finish 5 under for the day, I was pretty pleased."
Na credits a change in his swing this year for helping him play more consistent lately.
"It's been kinda streaky," he said. "Sometimes it works, sometimes it doesn't. But it started coming together just before the PGA (Championship), I've felt really comfortable with my swing, and I was well-rested. I had a good feeling going into this week."
But while Watney and Na might be playing similar low-risk, high-reward golf, there will be a major difference today between the two locals, who will tee off together with Robert Garrigus in the final group at 11 a.m. Watney is a multiple winner on the tour, with four victories, while the 28-year-old Na is still searching for his first win in eight years on the tour.
"I think, for me, experience is very key, knowing how to handle certain situations," Watney said. "But everybody has … even Tiger Woods at one point had never won out here. So you gotta start somewhere.
"It's going to be a tough day, but I'm looking forward to the challenge."
Na said: "I've been in this position quite a bit. I've been in the final group. The only difference is I haven't won. Obviously, it's going to be incredible. But the last thing I want to do is put more pressure on myself.
"I've been out here eight years knocking on the door, and it hasn't happened. I know it's going to happen sooner or later. I'd like to see it happen (today)."
■ NOTES — There was a second cut Saturday after 54 holes to get down to the top 70 and ties, and 74 players survived at 4-under-par 209 or better. Among the six who didn't make it was 2007 champion George McNeill. … Garrigus, Roland Thatcher and Nick O'Hern tied for Saturday's low round, each carding an 8-under 63. … The final round begins at 9 a.m.
Contact reporter Steve Carp at scarp@reviewjournal.com or 702-387-2913. Follow him on Twitter: @stevecarprj.