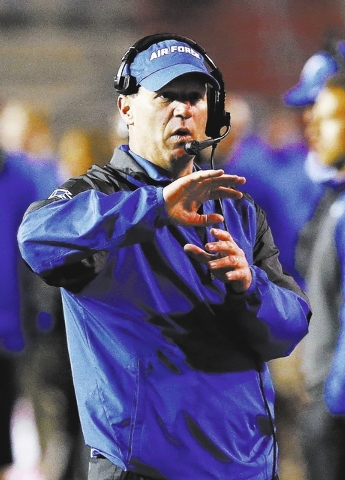 With the college football regular season dwindling to a few precious weeks, it's worthwhile to look around the country to see where coaches are on the hottest seats.
Often, those trouble spots turn into go-against situations for bettors in the final weeks, especially when it is a given that change is forthcoming.
■ Troy Calhoun, Air Force: Though most Mountain West observers believe the clandestine Calhoun probably is safe for another year, there is no question the Falcons have tailed off the past couple of seasons, and they will miss a bowl game for the first time under him. A new superintendent at the academy also has fueled speculation. Air Force is 3-7 against the spread this season and 6-17 ATS since 2012.
■ T.J Weist, Connecticut: An interim appointment after Paul Pasqualoni was fired one month into the season, whatever chance Weist had of landing the job on a full-time basis has disappeared with the continuation of Huskies defeats — now eight straight. UConn has offered little spread value (2-6) and will be starting its third quarterback of the season — redshirt freshman Casey Coffman — on Saturday at Southern Methodist.
■ Stan Parrish, Eastern Michigan: Parrish is an interim coach after last week's termination of Ron English, a move expected by most Mid-American Conference observers. Though the Eagles rallied for their first MAC win under Parrish last week against Western Michigan, more changes almost certainly will be in store.
■ Norm Chow, Hawaii: The Rainbow Warriors' job is one of college football's nastiest fish bowls because it is the only game in town on the islands. Chow is 0-9 this season and 3-18 since taking over the program a year ago. He might not last into 2014 unless Hawaii rallies for a handful of wins in the final weeks, as it did a year ago.
■ Paul Rhoads, Iowa State: The Cyclones' season has gone pear-shaped since the controversial loss to Texas on Oct. 3, complete with Rhoads' postgame tirade against the referees. Iowa State has not won since, and the losing streak — six — will mushroom to nine if the Cyclones lose out. Even at a locale with modest expectations such as Ames, a fifth-year coach such as Rhoads is going to be in hot water with a one-win season.
■ Charlie Weis, Kansas: Saturday's game against West Virginia might provide Weis with his best chance for a Big 12 win in his two years on the job. But the prospect of another 0-for-conference season has many Big 12 observers believing that Weis might not last. His life preserver continues to be athletic director Sheahon Zenger, apparently the only person in the state who thought hiring Weis was a good idea. Sources say Zenger's ego — and a healthy buyout of Weis' contract — might be all that saves Weis into 2014, though booster anger reportedly is reaching critical levels.
■ Mike Bath, Miami (Ohio): Interim coach Bath has done no favors to his hopes of landing the job on a full-time basis with the RedHawks still winless. This also might be the country's most unwatchable team — it has not scored more than 16 points in any game. Miami's woefulness has helped contribute to the success of double-digit favorites in the MAC, which have been covering at better than 70 percent this season.
■ Brady Hoke, Michigan: Suddenly speculation is swirling in Ann Arbor that Hoke could be in trouble after a series of wretched efforts culminating in losses to Michigan State and Nebraska in which the Wolverines finished with negative rushing yardage. At a school where Bo Schembechler gained almost saintlike status, that's unforgivable. Hoke can take a lot of pressure off himself if Michigan upsets Ohio State on Nov. 30. Most Big Ten sources suggest Hoke probably will survive but will be working under a must-win-big mandate next season.
■ Ed Orgeron, Southern California: Considered a fringe candidate at best for the full-time position, sources say "Coach O" at least has moved himself into status as a possible fallback candidate for athletic director Pat Haden if he can't corral a big-name coach. Orgeron is beloved by his players, and most believe Haden probably will encourage his new hire to keep Orgeron on the staff as a bridge between the coaching regimes.
■ Mack Brown, Texas: Though the Longhorns have rallied admirably since their September slump, many Big 12 observers still believe Brown will be fired. The hiring of a new athletic director, Steve Patterson, could be the first step, and insiders are suggesting that Brown's recent rally — and the win over Oklahoma in early October — simply will allow him to dictate the terms of his ouster. Meanwhile, the Nick Saban-to-Austin rumors continue to circulate.
■ Mike London, Virginia: Some Athletic Coast Conference observers are surprised London has yet to be fired, as the Cavaliers' season long ago spun out of control. Most in the region don't even believe a long-overdue win over rival Virginia Tech would be enough to save London's job. His Cavs, less competitive each week, are 3-6-1 ATS this season and 5-16-3 since late in the 2011 campaign.
Las Vegas handicapper Bruce Marshall is editor of The Gold Sheet (goldsheet.com).