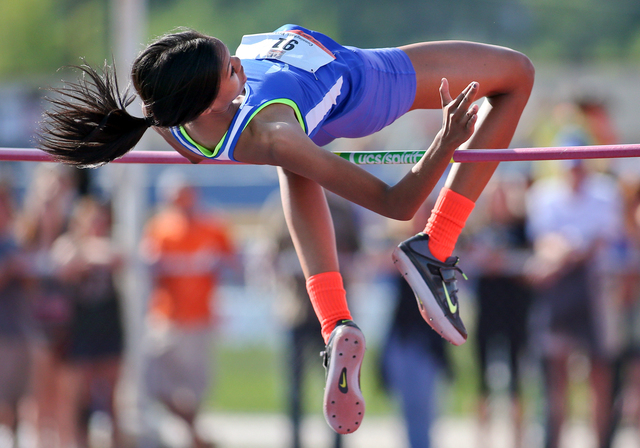 At some point in the near future, Vashti Cunningham and her dad are going to have the talk. It's the one most two-sport athletes have with a parent when it's time to decide their athletic future.
"My dad doesn't know if he wants to let me play volleyball next year because he wants me to focus on track," Cunningham said this week. "And I still want to play volleyball, so it's going to take a lot to change my mind.
"But, I mean, the Olympics is more of a priority for me."
OK, maybe that's not a typical athlete-parent conversation.
Cunningham, the daughter of former UNLV and NFL quarterback Randall Cunningham, broke the national high school record in the girls high jump last weekend at a meet in Southern California. And with the Olympics a little more than a year away, that jump instantly made the 17-year-old junior at Bishop Gorman a legitimate candidate to make the U.S. team headed to Rio de Janeiro next summer.
"It's always been a goal for me to make it to the Olympics, but before last year, I don't think I really thought (2016) was that realistic for me," Cunningham said. "I knew I could have a chance at it, but your mind only exceeds so much. After I made it (Saturday), then I knew that I really do have a chance. It really clicked in my head."
Cunningham's mark, set at the Mt. SAC Relays in Walnut, Calif., could gain a quarter-inch when it officially enters the National Federation of State High School Associations record book after being originally reported as 6-4¼ on Saturday.
Brian Yokoyama, a spokesperson for the Mt. SAC Relays, said Wednesday there was an "error due to metric-English conversion" and Cunningham's winning height was entered as 1.94 meters rather than 6-4½, despite the bar being set according to feet and inches. A height of 1.94 meters converts to 6-4¼.
Regardless, it's better than the 6-4 Toni Young of Del City (Okla.) cleared in 2009, which had been the national record. Five-time Olympian Amy Acuff also went 6-4 as a prep during a 1993 meet in Innsbruck, Austria.
"I was really excited in the moment," Cunningham said. "In meets before I was already trying (6-4), but I knew that I wanted to get it at one of these big meets. I didn't get it at Arcadia (Calif., on April 11); I was really disappointed. But I knew I had to get it for this one. This one was the last chance."
Cunningham's jump is tops in the United States this season and No. 3 in the world, according to USA Track &Field, which named her USATF athlete of the week on Wednesday. For a bit of perspective, Leontia Kallenou of Georgia won last year's NCAA outdoor title at 6-2¼, and Cunningham would have placed fourth at the 2012 Olympic Trials.
"I hope people understand the impact of what a 17-year-old girl from Las Vegas has done," said Randall Cunningham, who is also Vashti's coach. "I prepared her over the last month to achieve high success and built her confidence up. … I was ecstatic. It's not a dream coming true, but a goal she set that allows her to go to a higher goal."
Cunningham, a second-team All-Southern Nevada selection for the Gaels' volleyball team in the fall, said she expects to compete in the USATF National Junior Olympic Track &Field Championships in Jacksonville, Fla., this summer. She will then turn her attention in training toward the U.S. Olympic Trials, which take place July 1 to 10, 2016, in Eugene, Ore.
"I haven't been to a big one like that before. It will be new for me, but I'll know how to handle it," Cunningham said. "I don't really get nervous. My dad always taught me not to get nervous, so when I get there, I pretty much have a sense to just keep doing what I've been doing, and I'll do fine."
Cunningham has not narrowed down her college choices but said Arizona, Southern California — where her brother, Randall II, is a freshman high jumper — and UCLA stand out so far. She is expected to take official visits during her senior year.
To keep herself motivated during the high school season, Cunningham has set her sights on getting over 6-6.
"I want to make sure we don't burn her out," Randall Cunningham said. "At the same time, my goals are really, really high for her. I know she's young, but I believe she can do some great things."
Contact reporter David Schoen at dschoen@reviewjournal.com or 702-387-5203. Follow him on Twitter: @DavidSchoenLVRJ.