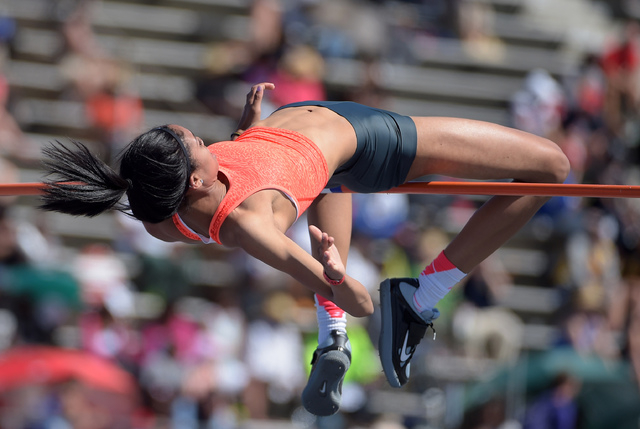 NORWALK, Calif. — For the first time in 20 years, a women's high jumper from the United States will grace the cover of Track & Field News next month.
Yes, things are happening fast for Vashti Cunningham.
The Bishop Gorman High senior turned professional in late March and competed for the first time under the Nike banner on Saturday, winning the high jump at the Mt. SAC Relays at windy Cerritos College.
Cunningham cleared 1.93 meters (6 feet, 4 inches) to easily distance herself from what would be to an average high school senior a major step up in competition, but to this year's world indoor champion was just another afternoon challenging her own records.
The 18-year-old tried three times to clear 1.98 meters (6-6), nearly pulled it off on her second attempt, but ultimately couldn't make the height. Her jump of 6-6¼ at the USA Indoor championships is the world's best this year.
"I haven't jumped outdoors for a while, so I'm happy to be back," Cunningham said. "I never even felt the wind. My goal was 6-6. I skipped 6-5 because I was feeling really good, but I needed more to reach 6-6 today. I just couldn't get it. I just wasn't running fast enough."
Not to worry.
Her star is rising at warp speed.
She is posing for pictures and signing autographs, and her father's cellphone hasn't stopped ringing with endorsement offers since Vashti announced she would forgo her amateur status and not compete in college. And should she qualify for the U.S. Olympic team that will compete in Rio this summer, you can bet her face will be shown prominently on NBC.
Hers is a story and talent and class and respect and a last name that will draw global interest. She will be a household name soon, and should she medal or, goal of all goals, win a gold medal at Rio, the spotlight will be blinding.
She first might try to shield her eyes from it.
"I've never even liked people clapping for me," Cunningham said. "I just like to get through a competition and do what I need to get it done. I'm learning how to handle the attention. I have to accept it now. I understand that there are some people who want to watch me, and I will try very hard to be the person they want to see."
Her father was again by her side Saturday, the former UNLV football star and College Football Hall of Fame member. Randall Cunningham had his coaching hat on at the meet, when for the first time since 1959, the Mt. SAC Relays weren't at Hilmer Lodge Stadium on the Walnut (California) campus, as that facility undergoes a $62 million face-lift.
"I just want (Vashti) to be who she is," Randall said. "I don't want her to be someone else. She just needs to keep training. She's not there yet, but I want her to grow at a good pace. People want (young athletes) to grow up too fast. I'm not going to let that happen with her. She will get there slowly but surely. She just has to be a better athlete than she was last year. But she's mentally strong. She's 18, but maturity-wise, when it comes to handling nerves, she's an old-school person who loves the competition."
That side of things Saturday didn't include those Cunningham would compete against at the U.S. Olympic Trials in Eugene, Oregon, in July, nor did it include the world's best high jumpers, such as Anna Chicherova and Maria Kuchina from Russia. In fact, it's not certain Russia will compete in Rio, given the country hasn't totally eradicated its doping issues and may be banned by the World Anti-Doping Agency.
You might think such a prospect would excite an 18-year-old medal hopeful from America.
Not so much.
"I would love to compete against them in the Olympics," Vashti said. "Those are the girls I have watched on my computer for so long. I would love if they were there."
There is a great chance she will be. Before the trials, Cunningham is expected to compete in the Drake Relays (April 27 to 30 in Iowa) and the Prefontaine Classic (May 27, 28 in Oregon).
She also thought about jumping abroad at a Diamond League meet in Qatar.
"But that's the same time as my graduation (from Bishop Gorman)," Cunningham said. "My dad said I could skip graduation, but my mom said, 'No, you aren't.' "
Even a Hall of Famer isn't winning that battle.
Ed Graney can be reached at egraney@reviewjournal.com or 702-383-4618. He can be a heard on "Seat and Ed" on Fox Sports 1340 from 2 to 4 p.m. Monday through Friday. On Twitter: @edgraney.