'Vegas Dave' wins $220K on Holm after winning $2.5M on Royals
November 16, 2015 - 6:47 pm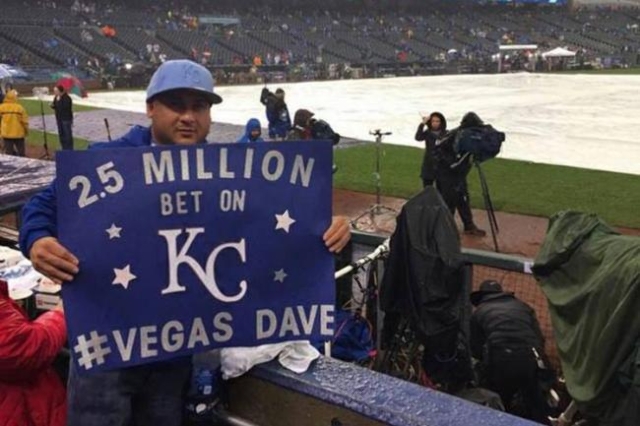 It's been a November to remember for Las Vegas high roller Dave Oancea, who won $220,000 when Holly Holm stunned Ronda Rousey at UFC 193 on Saturday two weeks after he claimed to have cashed in $2.5 million in futures bets when the Kansas City Royals won the World Series.
Oancea, aka "Vegas Dave," bet $20,000 at 11-1 odds that Holm would hand Rousey her first loss.
In the days before the bout, Oancea told MMAJunkie.com he was planning to bet against Rousey until she lost.
"I'll put $10,000 on her every time against her and just keep doubling up because eventually she's going to lose. That's my philosophy," he said. "It just takes one lucky punch. I'll put $10,000 on her if they let me do it. I've got balls."
Oancea posted a picture of his winning ticket on Instagram with the caption, "Everyone said I was crazy to bet 10k well guess what I bet 20k. Who's calling me crazy now?"
Plenty of people called him out for creating a fake winning ticket, but he took to Twitter to dispute that notion.
"Peeps saying my ticket is photo shopped get a life," Oancea posted. "Will bet a million to ur 100k its not Call william hill and see if it's a legit ticket."
We did call the William Hill sports book, where a source confirmed with "100 percent" certainty that Oancea did indeed place the $20,000 wager on Holm at 11-1 odds.
The source also described the 38-year-old Oancea as "a maniac" who often makes a bevy of exorbitant bets. Other sports book industry sources have said he's suffered huge losses in the past.
A sports betting tout, Oancea makes some outrageous claims on his website (itsvegasdave.com), where he boasted a 125-3 record on his MLB system plays from last season and a 15-0 mark on his NFL and college football plays this season.
Our favorite story from his website bio is the one in which "Vegas Dave" claims he took out a student loan for $10,000 to attend UNLV and put the whole $10,000 on red on roulette. Naturally, he won to double his money and used the $20,000 bankroll to start his gambling career.