Victory sweet for Carr, Canyon Springs
February 21, 2014 - 11:35 pm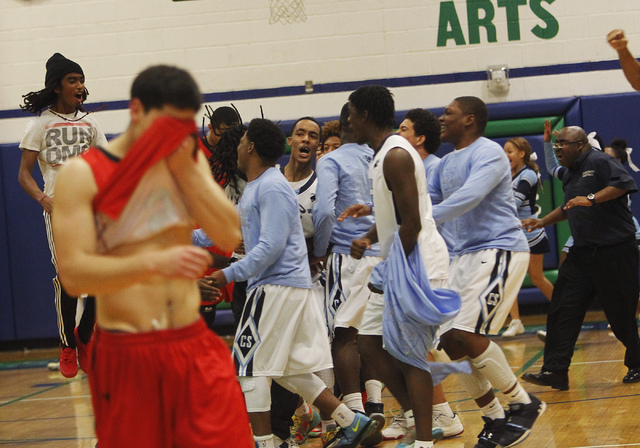 Shaquile Carr's teammates formed a circle around the Canyon Springs senior guard at midcourt and followed along as he led another celebration.
It was a dance Carr had been waiting a year to perform.
Carr had 17 of his game-high 25 points in the second half, and the Pioneers held off Las Vegas 64-55 at Green Valley to win their second straight Sunrise Region title.
Canyon Springs (24-4) advances to the Division I state tournament and takes on the No. 2 seed from the Northern Region at 4:40 p.m. Thursday at Lawlor Events Center in Reno.
"This is big for my kids," Pioneers coach Freddie Banks said. "They always kept in mind they wanted to get back to the state championship."
Carr, who has given an oral commitment to Texas-El Paso, sat out the Pioneers' run to the state tournament last season because of academic issues. He missed nine of his first 11 shots against Las Vegas (22-7), but went 6-for-8 from the field in the second half and also finished with 10 rebounds.
Carr's 3-pointer put Canyon Springs up 53-48 midway through the fourth quarter, and his breakaway jam with 1:35 remaining gave the Pioneers a 57-51 advantage.
Re'Kwon Smith finished with 20 points to lead Las Vegas, which nearly got a triple-double from forward Tyler Bey (15 points, 14 rebounds, nine blocked shots). Smith's two free throws cut Canyon Springs' lead to 57-53, but Darrell McCall's steal and three-point play with 1:06 left sealed the win.
Canyon Springs averaged 102.5 points in its first two postseason games, but Las Vegas held the Pioneers to 1-for-14 from the field in the second quarter and led 30-28 at halftime.
The Wildcats led 36-33 when Smith picked up his fourth foul with 4:27 left in the third, and Canyon Springs took advantage. Gerad Davis' three-point play tied the score, and after back-to-back baskets by Bey, the Pioneers closed the quarter on a 12-0 run to take a 48-40 lead.
"We got into foul trouble, and they made their run when our guys were out," Las Vegas coach Jason Wilson said. "When you put it all out there, to lose is disappointing."
SUNSET REGION
Centennial has good size for a high school basketball team, with three starters standing between 6 feet 5 inches and 6-7.
Bishop Gorman made the Bulldogs look downright small.
The Gaels blocked 11 shots and altered countless others as they rolled to a 78-52 win in the Sunset Region title game at Durango to advance to the Division I state tournament next week.
"We just didn't get into our offensive sets, but Gorman makes you do that," Centennial coach Todd Allen said. "I don't know, we were just outmatched."
Gorman's size is ridiculous by high school standards. With a front line of 7-foot Stephen Zimmerman, 6-10 Chase Jeter and 6-6 Nick Blair, the Gaels make things difficult for the opposition, especially around the basket. Zimmerman finished with a game-high four blocked shots. Blair might not match his listed height, but his impressive athleticism means he plays even bigger. He blocked three shots. And for good measure, Gorman brings 6-9 sophomore Zach Collins off the bench.
"You've got Zim and Chase and then Zach Collins in there as well, and Nick Blair is a shot blocker, as well, with his athleticism," Gorman coach Grant Rice said. "We tried to direct the guys into the bigs and let them do their thing."
Gorman led 31-22 at halftime, but really cranked up the defensive intensity in the second half. Centennial started the third quarter 1-for-14 from the field as Gorman pushed the lead to 46-21.
"We came out with a lot of intensity (in the second half)," said Zimmerman, who had 17 points and 13 rebounds. "That helped us out a lot. We were really hyped. We love doing this. This is our favorite thing. We had a lot of intentions to go out there and just beat them by as much as we possibly could."
Gorman led by 17 entering the fourth quarter, and the Gaels put on a show midway through the final quarter with three consecutive dunks — two by Jeter and one by Blair — to extend the lead to 71-46.
"We felt like we were playing a little too slow," Rice said. "So at halftime, we talked about speeding up the pace. And it was really our defense. The defense led to offense. We got some dunks. When we get some transition and some dunks, that gets us going."
Jeter had 20 points and Blair 17 points and five assists for Gorman.
Freshman Troy Brown led Centennial with 23 points and seven rebounds.