Villanova coach grew at UNLV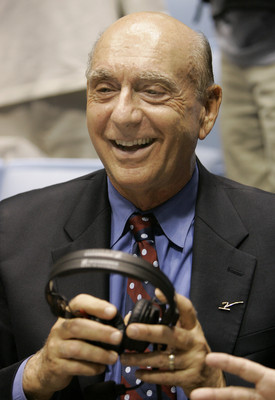 On the eve of his first Final Four, Villanova coach Jay Wright reflected on his brief but invaluable experience as a UNLV assistant.
Through no fault of his own, Wright's stay in Las Vegas marked the beginning of a dark chapter in the Rebels' history book. Wright was the tall, charismatic sidekick to the arrogant and balding Danny DeVito lookalike, Rollie Massimino.
After Jerry Tarkanian was forced out, Massimino was hired at UNLV — on April Fools' Day in 1992, no less — and brought Wright with him from Villanova.
"I didn't want to leave Philly," Wright said in a Philadelphia Inquirer story. But, he added, "It was the smartest thing I ever did."
Wright said he learned he was meant to be on the East Coast.
"Like most Philly people, I'm back, but I went away," Wright said. "I did the West Coast thing. That is such a different world out there, totally different out there.
"I had been at Bucknell, Rochester, Drexel and Villanova. Going out to UNLV and recruiting against UCLA, Arizona, seeing the Pac-10, all that West Coast stuff, that's a totally different concept of college athletics out there, and I lived it and saw it, and what it made me understand is I want to get back, I want to go back East."
Massimino was shipped back East after the Rebels finished 15-13 in his second season. Wright would have been welcome to stay.
"I know Jay very well. I love him," Tarkanian said Friday from Detroit. "I think Jay is the best young coach in the country."
• 'MASS'-IVE MISTAKE — The hiring of Massimino was one of the worst things to happen to UNLV basketball.
Massimino left town bitter, but in at least one way he was a winner.
He agreed to a $1.855 million buyout, after it was revealed that then-UNLV president Robert Maxson and former athletic director Jim Weaver arranged for a secret supplemental contract giving Massimino an extra $375,000 per year that the university did not knowingly approve. Tarkanian said Massimino told him his buyout from UNLV called for payments of $1,000 per day for five years.
"What amazes me is they brought Massimino in and gave him two times my salary," Tarkanian said. "I talked to Rollie, and he said he went down to Florida and bought a condominium and a boat with UNLV's money."
• BAD CALL — Dick Vitale loves Duke, and he's not afraid to say it. Moments before Villanova played Duke in the Sweet 16 last week, Vitale made this loud statement on ESPN: "This game was won three years ago when Gerald Henderson picked Duke over Villanova."
Vitale rambled on about how the Blue Devils surely would win. Duke got dismantled 77-54 as Henderson shot 1-for-14 and scored seven points. Unfortunately, that shut up Vitale for about seven seconds.
• BEEN THERE, WON THAT — If Wright coaches Villanova to the NCAA championship Monday, it won't be his first "major" title. After graduating from Bucknell University, Wright worked as an administrative assistant with the Philadelphia Stars team that won the 1983 United States Football League title.
COMPILED BY MATT YOUMANS LAS VEGAS REVIEW-JOURNAL