Viva Las Vegas! 'Elvis' wins Rock 'n' Roll marathon
November 13, 2016 - 11:32 pm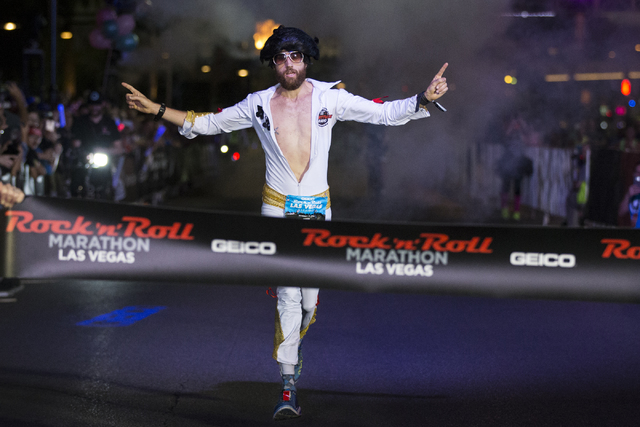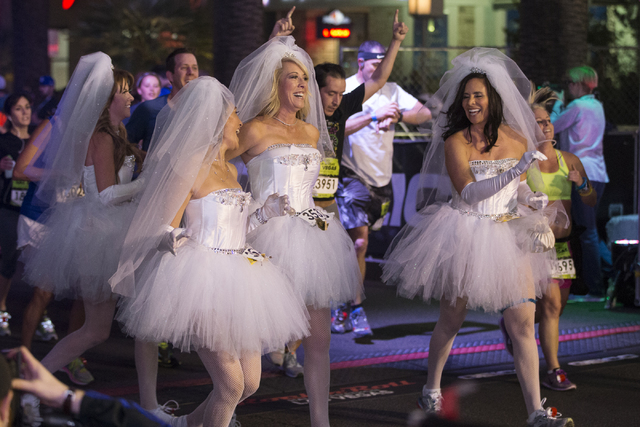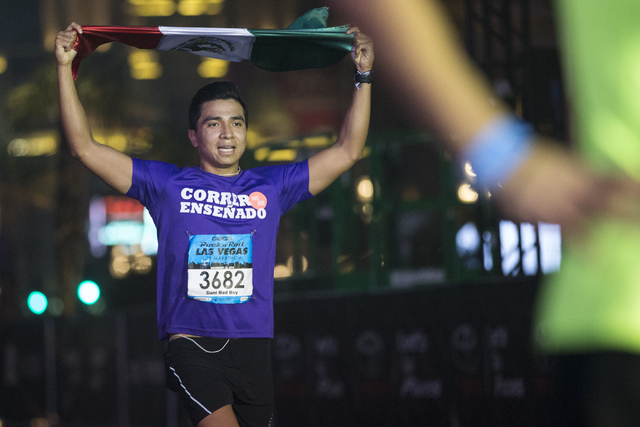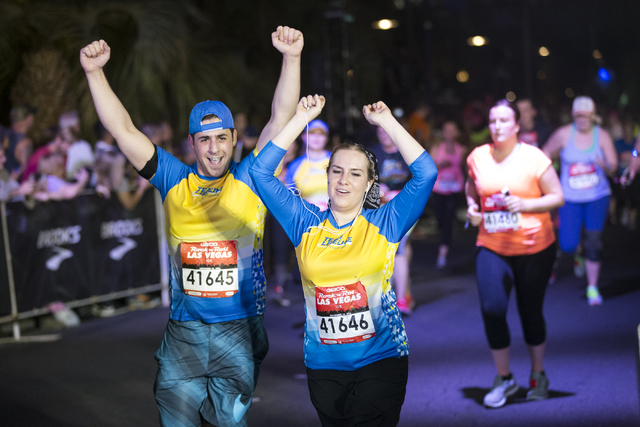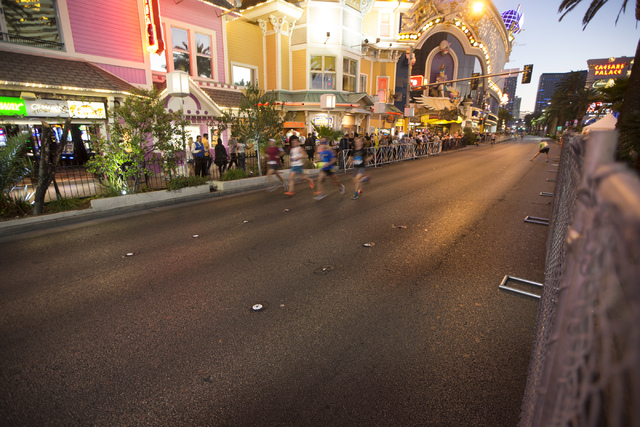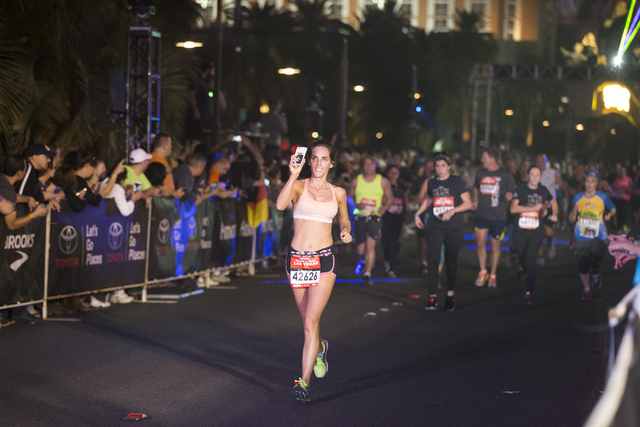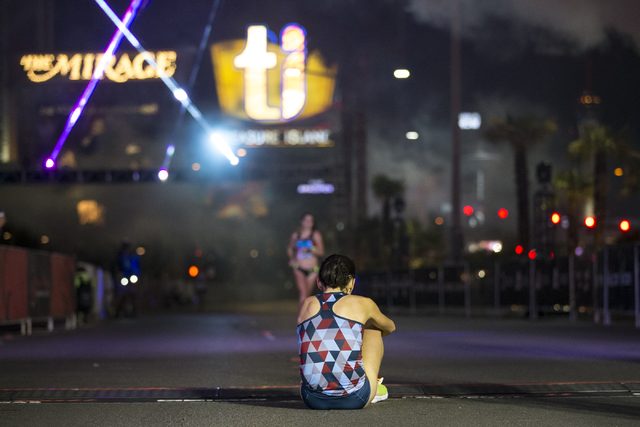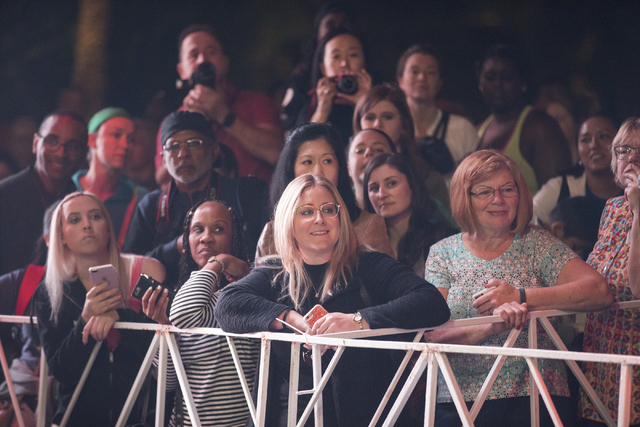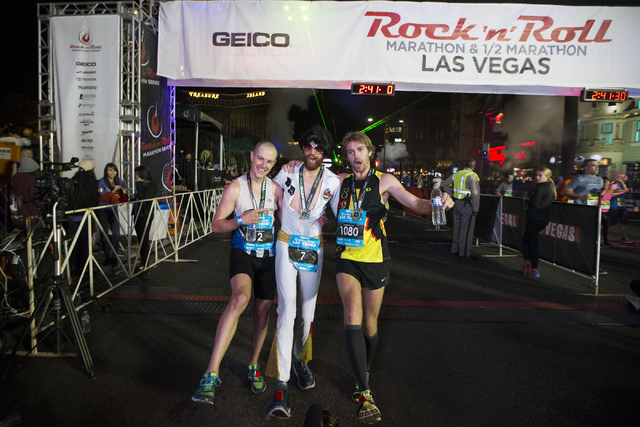 After becoming the world's fastest man to finish all six World Major Marathons in a calendar year, Michael Wardian decided to celebrate by trying to tackle a Guinness World Record.
He did that, and in the process, also won the Rock 'n' Roll Las Vegas Marathon on Sunday night.
Wardian, 42, set a record for the fastest marathon while dressed as Elvis Presley, breaking friend Ian Sharman's record of 2 hours, 42 minutes, 52 seconds set in Seattle in 2009. Wardian finished in 2:38:04.
Wardian, from Arlington, Virginia, had been confident he could eclipse the record in his white Elvis jumpsuit, even though he had plenty of runs in his legs lately.
"I wasn't sure how the suit would be, but the suit was actually pretty awesome," Wardian said. "You get this sucker wet, it just stays cool."
Wardian took the lead around mile 22 or 23 and said he wasn't sure he was leading until the finish. Throughout the race, Wardian kept reminding himself to just take care of business — in true Elvis fashion — and he'd beat the record.
"I felt like I had it. I thought I was in good shape at halfway and then I kind of had a little bit of fatigue," Wardian said. "With two miles to go I was pretty confident. And then I was just trying to run to win and then also to make sure I got the record."
Chelsey Leighton of Lewiston, Idaho, was the women's winner at 3:12:11 after some initial confusion.
Leighton said around mile 25, she passed the woman who was announced as the first-place finisher. Leighton had passed the original leader around mile 21. She was told by the lead cyclist that she was in first and to look into the results after the finish.
Race officials sorted out the confusion and Leighton, a former college runner, was declared the winner. She ran at Lewis & Clark State College and this was her third full marathon.
"The experience was awesome," Leighton said. "All the lights, just being lit the whole way and all the people — the energy was really high. It was really easy to stay focused and just upbeat because there were so many people out there cheering for you."
KIBOR, KIBET WIN HALF MARATHON
William Kibor started the Rock 'n' Roll Half Marathon with thousands of others. But the Kenyan lost all of them immediately, bolting to a quick lead and running the rest of the race by himself.
Kibor finished in 1:01:21, setting a course record and finishing more than two minutes ahead of the next-closest racer.
Elvin Kibet, also of Kenya, took first in the women's half marathon at 1:15:32.
While the marathon might have more name recognition, the half marathon was filled with stiffer competition. More than 30,000 runners competed in the half marathon and none was anywhere close to Kibor.
Kibor said he came out so hard aiming for the course record — 1:01:40 set by Bekana Daba in 2009. He was just shy of his personal record of 1:00:51, though for much of the race he looked like he might finish in under an hour.
Near the start, Kibor turned around to look behind him a few times, and said it's because he's always terrified when he's running alone that somebody will overtake him. But even early, he had shaken other competitors.
Like Kibor, Kibet, 26, took a quick lead. She finished 37.95 seconds in front of runner-up Katja Goldring.
It was Kibet's second Rock 'n' Roll Half Marathon victory after also placing first in Denver last month. Her time here was 10 seconds slower; she said she went out too fast trying to beat her Denver time and it would up slowing her down.
But she enjoyed her time in Las Vegas nonetheless.
"It was amazing. I have never seen anything like this," Kibet said. "I really had fun. I think I would come back every year. This is the best course ever."
Contact Betsy Helfand at bhelfand@reviewjournal.com. Follow on Twitter: @BetsyHelfand
RELATED
Only in Las Vegas: Couples hit run-thru weddings during marathon
Runner competes in Las Vegas half marathon despite stage 4 cancer