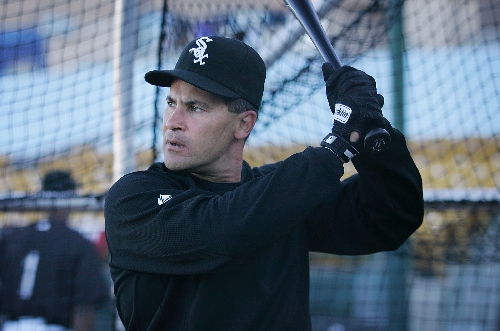 Several outstanding shortstops from Venezuela have played for the Chicago White Sox, from Chico Carrasquel to the legendary Luis Aparicio to current team manager Ozzie Guillen.
But the best of them all might be the ageless Omar Vizquel, the only player to appear at shortstop in 21 major league seasons.
Vizquel, who will turn 43 on April 24, signed a $1.375 million, one-year contract to play for the White Sox this season — his 22nd — and started for them Friday in their 6-5 exhibition loss to the Chicago Cubs before a crowd of 10,448 at Cashman Field.
After wearing No. 13 for his entire career as a tribute to boyhood hero Dave Concepcion, Vizquel will switch to No. 11 this season in honor of Aparicio, the only Venezuela native in the Hall of Fame.
"It's an honor for me because Luis Aparicio represents baseball in Venezuela, and I really want a new generation of people to know about him and how much he means to us, the shortstops," said Vizquel, who received permission from Aparicio to wear the number. "For me, it's a huge celebration for his name."
Guillen, who wears No. 13 for the White Sox, said he couldn't give his number to Vizquel because of marketing issues but joked he would for the right price.
"He don't have enough money to do that. I'm the king of Chicago," said Guillen, who played for the White Sox from 1985 to 1997. "Most times when guys change numbers, they give you a watch or something. If he gives me a boat, a Cabo 52 (yacht), I will give it to him. It's (2.5) million dollars."
Seriously, though, Guillen said it will be special watching Vizquel don the No. 11 that has been retired by the White Sox since 1984.
"That uniform means a lot to Venezuelan people and to Chicago fans," he said. "I hope he wears it and makes it look good out there."
That shouldn't be a problem, considering Vizquel, who went 1-for-3 and scored a run Friday, is a three-time All-Star and 11-time Gold Glove winner.
The defensive whiz is the all-time leader in games (2,681) and fielding percentage (.985, 183 errors in 11,877 total chances) among shortstops and has turned more double plays (1,722) than any other middle infielder in history.
He became the oldest shortstop to win a Gold Glove in 2005 (38) and 2006 (39) and appears to be as sharp as ever in the field.
Although he appeared in only 62 games for the Texas Rangers last season, a career low, he handled the most errorless chances (207) in the majors for an infielder, excluding first basemen.
"I don't know if I can improve any more on my defense," he said. "I can make just about every play on the field."
Vizquel played third base for the first time in his career last year and also saw action at second base. He's expected to see action at second, third and shortstop this season.
"I feel pretty comfortable at every position," he said. "I'm not going to say I feel the same as I did five years ago, but I still feel pretty good about myself."
Vizquel started his career in 1989 with the Seattle Mariners but made his mark in 11 seasons with the Cleveland Indians.
He signed with the San Francisco Giants as a free agent in 2004 and played four seasons for them before joining the Rangers as a free agent last year, when he hit .266 and stole four bases.
A .273 career hitter with 389 stolen bases and 2,704 hits, Vizquel said this might be his last season.
"I'm going to enjoy this year as much as I can," he said. "I know it could be the last, so I'm going to try to have as much fun as possible."
With Guillen around, that shouldn't be too much trouble.
If Vizquel decides to retire, he's a sure bet to become the second player from Venezuela to enter the Hall of Fame. When that happens, Guillen said, he'll have to be considered the best shortstop the country has produced.
"Right now, the best one is Luis (Aparicio), no doubt," Guillen said. "But not too far away, Omar's going to become the best shortstop from our country."
Contact reporter Todd Dewey at tdewey@reviewjournal.com or 702-383-0354.
CUBS — 6
WHITE SOX — 5
KEY: Josh Vitters' two-run triple keyed the Cubs' three-run seventh.
NEXT: White Sox vs. Cubs, 1:05 p.m. today, Cashman Field