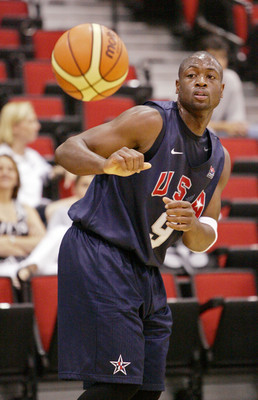 Dwyane Wade had the requisite ice pack on his left knee. But for the Miami Heat superstar guard, life was good Saturday.
Wade was back in uniform for Team USA, and he got through a two-hour workout at Cox Pavilion without mishap as the Olympic squad concluded its two-day Las Vegas minicamp.
True, there were no contact drills, and he didn't have to play at full speed. But this was another small test for Wade in his attempt to be at full strength when the Americans begin their quest for gold Aug. 10 in Beijing with a game against host China.
"It felt great to be back," said Wade, who missed last summer's Olympic qualifying in Las Vegas following shoulder and knee surgery. "It was tough sitting out last summer having to watch.
"Anytime you go through surgery, you're going to have some doubts. But I dedicated myself to getting back. I definitely want to be part of this."
Wade had a second procedure on his knee in March, and his return to Team USA was in doubt. Mentally, Wade was committed to coming back. Physically, it was a question of whether the knee would cooperate.
Two weeks ago, Team USA managing director Jerry Colangelo and coach Mike Krzyzewski went to Chicago, where Wade was rehabilitating. After watching him play and talking with him, they decided to put him on the final roster.
"The day Coach K and Mr. Colangelo gave me the No. 9 jersey again, it felt great," Wade said. "I was smiling for hours."
Colangelo said he wanted to make sure if Wade was going to return to Team USA, it would be the Wade everyone is accustomed to seeing.
"I told him we needed the old Dwyane Wade, and he understood," Colangelo said. "I also wanted to see if the old explosiveness was there, and it was."
Wade seemed to be moving well in Saturday's practice. He appeared to be back in sync with his Olympic teammates.
"I just have to get my timing back," Wade said. "I haven't played in a real game since March. But I felt good out there with the guys."
Krzyzewski liked what he saw.
"He looked good," Krzyzew-ski said. "But I think we'll get a better idea where we are with him in a few weeks. We're bringing the Select team back when we have our training camp, and we'll scrimmage them every day. Dwyane will benefit from that."
Colangelo said the goal is to have Wade ready for Aug. 10. Saturday was merely another step in the process of achieving that goal.
"Most of these guys are in pretty good shape," Colangelo said. "Guys like Dwyane, we're not going to rush. We have time to get him ready."
The same is true for center Dwight Howard, who did not practice Saturday because of a small crack in his sternum. Howard said it is not a major issue, and he'll be ready to go when Team USA returns to Las Vegas on July 20 and begins practicing at Valley High School on July 21.
Wade also promises to be ready.
"For me, it's now or never," said Wade, one of four players on the U.S. roster — LeBron James, Carmelo Anthony and Carlos Boozer are the others — to take bronze at the 2004 Olympics. "If we don't win the gold, I'll feel like my career is unfulfilled."
• NOTES — Lakers star Kobe Bryant wasn't saying much about being the target of Shaquille O'Neal's less-than-complimentary impromptu rap last week. When asked if he took what Shaq said personally, Bryant said, "I didn't take it any kind of way whatsoever." … A film crew from Nike was everywhere during Saturday's practice, shooting footage for a five-part documentary on Team USA that will air on ESPN2 (Cable 31) beginning Wednesday. Nike also shot footage for a commercial that will run during the Olympics. …
The team leaves today for New York, where the new uniforms it will wear in the Olympics will be unveiled Monday. On Saturday, the uniforms were used for the first time as team and individual pictures were taken. … Ticket sales for the July 25 exhibition game with Canada at the Thomas & Mack Center are ahead of last year's pace when the team had an intrasquad scrimmage and more than 16,000 turned out. With a low ticket price of $12 and a high of $75, Las Vegas Events officials are hopeful the game will sell out.
Contact reporter Steve Carp at scarp@ reviewjournal.com or 702-387-2913.