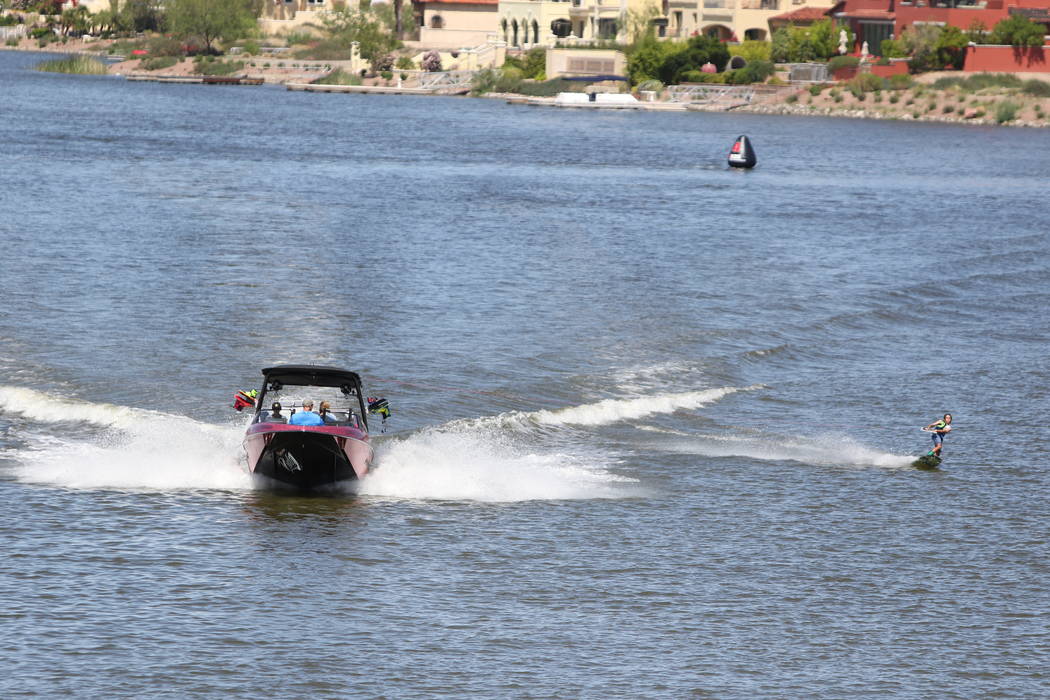 Oli Derome grew up learning to ski and wakeboard just more than an hour's trip south down the St. Lawrence River from Charlemagne, Quebec, the birthplace of Celine Dion.
Now the pro rider is following in the singer's footsteps and making his own trip to Las Vegas this weekend as part of the 2017 Malibu World Wakeboarding Association Rider Experience at Lake Las Vegas. The event, scheduled for Friday to Sunday, lets amateur competitors showcase their skills and attempt to turn pro, but its most unique aspect comes Friday when young wakeboarders and surfers can ride with professionals and pick up tips.
"It's like going to play basketball with LeBron James," said Stuart Litjens, owner of Malibu's host dealer Boulder Boats. "These are the pros that are on the podiums and winning the events. They are the elite of the sports, and they're actually building relationships, making conversations and giving tips and riding with them."
Derome, ranked eighth in the 2017 Wakeboard World Series, is one of five professional riders expected to be at the event, which is at Lake Las Vegas for the second straight year after setting an attendance record last year. Now the riders get a second chance to grow wakeboarding in the area, a sport Derome has loved since getting his first 4-foot long board on his final day of sixth grade.
"We all get to share that passion for wakeboarding," Derome said.
Professional rider Tara Mikacich said getting in the water with young wakeboarders, called "Freeride Friday," is the most unique part of the event. She runs a wakeboarding school called Freedom Wake Park in Orlando, but this weekend she gets to drive boats and get in the water with young riders in a new part of the country.
"We get a chance to see everyone coming up in the sport and give them some feedback and help them learn a new trick, reach a new level," Mikacich said. "The whole idea is to improve their experience on the water."
Along with the six professionals coming to share advice, the event will feature about 10 junior pros who will compete Saturday. Then, on Sunday, boats will be available for people to try their hand at water sports, including wakesurfing, in which you ride on a wave behind a boat with no rope.
"It's a unique opportunity," Litjens said. "Teaching someone to get up (on the water) for the first time, it's so awesome. Getting people involved is so important."
Ben Gotz can be reached at bgotz@reviewjournal.com. Follow @BenSGotz on Twitter.
If you go
What: Malibu WWA Rider Experience
When: Friday-Sunday
Where: Lake Las Vegas
Price: $75 for Freeride Friday, Surfgate Sunday and Judges Experience (or $25 each), $100 for Jr. Pro Division, $100 for Pro Card Qualifier.
Calendar
Saturday-Sunday: Forces of Nature, Skye Canyon
Saturday: Flight of Fire Half Marathon, Las Vegas
Saturday: Komen Las Vegas Race for the Cure (5K), Las Vegas
Sunday: Combat for a Cure 5K, Las Vegas
Sunday: Menudo Run (10K, 5K, 1 mile), Henderson