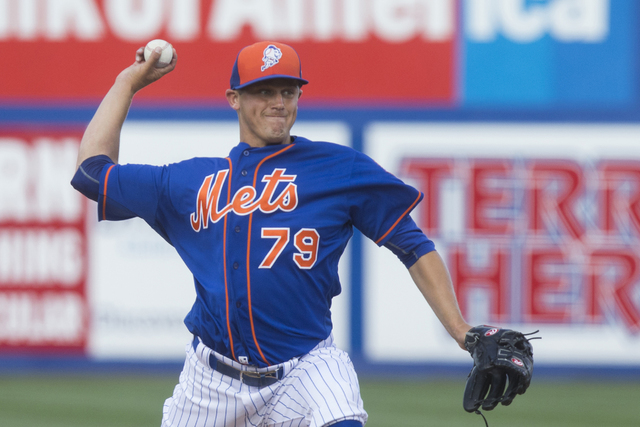 From the top of the first inning to the bottom of the ninth with two outs, the 51s held a lead.
But with one swing, Aces left fielder Peter O'Brien wiped it away with a walk-off, two-out grand slam off closer Paul Sewald to send the 51s spiraling to an 8-6 loss at Greater Nevada Field in Reno.
"The bullpen can't just seem to hold a (expletive) lead the last whatever 10 days," Las Vegas manager Wally Backman said.
For the second straight night, the 51s' starter left the game in line for a win, and for the second straight night, the bullpen couldn't hang on. This time, it was Duane Below who took a no-decision after tossing a quality start, giving up three runs in 6 1/3 innings.
"Below pitched great. He made one bad pitch and gave up a three-run homer in the fourth, but that's not supposed to cost us a ballgame," Backman said. "Giving up five runs in the ninth is going to cost you a ballgame."
The bullpen held it down until the ninth when left-hander Josh Smoker allowed two one-out hits and walked pinch hitter Sean Jamieson to load the bases before Backman summoned Sewald.
Sewald promptly walked the first batter he faced on four pitches, forcing in a run, before getting Mike Freeman to strike out for the second out of the inning and then watching O'Brien's 13th home run of the season leave the park.
"We had just talked about it today with the pitching that you cannot throw O'Brien breaking ball strikes, and the first pitch was a breaking ball strike and he hit the (expletive) out of it," Backman said.
It's a continuation of a troubling trend for the 51s' bullpen. On Tuesday, three relievers gave up seven runs in two innings against Reno. On Monday against Memphis, the bullpen gave up four runs.
The recent troubles prompted Backman to hold a meeting before the game to talk about being more properly prepared and taking everything more seriously.
The pitchers go over scouting reports before the beginning of every series, but starting Wednesday, Backman sent scouting reports to the bullpen for the relievers to look over during the game.
"Even though we go over it at the start of every series, it's like I told them, maybe some guys are listening more than others, but if the scouting reports are down there in the bullpen, it takes you five minutes to read it," Backman said. "There's no more excuses. I'm not going to make any excuses for anybody down there."
Erik Goeddel, the first man out of the bullpen Wednesday, threw 1 1/3 scoreless innings, and Backman said he was impressed by the way Goeddel pitched.
"I (saw) Erik Goeddel step up two notches tonight in the way that he went about his business," Backman said.
Goeddel left with two on in the eighth, and Smoker came in and struck out Socrates Brito to end the inning.
Backman left Smoker in to begin the ninth because he liked the matchups, but he wound up being ineffective.
"Smoker was throwing 97, 98 miles per hour tonight, and he threw 17 fastballs in a row," Backman said. "Now, I don't care if you throw 105, when you throw 17 fastballs in a row, there's a problem."
The outing was his fourth straight giving up at least a run.
Likewise, Sewald has struggled lately, giving up runs in five straight games. From May 19 to 31, he allowed two or more hits in all six of his outings.
On Wednesday, it was just one hit, but it was a big one.
"I think Paulie Sewald was absolutely prepared," Backman said. "He made a bad pitch to probably their best hitter on a breaking ball and the guy hit a home run."
But though Sewald's preparation has earned him praise in the past, recent results have Backman potentially thinking about using a closer by committee as he tries to right his bullpen.
"That's probably what it's come to is that I'm going to have to start matching guys up the way I think they'll best match up. Paulie's kind of struggled the last six, seven outings and try to take a little pressure off him, try to match him up a little bit better," Backman said. "When it's your closer, you shouldn't have to match him up left and right. You don't even look at that. Maybe that's something that we're going to have to do for the time being, just to get those guys back on track, Smoker and Sewald especially."
Worth noting
Before Wednesday, Brandon Nimmo had played all but two of his games this season in center field.
On Wednesday, Nimmo started in left, with Roger Bernadina in center. It's a sign of things to come, as Nimmo, one of the New York Mets' top prospects, will begin moving around the outfield more.
"I just think that it adds to his versatility in the outfield being able to play all three positions," Backman said.
Up next
Who: Las Vegas 51s at Reno Aces
When: 7:05 p.m. Thursday
Where: Greater Nevada Field
Starters: Gabriel Ynoa (6-1, 2.40 ERA), 51s, vs. Braden Shipley (3-3, 3.18 ERA)
Next five
Friday: Las Vegas at Reno, 7:05 p.m.
Saturday: Tacoma at Las Vegas, 7:05 p.m.
Sunday: Tacoma at Las Vegas, 12:05 p.m.
Monday: Tacoma at Las Vegas, 7:05 p.m.
Tuesday: Tacoma at Las Vegas, 12:05 p.m.
Update
Infielder Eric Campbell is expected to join the 51s on Thursday for the third game of the series. He was sent down Tuesday after the Mets added James Loney to their roster. With the addition of Campbell, the 51s will need to make a roster move Thursday.
Betsy Helfand can be reached at bhelfand@reviewjournal.com. Follow on Twitter: @BetsyHelfand