Warrior atones for tantrum
October 26, 2007 - 9:00 pm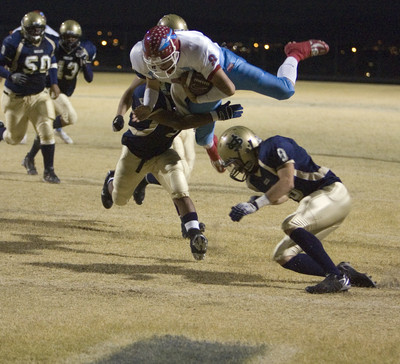 Reggie Bullock was frustrated, and he made no attempt to hide it from his teammates.
The valley's fifth-leading rusher, who came in averaging 12 yards per carry, was disappointed in himself for taking out his anger on his teammates, mostly his offensive line, in the halftime locker room and on the sideline early in the fourth quarter.
But the junior atoned for his outbursts with two big plays late in the quarter to help sixth-ranked Western gain a 28-14 victory at ninth-ranked Spring Valley on Thursday.
"I just had to make a play," Bullock said. "I told my team I'd make it up to them."
With Western leading only 14-8 with under five minutes to play, Bullock returned an interception 75 yards for a touchdown to extend the Warriors' lead.
After Anton Stallworth got the Grizzlies back within 20-14 on a quarterback sneak with less than two minutes to play, Bullock ran 55 yards for a clinching touchdown, lifting Western to 7-1, 5-0 in the Southwest Division.
The Warriors led 6-0 at halftime, but Bullock had run for only 23 yards on 10 carries, leading to his locker room tirade. Things got worse in the third quarter as Bullock ran the ball twice for 2 yards.
"I was very irritated. I argued with my team, but I didn't mean to take it out on them," Bullock said. "Usually, every series I tell my teammates, 'We can do this,' but I didn't do that tonight. I argued with them, but I apologized to them and I know I shouldn't have done it."
Western needed everything it got from Bullock — and his teammates — to hold off a solid effort by Spring Valley (7-3, 4-2).
"That's a good team," Western head coach Brian Murray said. "They gave us a bit of a different look then we had seen on film from them."
Spring Valley's Mike Caster blocked a punt through the back of the end zone for a safety to awaken the Grizzlies in the third quarter. They took their first lead early in the fourth, with Stefan Klein's 5-yard run capping a long drive.
The lead was short-lived, however, as Western quarterback J.D. Buonantony ran for a 1-yard touchdown, his second rushing score, to put the Warriors back ahead.
Spring Valley returned the ensuing kickoff to Western's 34, but Bullock's interception return gave the Warriors needed breathing room.
Buonantony threw for 120 yards, and Bullock finished with 79 yards on 14 carries.
Klein led all rushers with 101 yards on 19 carries. Stallworth added 70 yards rushing, but threw three interceptions.
• Cheyenne 20, Mojave 14 OT — At Cheyenne, Terence Brison's only carry resulted in the winning touchdown in overtime as the Desert Shields (6-2, 5-1 Northwest) defeated fifth-ranked and previously unbeaten Mojave (8-1, 5-1).
Brison raced around the left end for a 9-yard touchdown after Cheyenne stopped the Rattlers on the first possession of overtime.
Mojave was poised to score on its possession, but Khyriece Campbell broke up a pass in the end zone.
"Our kids are resilient," said Cheyenne coach Charles Anthony, whose team bounced back from a loss to Palo Verde last week. "They responded to what we told them during the week, that we had to be physical and score some points."
Anthony Johnson finished with 145 yards on 22 carries for the Desert Shields.
Cheyenne built a 14-0 lead in the first quarter on a 1-yard run by V'son Milton and a 25-yard pass from Jacorey LeFear to Damien Proby.
Jordan Cannon got Mojave on the board with an 80-yard interception return in the second quarter, and the Rattlers tied it on Justin Armstrong's 1-yard run in the third.
Cheyenne ran six plays inside the Mojave 10-yard line in the fourth quarter, but was unable to score.
— Bartt Davis
• Bishop Gorman 34, Sierra Vista 0 — At Sierra Vista, the top-ranked Gaels (9-0, 5-0 Southwest) held the Lions (2-7, 2-3) to 81 yards and recorded their second straight shutout.
Gorman's defense stole the show, holding Sierra Vista to minus-14 yards rushing and sacking Emir Lopez five times. Of the Lions' 38 rushing plays, 19 went for no gain or lost yardage.
Gorman scored in the first half on Dylan Barrera's 3-yard pass to Justin Chaisson and an 85-yard punt return by Keola Antolin.
In the second half Barrera threw touchdown passes of 40 yards to Joe Huber and 20 to Tim Dreschler. Antolin also scored on a 42-yard run, finishing with 123 yards on nine carries. Barrera completed 11 of 18 passes for 184 yards.
Gorman has outscored its opponents 410-84.
— Sam Leeper
• Silverado 55, Basic 20 — At Silverado, Telvin McMillian rushed for 260 yards and four touchdowns on 17 carries, guiding the fourth-ranked Skyhawks (9-0, 6-0 Southeast) over the Wolves (5-5, 1-5).
Michael Wadsworth scored on a 32-yard punt return and a 17-yard run in the first quarter for Silverado, which had 563 yards of offense.
McMillian took over from there, scoring twice in the second quarter and twice in the third to help the Skyhawks build a 42-6 lead. Kolton Villa and Teran Madu-Jules added late touchdowns for Silverado.
Josh Ross completed 14 of 27 passes for 184 yards and three touchdowns for Basic.
— Jeff Wollard
• Del Sol 48, Liberty 12 — At Liberty, the seventh-ranked Dragons (8-1, 5-1 Southeast) scored on their first five possessions and rolled over the Patriots (1-8, 0-6).
Three Del Sol players ran for two TDs: junior Jordan Molina (24 and 29 yards), sophomore Ernest Hall (14 and 29) and senior quarterback Matt Burge (two 1-yard keepers).
Dragons defensive lineman Pat Mendes also scored, intercepting a deflected pass and returning it 40 yards.
Liberty's touchdowns came on passes of 12 and 25 yards from junior Ryan Doty to senior Austin Niggemeier.
— Jeff Hoskin
• Coronado 27, Green Valley 14 — At Green Valley, 6-foot-7-inch senior Taylor Knowles made two touchdown catches and the Cougars (6-4, 4-2 Southeast) held the Gators (4-6, 3-3) to 28 yards rushing to gain their fifth straight win.
Green Valley pulled within 19-14 on its first second-half possession when Nick Libonati scored on a 1-yard sneak on fourth-and-goal.
But Coronado stretched its lead to 25-14 in the fourth when Knowles shook off a defender in the end zone to make a 14-yard reception from Dane Cooper, who replaced starting quarterback Brady McManus in the second quarter. McManus left with an apparent knee injury after being sacked by Taylor Smith.
Coronado took control with two touchdowns in the final 1:28 of a mistake-filled first half. Cooper's 25-yard TD pass to Darren Smith on fourth-and-9 made it 12-7. After the teams traded possessions, Libonati caught his own deflected pass and the ball was ripped out of his arms by Cougars senior Colton Schofield, who sprinted 70 yards for a touchdown.
— Todd Dewey
• Desert Pines 42, Valley 12 — At Desert Pines, the Jaguars (5-5, 4-2 Northeast) built a 28-0 halftime lead behind three touchdown passes by sophomore Dalton Leilua, and the Vikings (2-7, 2-4) saw their playoff hopes go south.
Valley fumbled once and had two punts blocked in the first half, with all three leading to Desert Pines touchdowns. Leilua's TD passes all came in the second quarter.
Desert Pines senior Michael Ball ran for 151 yards and three touchdowns.
Kerwin Williams caught both TD passes and accounted for 135 of Valley's 280 yards.
— Jamie Chagnon
• Rancho 38, Eldorado 14 — At Rancho, Mack Millender scored four touchdowns as the Rams (5-5, 2-4 Northeast) routed the Sundevils (1-9, 1-5).
Millender had scoring runs of 17, 10 and 4 yards, and finished with 112 yards on 15 carries. He also hauled in a 25-yard TD reception from James Cammack
Cammack completed 10 of 13 passes for 123 yards and two touchdowns. He also ran for 82 yards and a score.
Isaiah Santos had two interceptions for Rancho's defense.
Eldorado's Desmond Haynes made four receptions for 94 yards, including a 70-yard touchdown.
— Tim Guesman
• Centennial 34, Shadow Ridge 18 — At Centennial, Torrence Whalum ran for 184 yards and two touchdowns as the Bulldogs (5-4, 2-4 Northwest) won their second straight, defeating the Mustangs (3-6, 1-5).
Centennial quarterback Chris Henderson threw for a touchdown and also had a 52-yard score as a receiver on Tyson Turley's halfback pass.
Both teams returned kickoffs for touchdowns, but defense was the difference. Centennial stopped Shadow Ridge on downs twice inside the Bulldogs' 10-yard line.
Shadow Ridge quarterback Chris Jones passed for 111 yards and two touchdowns and also led the Mustangs with 36 rushing yards.
— David Garrett
• Chaparral 51, Clark 38 — At Clark, the Cowboys (3-7) scored twice in the final minute to escape with a victory over the Chargers (2-7).
After Clark took a 38-37 lead with 1:45 remaining, the Cowboys went back ahead on a 32-yard TD pass from Tyquise Anthony to Jose Olague with 24 seconds left.
Chaparral's Quentin McCloud tacked on another touchdown on the next play, returning a fumble 30 yards.
The Cowboys also scored on a wild fumble return on the last play of the first half. Chaparral completed a pass, fumbled, forced a Clark fumble and finally returned it for a score. Clark's Rico Torres picked up Jose Olague's fumble at his own 25 and returned it 35 yards. But Anthony ripped the ball free and bolted for a 60-yard TD to give the Cowboys a 23-22 halftime lead.
Clark's offense was led by Rico Torres 150 rushing yards. Dan Barr ran for three TDs.
— Gabe Whetten
• Durango 36, Bonanza 35 OT — At Durango, Steven Flores rushed for three touchdowns, passed for two and completed the winning 2-point conversion pass to Donald Whipple in overtime, leading the Trailblazers (2-7, 1-4 Southwest) past the Bengals (2-6, 0-5).
Bonanza trailed 28-14 with 6:43 remaining, but fought back behind Antonio Beals, who finished with 106 yards rushing, and Rakim Lowe, who scored two fourth-quarter touchdowns to force overtime.
Lowe's fourth rushing touchdown of the game in overtime gave the Bengals the lead, but Flores answered with a 10-yard TD pass to Whipple and the conversion.
Flores finished 8 of 12 for 165 yards, with six completions to Whipple for 156 yards. Lowe was 10 of 14 for 152 yards and also ran for 81 yards.
— Adam Berchin
• Legacy 32, Arbor View 29 — At Legacy, the Longhorns (1-8, 1-5 Northwest) earned their first victory over a varsity team by beating the Aggies (2-7, 0-6) in the "Battle of the Bulls."
Legacy compiled 333 rushing yards, with Prince Oroke gaining 177 on nine carries and Robert McCoy 144 on 26 carries. Each scored twice, Oroke on runs of 85 and 80 yards and McCoy on runs of 2 and 12.
Arbor View's James Toller passed for 269 yards and two touchdowns, going 9 of 14.
— Brian Danise
• Virgin Valley 34, Moapa Valley 14 — At Overton, the Bulldogs (9-1, 4-0 3A Southern League) took advantage of five turnovers to beat the Pirates (6-3, 3-1).
Colton Teerlink rushed for 162 yards and two touchdowns as Virgin Valley wrapped up the league title.
• Boulder City 51, Pahrump Valley 7 — At Boulder City, Jake Slater rushed for 254 yards and four touchdowns on 11 carries to lead the Eagles (3-6, 1-3 3A Southern) over the Trojans (1-8-1, 0-4).
Slater had scoring runs of 55, 41, 23 and 74 yards, all in the first half.
Preps Central