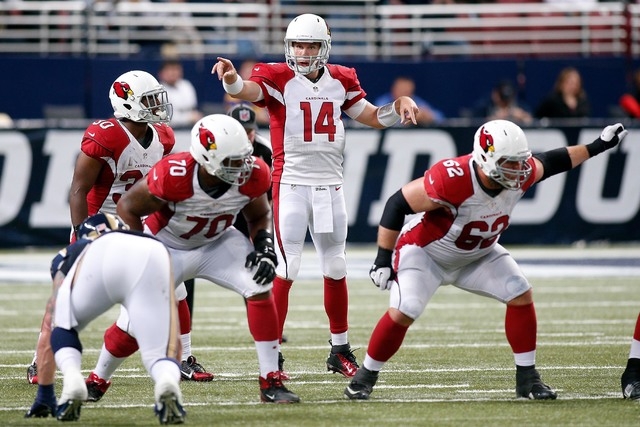 With home-field advantage in the playoffs, the Arizona Cardinals could claim the NFL crown without ever leaving their University of Phoenix Stadium, site of Super Bowl XLIX.
Arizona can clinch home-field advantage Sunday night. All quarterback Ryan Lindley and the Cardinals need to do is beat the surging Seattle Seahawks.
The "Sunday Night Football" showdown (5:20 p.m., NBC (3)) caps a packed weekend of sports on TV featuring a bowl game-college basketball game doubleheader in Las Vegas on Saturday and an NFL Sunday duel of division leaders in Dallas between the Cowboys and Indianapolis Colts (1:25 p.m., CBS (8)).
The Cardinals (11-3) — 7-0 at home for their highest home victory total since 1925 — clinched their first playoff appearance since 2009 in a 12-6 win at St. Louis but lost quarterback Drew Stanton to a sprained right knee. Lindley is 1-3 with no touchdowns and seven interceptions in four career starts.
Seattle (10-4) beat Arizona 19-3 on Nov. 23 to start a four-game win streak in which it has held opponents to 27 total points and an average of 188 yards.
The Cowboys (10-4) took sole possession of first place in the NFC East with Sunday's 38-27 win at Philadelphia, but could still miss the playoffs if it loses one of its final two games and the Eagles win their last two.
The Colts (10-4) clinched their AFC South division title by beating the Houston Texans 17-10 on Sunday for their fourth straight win.
FRIDAY
Portland Trail Blazers at San Antonio Spurs (5 p.m., ESPN (30)): The Trail Blazers (20-6) have won three straight and eight of 10 despite losing starting center Robin Lopez to a broken hand Monday. LaMarcus Aldridge and Damian Lillard will try to keep Portland on track against the ageless Spurs (17-9), who are coming off a 117-116 triple-overtime loss to the Memphis Grizzlies.
BEST OF REST — Los Angeles Clippers at Denver Nuggets (6 p.m., Prime (50)); Oklahoma City Thunder at Los Angeles Lakers (7:30 p.m., ESPN (30), TWCS (66)).
SATURDAY
It doesn't get much better than this for Utah fans, who will need to pace themselves to stay fresh for a day-night doubleheader.
Las Vegas Bowl, No. 23 Utah vs. Colorado State (12:30 p.m., ABC (13)): Back in a bowl after a two-year absence, the Utes (8-4) will try to build on a 10-1 postseason mark dating to 1999. They're 2-1 in the Las Vegas Bowl over that span, with their lone blemish a 26-3 loss to Boise State in 2010. Utah, which led the nation in sacks (52), is 13-4 all-time in bowl games, with its win percentage of .765, the best among FBS teams with at least 15 bowl appearances.
Mountain West Coach of the Year Jim McElwain helped the Rams improve to 10-2, after going 3-9 in 2013, before bolting for the Florida coaching job.
UNLV vs. No. 14 Utah, MGM Grand Garden (8:30 p.m., ESPN2 (31)): The Utes (7-2) have lost three straight and eight of their last nine meetings with UNLV (7-2) in Las Vegas. Utah, coming off a 63-60 loss to No. 10 Kansas, is led by Pac-12 Player of the Week Deion Wright and 7-foot Austrian freshman Jakob Poelti.
The Rebels are led by Rashad Vaughn, who leads the team in scoring with 17.5 points per game, and Christian Wood, who averages 13.4 points per game and leads the team in rebounding (9.2 per game) and blocked shots (29).
BEST OF REST — New Orleans Bowl, UNR vs. Louisiana-Lafayette (8 a.m., ESPN (30)); No. 12 Ohio State vs. No. 24 North Carolina in basketball (10 a.m., CBS (8)); Philadelphia Eagles at Washington Redskins (1:30 p.m., NFLN (317)); San Diego Chargers at San Francisco 49ers (5:25 p.m., NFLN (317), CBS (8)); No. 15 Oklahoma vs. No. 16 Washington in basketball (6 p.m., ESPNU (320))
SUNDAY
BEST OF REST — Kansas City Chiefs at Pittsburgh Steelers (10 a.m., CBS (8)); Atlanta Falcons at New Orleans Saints (10 a.m., Fox (5)).
Contact reporter Todd Dewey at tdewey@reviewjournal.com or 702-383-0354. Follow him on Twitter: @tdewey33.