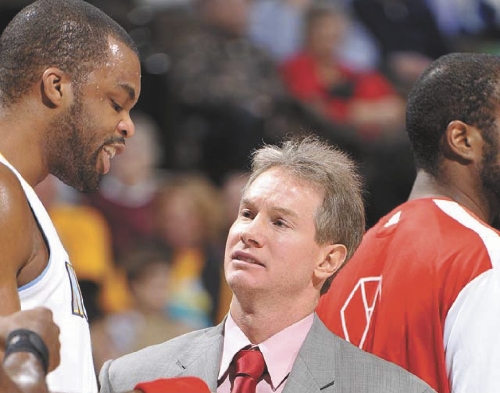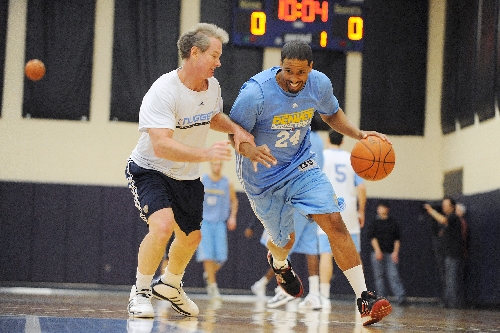 DENVER – Tipoff against the Houston Rockets was an hour away, and in the bowels of the cavernous Pepsi Center, John Welch was holding two huge ice bags, one pressing the back of his neck, the other caressing his right thigh.
Welch had been on the court, guiding Denver Nuggets players through pregame workouts, and he's come to expect feeling a little sore because of the energy he expends and how physical the sessions can get.
Never mind that Welch turns 50 next week; the kid in him feels like he's 15.
The former Rancho High School star played for Jerry Tarkanian at UNLV in 1985-86, then later worked for him as an assistant at both UNLV and Fresno State.
Now Welch is in the middle of his 10th season as an NBA assistant, his eighth in Denver under George Karl. He has risen from player development coach to full-time assistant, all the while retaining the energy and enthusiasm he has made his trademarks since he got into coaching in 1986.
"I feel so blessed to be in this position, to have this opportunity," Welch said. "You're working with amazing athletes who are so competitive, so driven.
"When I got into coaching, I wasn't thinking about the NBA. I was with Coach Tark and I thought I had the greatest job in the world, and I was just a graduate assistant then. But to me, it's all the same – whether it's here in the NBA or college or high school – your job is to get your players to improve and give your team the best chance to have success."
Karl, then with the Seattle SuperSonics, had considered hiring Welch to be a film coordinator in 1993. Later, after Welch spent two seasons on the Memphis Grizzlies' staff, Karl approached him anew in 2005, but not just to break down film. He gave Welch an opportunity to become a full-time assistant coach.
Karl already had one of the NBA's leading player development directors in Tim Grgurich. In Welch, he would be getting a Grgurich disciple. Yes, Welch would break down film, but he also would help set game plans. He would scout. And he would work out players.
"John is one of the best development guys in the league," Karl said. "He works great with the players; they love him. John learned from (Grgurich), and there's nobody better than (Grgurich). John comes from a lot of different coaches and philosophies, so he's got a great basketball mind."
For Welch, it's all about the teaching, the one-on-one work, with his goal of maximizing the players' talents. He is as devoted to the last guy on the bench as to the stars. Those workout sessions remain Welch's favorite part of the job.
"The guys trust him," said guard Andre Miller, a 14-year NBA veteran. "He has a great understanding of the game, and he gives everything he has to the organization."
Guard Ty Lawson said: "He brings a lot of energy every day. He has a passion for what he does, and he knows how to make players better. All the guys respect him."
Karl believes Welch can aspire to even greater heights.
"I think he'd make an outstanding (NBA) head coach," he said. "John knows the game. He has the talent to run a program. I don't know if that's something he wants to pursue, but I'd like to see him get the chance."
Welch blushed at the notion.
"I don't think about it," he said. "But if someone wanted to hire me as a head coach, of course I'd like to have the opportunity. My true aspiration is for us to go from being a good team to one that competes for a championship. That's where my focus is."
His decade in the NBA has given Welch a true appreciation of how talented and dedicated the players are, and how willing they are to accept coaching.
"Coming from college to the NBA, I was amazed at how hard the guys work and how intelligent they are," he said. "If you're in the NBA and you're a knucklehead, you better be phenomenal. In college and especially in high school, you can get away with being a knucklehead because they need you more then you need them. In the NBA, there's always someone who can replace you. Ninety-nine percent of the NBA players are a pleasure to be around."
On this night, Jan. 30, Welch sits to Karl's left, taking notes as the Nuggets fall behind but keep the Rockets in sight. He's watching both teams for trends – what's working and what's not. Near halftime, he leaves the bench for a few minutes to consult with the film staff, which prepares a brief video to show the players. The Nuggets trail, 57-56.
Houston leads 86-83 after the third quarter, but Danilo Gallinari's big fourth quarter bails out Denver. "Gallo" scores 16 of his 27 points in the final 12 minutes, the Nuggets pull ahead by 13 and win, 118-110.
Happy with the victory, Welch wasn't thrilled that Jeremy Lin had 22 points and Chandler Parsons 21 for Houston.
"We didn't do as good a job on Lin as we should have," Welch said. "We gave him too much room."
The next day, it started all over again. Welch was at the gym early, ready for practice. New Orleans was coming to Denver a day later, and the Rockets already were far in the rear-view mirror.
"We're all in this together," Welch said of his role in trying to develop the Nuggets into a title contender. "It's about doing what needs to be done. It's about connecting with the players. If you're teaching and they're not learning, you're not going to succeed."
Then Welch went out to the court. When he returned to the locker room, the ice packs would be waiting.
Contact reporter Steve Carp at scarp@reviewjournal.com or 702-387-2913. Follow him on Twitter: @stevecarprj.