Whiny Hamlin, Vickers can't take the heat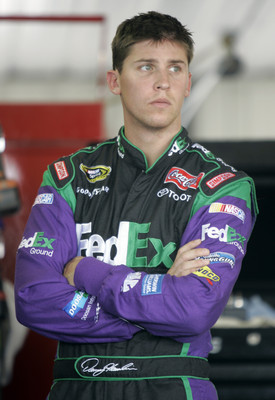 Good thing NASCAR drivers Denny Hamlin and Brian Vickers don't live in Las Vegas. They couldn't take it.
Oh, they'd survive the strip clubs, bars and poker tables. But they couldn't handle the heat.
The two Sprint Cup racers were overheated and then popped off like blown radiator caps following Sunday's Pocono 500 in Long Pond, Pa., where temperatures reached the mid-90s with high humidity.
These new cars are just too hot, they said.
Waaah!
They need to be cooler for the drivers.
Waaah!
How about NASCAR throw in a nice sound system?
Quit whining, guys. Shut up and drive.
If your cockpits are too hot for your armpits, then go get a real job.
Why not move out here and we'll hook you up with an asphalt paving crew or roofers who have to endure 120-degree summer heat. They don't have guaranteed contracts. Theirs is no work, no money.
And they don't have endorsement deals to further fill their pockets or groupies on their heels.
Cup drivers make a few million in salary and endorsements and do pretty well at races. Vickers got about half of the $144,000 in prize money he earned his team for finishing second at Pocono; Hamlin finished third and picked up around $80,000.
For that money, being hot for four hours and being lightheaded upon getting out of the car are small prices to pay.
Fellas, you'd better get in touch with the reality of the working class — supposedly your fan base — because they're tired of hearing you whimper.
My air conditioning hasn't been up to par the past month, but pay me the kind of money that racers get and I'll never get it fixed. You can seal my windows closed and turn on the heater. Heck, for the money Cup drivers make, I'll drive wearing a parka, stocking cap and long underwear.
Bet a NASCAR driver never burned his hands on his race car's steering wheel. They wear gloves. Do you? How many times have you burned your fingers after forgetting to put the shade up on your windshield?
Drivers are handed drinks and ice when they pit; we have to go through a fast-food drive-through and then pay for our cold beverage.
This new style Cup car probably is hotter.
A higher roof with larger windows has been called the "greenhouse" — ever been in a cold greenhouse? — and that adds to the interior heat. But it sure helped Juan Pablo Montoya exit his burning car quickly Sunday.
Other safety enhancements that might contribute to cockpit warming include re-routing the exhaust system under the car to keep fumes from seeping into the cockpit and inserting foam in door panels to help absorb energy in a side-impact crash.
These new features are safety enhancements. Life is a series of trade-offs, and so is racing. Safety beats comfort.
Drivers use "cool box" devices to blow cooler air into their helmets. Some use various hoses or fans to further circulate air.
Most drivers last Sunday dealt with the heat and prepared for it.
Desert rat Kurt Busch said his car seemed 15 to 20 degrees warmer, but he didn't complain; he prepared. He has worked outside in Southern Nevada summers.
"I saw the heat coming. I got as hydrated as I could in the days leading up to it," he said.
Too many Sprint Cup drivers complain about too many things.
The new Cup cars are hotter.
The new Cup cars make it harder to pass.
The track changed too much after it was repaved.
Gee, what a harsh life you guys have.
You usually fly to races on a private jet before riding a helicopter to the track where you hang out in your million-dollar motor coach when not on the track.
Maybe Hamlin and Vickers should get jobs hauling freight with the "Ice Road Truckers."
No, that won't work because it would be too cold.
Poor babies.
Waaah!
Jeff Wolf's motor sports column is published Friday. He can be reached at 383-0247 or jwolf@reviewjournal.com.