Williams, Lobos rip Rebels
February 20, 2014 - 12:12 am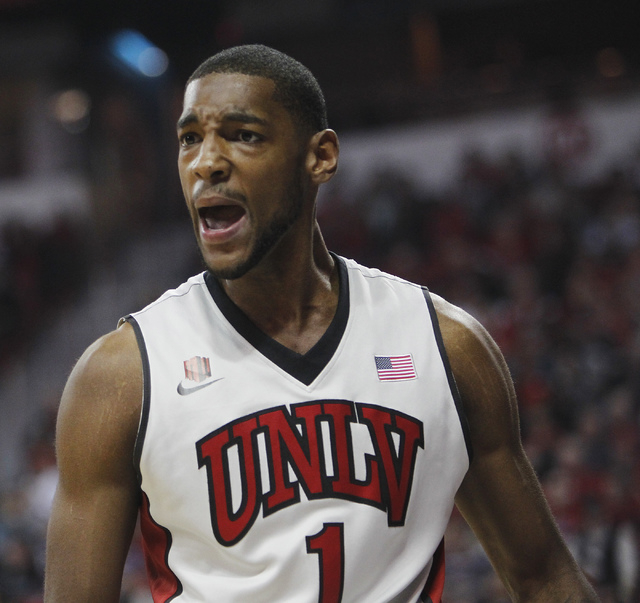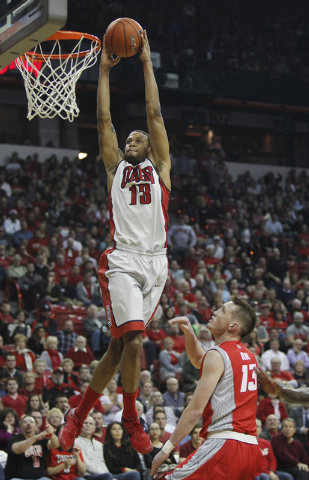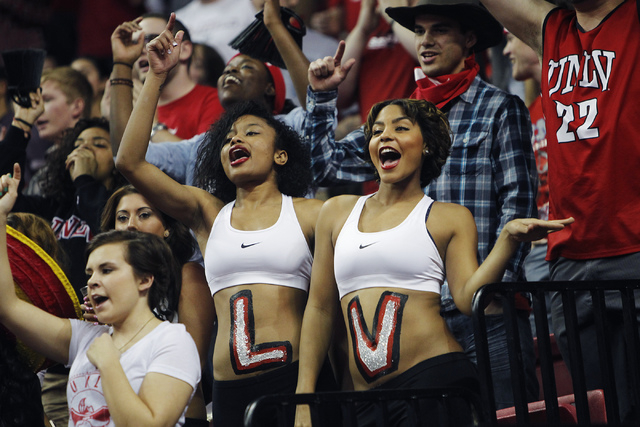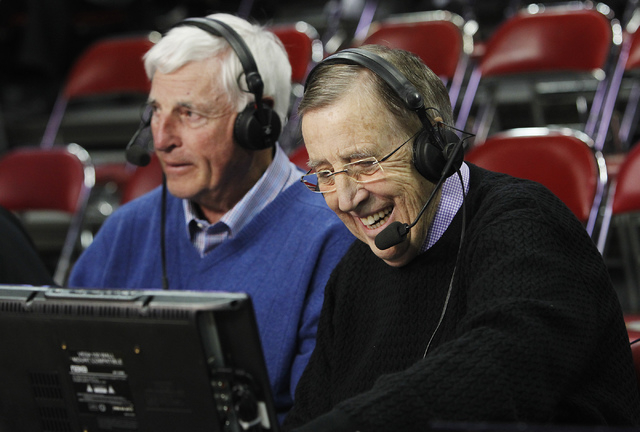 It took more than a month for New Mexico to get revenge, and Kendall Williams' shooting made sure it was sweet.
As the final buzzer echoed throughout an empty Thomas &Mack Center, Williams shouted, "This is our house," followed by a variety of obscenities. He had earned the right to talk trash.
Williams made four 3-pointers and scored 29 points as the Lobos led the entire way en route to a 68-56 victory over UNLV in a Mountain West mismatch Wednesday night.
On a big stage, in front of a crowd of 13,701 and an ESPN2 audience, the Rebels (17-9, 8-5) made an embarrassingly bad showing.
Williams, a senior guard and the reigning conference player of the year, was the undisputed star of the show.
"He's an impressive player, and when he's going like that, he's difficult to stop" UNLV coach Dave Rice said. "He put their team on his back."
Senior forward Cameron Bairstow added 18 points, six rebounds and five blocked shots for second-place New Mexico (20-5, 11-2).
The Lobos shot 45.8 percent from the field while easily avenging a 76-73 loss to the Rebels on Jan. 15 in Albuquerque, but their defensive pressure was the dominant factor in the rematch.
Khem Birch had 11 points and 12 rebounds for UNLV, which shot 19-for-60 (31.7 percent) from the field, including 3-for-21 from 3-point range.
The Rebels' mistake-riddled performance, full of defensive lapses, left Birch to doubt where their season is headed.
"I guess we're out," Birch said of the league title race. "I always wanted to make the NCAA Tournament. I'm not saying we're out, but our chances are slim right now."
Williams scored 17 points and Bairstow had 11 as New Mexico controlled the first half and led 38-29. The Lobos shot 59.3 percent (16 of 27) from the field, with Williams hitting 7 of 9 shots.
Birch was forced to play passive defense after being hit with two early fouls, and Bairstow attacked the basket.
UNLV put on a horrendous shooting exhibition — 10-for-31 from the field, including 1-for-11 from 3-point range, and 8-for-18 on free throws — that got worse after the break.
In the first five minutes of the second half, the Rebels unraveled in comical fashion.
Bairstow drove baseline and beat Birch to the rim for a reverse layup to put the Lobos up 45-31. On the inbounds pass, Roscoe Smith's miscommunication with Deville Smith resulted in an unforced turnover. To top off the sequence, Williams swiped the ball from Deville Smith in the backcourt and converted a three-point play to make it 50-33 with 15:29 to go.
Roscoe Smith banked in a fallaway baseline jumper, and Chris Wood made two free throws to pull UNLV within 54-47 with 8:42 remaining. But a 3-pointer by Williams and a layup by Bairstow killed the Rebels' rally and silenced the crowd for the final time.
Williams and Bairstow were the primary forces in the Lobos' pick-and-roll offense that sliced UNLV apart.
"We've got to get tougher and and get more physical on pick-and-roll action," Rice said. "We didn't play our best basketball."
New Mexico coach Craig Neal mixed in a zone defense that baited the Rebels into taking wild jumpers for most of the night.
"I was frustrated we shot 3-pointers instead of trying to go to the basket," said Birch, who made 3 of 10 free throws. "But we were behind. I'm not going to blame the guards."
The day got off to a bad start for UNLV when point guard Deville Smith arrived late for the team shootaround and was benched in favor of Daquan Cook, who made his second consecutive start.
"For a starter on the team, you definitely have to be on time," Birch said. "I was kind of disappointed. That's a big issue."
Roscoe Smith added 10 points and 10 rebounds, and Bryce Dejean-Jones, who scored 23 in the teams' first meeting, shot 4-for-12 to also finish with 10 points for UNLV.
"I think every loss is incredibly difficult to deal with," Rice said. "It was a great opportunity to put ourselves right in the middle of the conference race."
Contact reporter Matt Youmans at myoumans@reviewjournal.com or 702-387-2907. Follow him on Twitter: @mattyoumans247.