Wimbledon shocker: Venus Williams loses to Bulgarian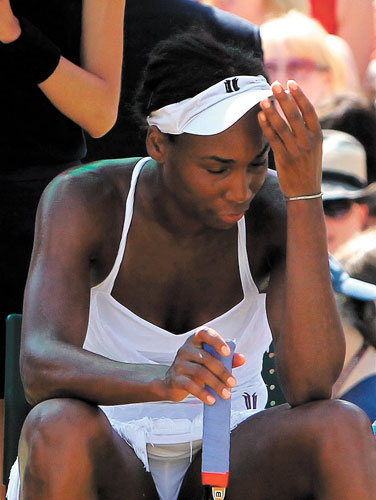 WIMBLEDON, England — Venus Williams would shank a shot — and she shanked many on this day — then turn toward the Court 1 player guest box where her parents were seated and put her palms up or shrug her shoulders, as if to indicate, "I don't know what's happening here."
The five-time Wimbledon champion was out of sorts, out of answers and out of the tournament in the quarterfinals, stunned 6-2, 6-3 Tuesday by the lowest-ranked woman left, No. 82 Tsvetana Pironkova of Bulgaria, meaning there won't be an all-Williams title match at the All England Club this year.
Williams double-faulted five times and totaled 29 unforced errors, 23 more than her solid-if-not-spectacular opponent.
"Didn't do myself any favors," said the No. 2-seeded Williams, whose younger sister, No. 1 Serena, won Tuesday to reach the semifinals. "I missed all shots today: forehand, volley, backhand. You know, if there was a shot to miss, I think I missed it."
It was the older Williams' 77th career singles match at the All England Club — she participated in eight of the past 10 finals, losing to her sister three times, including in 2009 — and never had she won so few games.
The only time she's been beaten at Wimbledon by someone ranked lower than Pironkova was all the way back on June 28, 1997, when the American lost her tournament debut to No. 91 Magdalena Grzybowska.
Really, the only factor preventing this result from truly being considered one of the biggest upsets in tennis history is that Pironkova actually managed to do this before: She defeated Williams at the 2006 Australian Open.
"I don't even really remember anything from last time," Williams said. "Obviously, she's played well to get this far, but I don't think I did anything right today."
Set aside, for a moment, all of Williams' bona fides — seven Grand Slam titles, seven runner-up finishes at majors, a stint at No. 1 in the rankings — and consider the 22-year-old Pironkova's resume: She never made it beyond the second round in 18 previous Grand Slam events, and never made the final at any tournament.
"No one expected me to (reach a) semifinal in Wimbledon," Pironkova said, "and to beat Venus Williams like that."
But Pironkova, who's coached by her father, must have believed this was possible, right?
"If I have to be honest: no," she said. "Coming here, I really just wanted to play a good game, to maybe win one or two rounds. But (a) semifinal looked, to me, very far."
Well, now she's there.
On Thursday, Pironkova will face No. 21 Vera Zvonareva of Russia, who added to the topsy-turvy day by coming back to oust No. 8 Kim Clijsters, 3-6, 6-4, 6-2. Unlike Pironkova, Zvonareva at least can boast of some experience at this stage, having reached the 2009 Australian Open semifinals.
On the other side of the draw, defending champion Serena Williams smacked 11 aces — lifting her total for the tournament to a Wimbledon-record 73, one more than she hit last year — and made only six unforced errors in a 7-5, 6-3 victory over No. 9 Li Na of China.
"I haven't seen her serve that well in a while," said the Williams sisters' mother, Oracene Price, who joked that "they're stealing some aces from Serena; we're counting."
That Centre Court match began after Pironkova's victory was completed, so tennis' two most successful siblings crossed paths in the locker room. Venus — who had just lost — and Serena — about to play — chatted, already aware they would not meet in the Wimbledon final for a fifth time.
"I don't know if it affected my play too much," Serena said.
She next faces yet another unheralded member of this year's final four, 62nd-ranked Petra Kvitova of the Czech Republic, who saved five match points and erased third-set deficits of 4-0 and 5-2 to eliminate 80th-ranked qualifier Kaia Kanepi of Estonia, 4-6, 7-6 (8), 8-6.
"I play now very well, my best tennis in my life, my career," said the left-handed Kvitova, who knocked off No. 3 Caroline Wozniacki, No. 14 Victoria Azarenka and No. 23 Zheng Jie en route to her first Grand Slam quarterfinal.
Asked if she thinks she can win the title, the 20-year-old Kvitova replied: "I don't think so. No."
Perhaps that's because she hadn't won a grass-court match until last week.
Pironkova and Kvitova give Wimbledon two unseeded women in the semifinals for the first time since 1999. Indeed, Serena Williams is the only remaining woman with a Grand Slam championship; she owns 12.
"It's not mine to lose; it's mine to win, if I can get it," the three-time Wimbledon champion said.
"There's three other people that are vying to win it. They have just as good a chance as I do."
If you say so, Serena.
Zvonareva, at least, was in Wimbledon's fourth round twice before. But she was 0-5 against Clijsters before turning things around this time by letting the two-time U.S. Open champion make mistakes.
Over the last two sets, Clijsters made 25 unforced errors, Zvonareva nine. After going 0 for 3 on break points in the opening set, Zvonareva converted 4 of 10 the rest of the way.
"I never really made her work for it all that much," Clijsters said. "That's probably the most disappointing thing."
Zvonareva has a reputation for mid-match melodrama — she sobbed on court at the 2004 U.S. Open — but was all business Tuesday, staying focused by draping a pink towel over her head during changeovers.
"It just helps me to relax and not to see what is going on around," Zvonareva explained. "For me, it's very important just to keep my concentration."
That towel prevented her from catching score updates from Court 1, where Pironkova became the first woman representing Bulgaria to reach a major semifinal in the 42-year Open era.