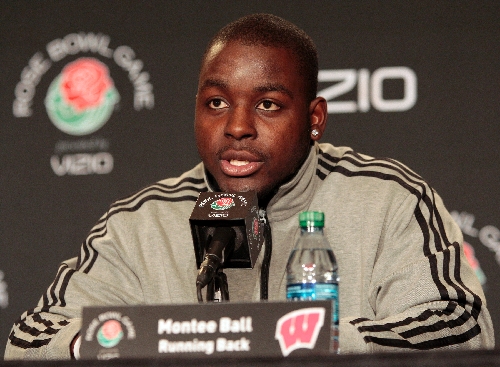 Wisconsin running back Montee Ball hasn't been cleared to practice as he recovers from a concussion sustained when he was roughed up by five men in an early morning incident near campus last week.
Badgers coach Bret Bielema said Ball will be worked back into practice slowly, and he hopes Ball will be ready for the Sept. 1 opener against Northern Iowa.
While police continue to investigate whether an earlier fight involving Badgers football players might have triggered the attack on Ball, Bielema doesn't believe the senior running back did anything that will jeopardize his standing on the team or his Heisman Trophy hopes.
"I think in the end, if there was proof or anything that comes out that he was involved, it absolutely, positively would," Bielema said Monday, the Badgers' first day of practice. "But I'm fairly confident that the young man I've known over the last seven years of my life is a guy that's been pretty straightforward."
Ball was a Heisman Trophy finalist last season as a junior, scoring 39 touchdowns to tie Barry Sanders' NCAA record.
Police said Ball was walking down a street Wednesday around 2:15 a.m. after "socializing" with friends. Two friends walking ahead of him turned around and saw Ball on the ground. The men had surrounded him and were kicking him in the head and chest.
Detectives investigating an assault subsequently identified "several persons of interest" and believe the altercation might be related to a fight a few days earlier. Investigators determined that a fight occurred late on July 27 and into the morning of July 28 involving Wisconsin students, members of the football team and others, according to a police statement.
Ball was present, but there is no indication he participated in the fight, police said.
■ FLORIDA STATE – Seminoles coach Jimbo Fisher said offering a scholarship to 6-foot-4-inch, 252-pound tight end Kevin Haplea, a Penn State transfer, was an easy decision and that he had plenty of candidates to replace speedy, shifty senior Greg Reid.
Fisher last week dismissed Reid for violating team rules three weeks after he was charged with marijuana possession. Reid not only started at cornerback, but had emerged as Florida State's best punt returner since Deion Sanders.
The Seminoles recruited Haplea out of high school in Annandale, N.J., but he chose Penn State. Haplea played in every game for the Nittany Lions last season, catching three passes for 21 yards and one touchdown. He also was credited with opening running lanes for 1,200-yard rusher Silas Redd, who last week transferred to Southern California.
■ OKLAHOMA – An MRI revealed that starting offensive guard Tyler Evans tore the anterior cruciate ligament in his right knee at the start of camp, yet another blow to a Sooners squad that was already going to be without five other players this season.
Coach Bob Stoops said Evans was running down the field during the Sooners' first practice of training camp Friday when he was hurt. Later Monday, the news came back that the senior would be out for the season.
Evans was Oklahoma's most experienced lineman remaining after senior center Ben Habern gave up the sport last week because of lingering neck and back issues. Evans has 29 career starts and had been in the lineup for the past 13 games. Habern had started 30 games.
Lineman Will Latu was one of two junior college transfers, along with receiver Courtney Gardner, who didn't make it into school and reserve lineman Dylan Dismuke suffered a career-ending injury.
■ MISSISSIPPI – Rebels defensive back Charles Sawyer has a torn quadriceps muscle and will likely miss at least a month before returning.
The 5-11, 175-pound junior was one of the best players on last year's team, making a team-high four interceptions and also having 70 tackles. Coach Hugh Freeze said Sawyer got hurt Sunday and is likely out four to six weeks. He didn't specify which leg Sawyer injured.
■ MICHIGAN – The Wolverines began preseason practice without suspended players Fitz Toussaint and Frank Clark, and coach Brady Hoke gave no hint of when either will return.
Toussaint, Michigan's starting tailback, was arrested for drunken driving. Clark, a defensive end, was charged with second-degree home invasion.
■ OREGON STATE – Bud Riley, the father of Beavers coach Mike Riley and a former assistant coach at the school, died at age 86. The school announced that Bud Riley died Saturday after a lengthy illness.