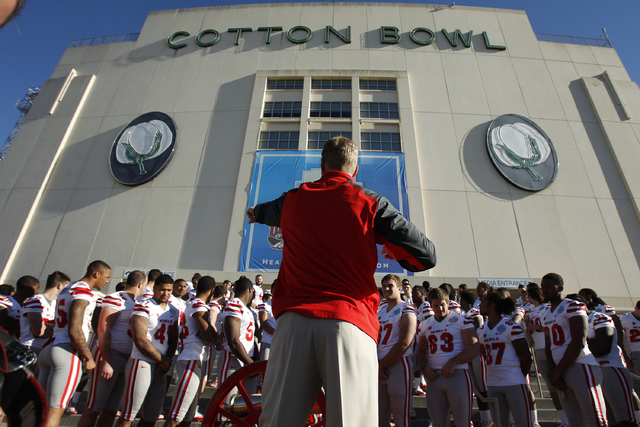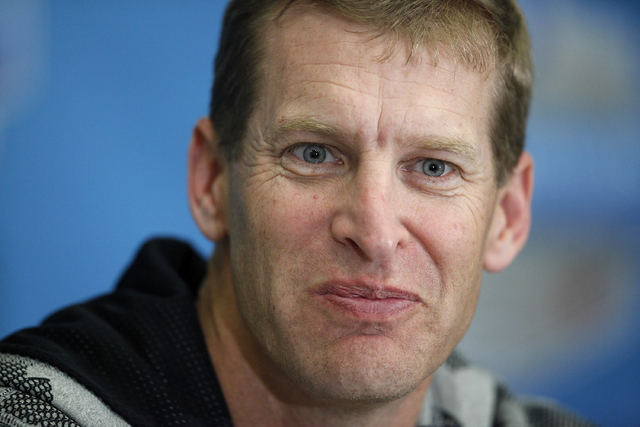 DALLAS — This is UNLV's first game without a playoff-type feel, the first game that winning or losing won't have greater effects on the season.
Win or lose the Heart of Dallas Bowl, this will be considered a successful season.
But the Rebels didn't travel this distance — sending players here on commercial flights from as far away as Hawaii — with the idea of simply showing up.
"You never want to head into the offseason with that bad taste in your mouth," UNLV football coach Bobby Hauck said. "But certainly when you look at the body of work as a whole and what our team accomplished compared to what had gone on the previous 13 years at UNLV, for us to be playing on New Year's Day against a terrific opponent, it's a successful season. It would be more successful, certainly, with a win."
The Rebels (7-5) will face North Texas (8-4), a 6½-point favorite, at 9 a.m. PST today at Cotton Bowl Stadium. ESPNU will televise the game.
An attendance of about 30,000 is expected in what will be a pro-North Texas crowd, and the massive, historic stadium has been configured for a crowd of 40,000.
UNLV probably wishes this game was played three weeks ago after it ended the regular season playing its best football. The Rebels thrashed Air Force 41-21 on the road in 11-degree weather and snow and then came home to rout San Diego State 45-19.
Now with a month between games, the Rebels have the difficult task of continuing that momentum.
"You don't want to get stale," Hauck said. "You want to keep your team fresh. One of the things is to get done with finals week and get into bowl preparation, get everybody healthy and then go have some good practices. We were able to have some physical days, and in preparation for a physical opponent, we had some really good padded practices.
"I think our preparation has been good. We followed a template that some of the staff had used in the past years for different games, and hopefully it works."
Offense usually struggles more than defense after such a long gap, and the Mean Green have the advantage if that trend holds. They have allowed only 18.1 points per game. North Texas is led by linebacker Zach Orr, who has a team-best 114 tackles, including 11 for loss.
UNLV's balanced offense averages 31.2 points. Caleb Herring has completed 64.3 percent of his passes for 2,522 yards and 22 touchdowns, with four interceptions. Tim Cornett has rushed for 1,251 yards and 15 touchdowns, and Devante Davis has 77 receptions for 1,194 yards and 14 touchdowns.
The teams, though, have plenty in common.
UNLV is making its first bowl appearance since 2000, and North Texas is in its first postseason game since 2004. Both teams figure to be motivated because this bowl appearance means so much to each program.
"The neat thing in the end of this whole thing is we just have two great programs that are so proud and so honored and so excited to be here," North Texas coach Dan McCarney said. "So proud and so excited to be here, nobody looking down their nose at anything. Neither of these teams or coaching staffs or head coaches would rather be any place in the country than where we are right now."
Just to get to this game was difficult for UNLV, which spent nearly all season in playoff mode to reach six victories and bowl eligibility. Then after a late-season upset by San Jose State over Fresno State gave the Mountain West one more bowl-eligible team than contracted spots, six victories didn't seem like enough.
So the Rebels got a seventh in their final regular-season game, and they probably wouldn't be in Dallas, or any bowl city, without that last victory.
Now the pressure is off.
Win or lose, the season will be judged a success.
But the Rebels didn't come here to lose. This is a program that has waited 13 years to be in such a game, and UNLV would love to begin the new year with a bowl victory.
"It'd be a perfect ending to what has already been a good season, going against a good opponent that we've never faced before," Herring said. "For the past few years, we've been playing the same teams over and over.
"Facing somebody new and stepping up to a new challenge on such a big stage will be a big win for us."
Contact reporter Mark Anderson at manderson@reviewjournal.com or 702-387-2914. Follow him on Twitter: @markanderson65.
WHERE: Cotton Bowl, Dallas
WHEN: January 1
TV: ESPNU