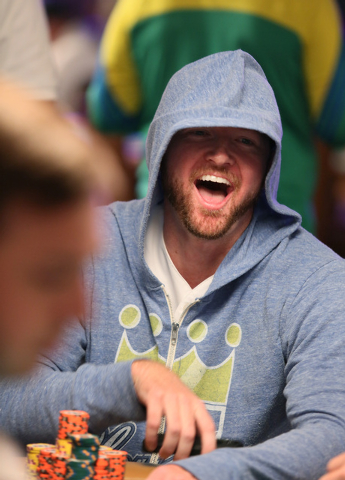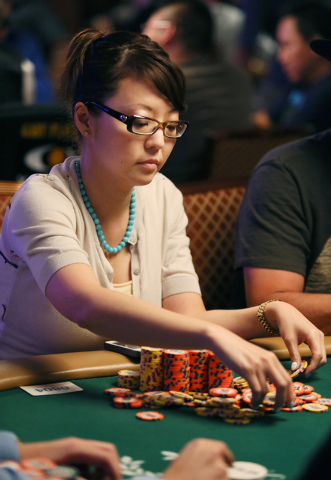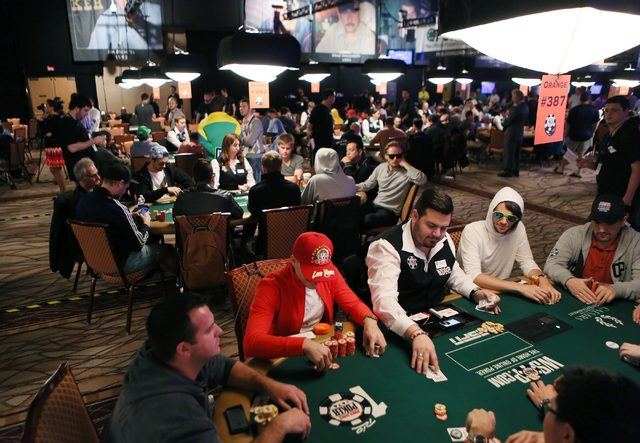 Mikiyo Aoki had a nice little vacation planned.
She was going to drive down from Montana, visit a few friends and play in the $1,000 buy-in Ladies No-Limit Hold 'em Championship at the World Series of Poker. She was only supposed to be gone for a week.
So much for that.
"It's surreal. It hasn't really set in yet, I don't think," Aoki said. "It probably won't for a while."
Aoki finished second in the Ladies Event on June 29 and, buoyed by the nearly six-figure payday, decided to stick around Las Vegas and cross off another item on her bucket list by playing in the Main Event, too.
The 24-year-old demo architect from Bozeman, Mont., was one of six women remaining when Day 5 of the $10,000 buy-in No-limit Texas Hold 'em World Championship started Saturday at the Rio Convention Center.
The field of 6,683 was down to 120 players at 10:30 p.m. Saturday, and Aoki had 2.925 million, unofficially putting her in the top 25.
Maria Ho, Marcia Kuntz and Darlene Lee also were still alive late Saturday, while Ronit Aharoni (248th place) and Ruth Graham (280th place) were eliminated early on. Ho was the last woman standing in the 2007 Main Event when she finished 28th.
The only woman to make the final table of the Main Event is Barbara Enright, who finished fifth in 1995.
"I mean, obviously, I'd be ecstatic if I just happen to be the last lady standing this year. That's always something I took note of when I was watching growing up," Aoki said. "But at the same time, I'm not really competing against a subgroup. I try not to put up too many expectations. There's just a lot that can happen."
The Main Event resumes at noon today at the Rio with Day 6 and continues through Monday. The final nine players return Nov. 10 at the Rio's Penn &Teller Theater to compete for the $10 million first prize.
Aoki grew up in Montana and was an elite-level ski racer throughout her childhood. She competed in multiple International Ski Federation (FIS) events across North America as a teenager and even had a sixth-place finish in the slalom during a 2008 event in Cerro Chapelco, Argentina, according to her FIS bio.
"I kind of burned out right at the step where I had to decide if I wanted to pursue that as a career," Aoki said.
Aoki, who attended Concordia College in Moorhead, Minn., learned poker from her older brother Nobu after watching Greg Raymer win the 2004 WSOP Main Event. She was recruited into his local home game and played poker online, but never for high stakes.
Aoki is part of a regular Tuesday night home game in Bozeman, but before the Ladies Event, the biggest tournament she played was the $500 buy-in Casino Employees event at last year's WSOP.
Aoki had the chip lead in the Ladies Event for most of Day 2 and entered the final table with more than 30 percent of the chips in play before finishing second to Haixia Zhang of Los Gatos, Calif.
"Of course, it's like that lingering thought, 'Oh, so close,' " Aoki said. "But that was the biggest tournament I had bought into up to that stage, and to finish second, I was just ecstatic."
With an extra $94,800 in her bank account, Aoki decided to extend her vacation to enter the Main Event.
"This has definitely been on my bucket list since the year (Raymer) won," Aoki said. "I never thought I'd get the opportunity to play this early in my life, so I had this chance, and I decided to take it."
Aoki steadily built her stack Friday and entered Day 5 in 20th place with 1.546 million chips. She won a big pot against Eddy Sabat during the third level of play Saturday and had 2.287 million chips at the 7 p.m. dinner break.
"I think I've taken some big risks," Aoki said, "and they've paid off."
Contact reporter David Schoen at dschoen@reviewjournal.com or 702-387-5203. Follow him on Twitter: @DavidSchoenLVRJ.