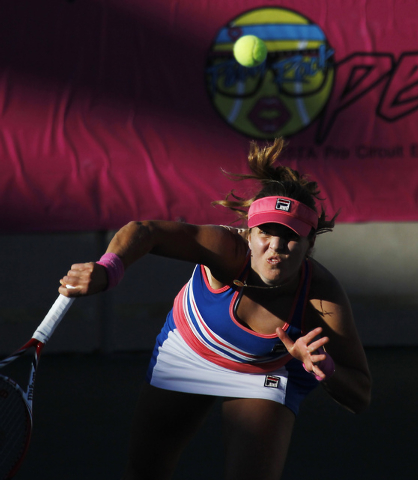 Melanie Oudin will not return to Las Vegas in September to defend her Party Rock Open title because the tournament isn't coming back.
The promoters of the USTA Women's Pro Circuit event have decided not to return to the Darling Tennis Center after failing to renew the sponsorship with Redfoo, the popular singer and DJ who had lent his name and his Party Rock brand to the event the past two years.
"Mostly, it was a financial decision," promoter and tennis agent Jordan Butler said Tuesday. "We needed to raise more sponsorships and get more people in the stands. We were able to do that on the weekends, but the attendance during the week was always a challenge.
"Redfoo said he wanted to stay involved, but he didn't want to make a financial commitment. So losing him was big. And when we couldn't find another title sponsor, we decided not to play."
The demise of the Party Rock Open comes on the heels of news last week that the Las Vegas Neon of World Team Tennis had folded before playing a match, after the team's owner was arrested in Sacramento, Calif., and a federal judge froze the company's assets, thus rendering the Neon without any operating capital.
The decisions leave Las Vegas with no pro tennis presence. The ATP Tour hasn't been in town since the Tennis Channel Open left in 2008 after a three-year run. The Powershares Tour, which features players 35 years of age and older and included Andre Agassi, did not return this year after two years of low attendance at the Thomas & Mack Center and Mandalay Bay.
"We put a lot of work into this, and we believed the community would support the tournament," said Butler, who along with co-promoter Tyler Weekes had been running the Las Vegas women's event since 2009. "We tried to make it affordable and fun. But it's still a business, and we were barely breaking even after five years of building it, so it's bittersweet and disappointing to not be able to keep the tournament in town."
Contact reporter Steve Carp at scarp@reviewjournal.com or 702-387-2913. Follow him on Twitter: @stevecarprj.