Woods' charge a prime-time spectacle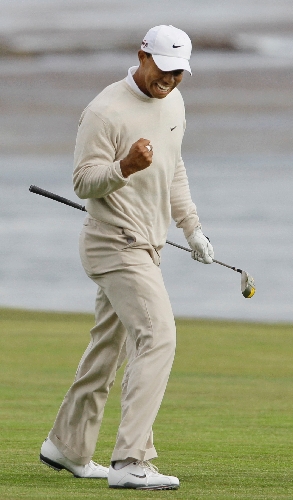 PEBBLE BEACH, Calif — Pebble Beach provided the backdrop, and Tiger Woods did his best to make it must-see TV.
NBC couldn't have asked for more from some night golf that, depending on how you looked at it, either showed how desperate the network is for programming or how people will tune in to see Woods no matter what he's doing.
Quite well, it turns out, which was great news for the beleaguered Team Tiger. The news was just as good for the network executives who were counting on him to carry the broadcast for two nights running at the U.S. Open.
Two years ago they experimented with prime time from Torrey Pines, and Woods rewarded them with better drama than most episodes of "Law & Order." His putt on the final hole to tie Rocco Mediate and send the Open into a Monday playoff gave NBC the third-best Sunday Open ratings ever.
It was nearly as exciting Saturday, with Woods back to his fist-pumping ways as he poured in putts from seemingly everywhere to roar back into contention as the crowd roared with him. That meant he either figured out something in his putting stroke or the same greens he trashed after the first two rounds somehow got better.
The slight by Woods to the people who so meticulously prepared Pebble Beach for the Open didn't go unnoticed. He got a public reprimand from the executive director of the USGA, something that would have been unimaginable before his fall from grace.
"He is entitled to his opinion, but he's off on his facts," David Fay said. "These putting surfaces have never been better."
The problem with Pebble's greens is that the later it is during the day, the worse they get. So the USGA, in its never-ending quest to squeeze more profit from its marquee event ($34 hats anyone?), defeated its purpose by selling out to NBC and forcing the leaders to tee off in late afternoon so they could play in prime time on the East Coast.
"You kind of have to have a little thicker skin because the ball's going to be bouncing a bit," Nick Watney said. "You do the best you can and see where you end up."
Where Woods finally ended up couldn't have been predicted. He practically had been invisible with two days of mediocre golf on the same course where he ran away by 15 shots to win the Open the last time it was here, 10 years ago.
But he got the advantage of teeing off two hours before the leaders, who had to deal with greens that grew bumpier by the minute. And he didn't have to spend all day pondering the diabolical ways that a spot of paradise on the Pacific suddenly could turn so ugly.
Phil Mickelson did, teeing off so late he might have had dinner before venturing out.
"I mean 4 o'clock?" Mickelson said the day before. "I'm driving home, getting the kids ready for doing their homework and getting ready for bed. So it will be awkward for us all."
Mickelson could have used the late time as an excuse for trying a miracle shot out of the fairway bunker on the ninth hole that led to a costly double bogey. But he would try a miracle shot the moment he got out of bed in the morning, so there was no blaming the USGA for that one.
The double was unfortunate for Lefty, but it gave the prime-time viewers in the East something to keep their attention. So did the charge from Woods, who rode to the rescue of the telecast just as Dustin Johnson and Graeme McDowell were threatening to put people to sleep across the country.
Woods played the last 15 holes in 7 under par, a display of Open golf almost as startling as his romp at Pebble in 2000. The 66 was his lowest score since returning from the sex scandal that brought him down, and it came at a time when others in the game surely were doubting him.
He topped it off with a 3-wood from behind the tree on the 18th fairway to about 20 feet, and the crowd that swelled with each putt he made groaned along with him when the putt for eagle barely missed.
"It was just a great atmosphere," Woods said. "It felt good to put it together. Today I hit shots the way I know I can hit shots."
That could mean trouble for the players on the leaderboard with him who don't have 14 major titles and never have won an Open of any sort, much less at Pebble Beach. It also means people will tune in in big numbers to watch and see how it all plays out today, no matter how they might feel about Woods.
All because Woods came out of nowhere when it mattered most.
Turns out he was just waiting for prime time.
Tim Dahlberg is a Las Vegas-based national sports columnist for The Associated Press. Write to him at tdahlberg@ap.org.