World's Toughest Mudder comes to Las Vegas this weekend
November 12, 2016 - 8:21 am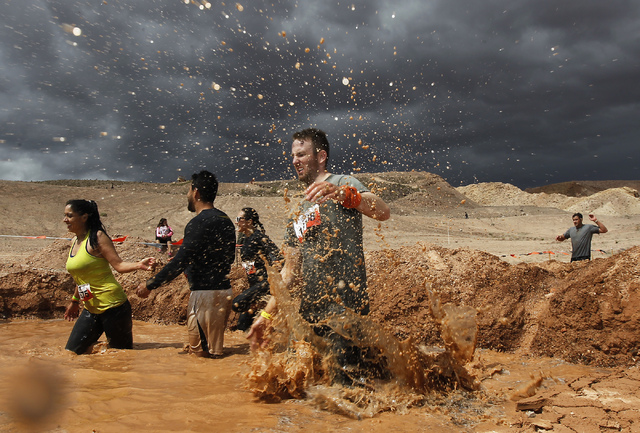 Sometimes you have to play dirty to win.
The sixth annual World's Toughest Mudder kicks off Saturday at Lake Las Vegas with 1,280 competitors. The challenge begins at noon, and competitors will have 24 hours to complete as many five-mile laps in the obstacle course as possible. Special achievements include passing mile markers in increments of 25 and competing for the entire 24-hour period.
"It's the most grueling 24-hour endurance event on the planet," said Amelia Boone, a three-time World's Toughest Mudder female champion.
For the first time, Tough Mudder has partnered with CBS to give fans a new look at the event. The event will air at 11 a.m. Dec. 25 on CBS, with a postgame show at noon on CBS Sports Network. A one-hour preview show called "Road to World's Toughest Mudder" will air at 6 p.m. Dec. 15 on CBS Sports Network.
In addition, toughmudder.com, cbssports.com and the CBS Sports app will air a live-stream of the full 24-hour event, including programming on social media channels such as Facebook, Twitter and Snapchat.
There also will be 360-degree cameras in the course, and that footage will be available online sometime between the preview show Dec. 15 and the airing Dec. 25.
"We've always had content and stories of people, of the obstacles themselves, sort of the foundation for what our brand is all about," said Jesse Bull, the customer marketing director at Tough Mudder. "But we've never been able to fully tap into that."
One of the top contenders will be Lindsay Webber, who will be competing in her first World's Toughest Mudder. She's no stranger to the event, as she is the current Obstacle Course Racing female world champion and has worked on the pit crew of her husband, three-time World's Toughest Mudder champion Ryan Atkins.
"Somebody said to me that usually when people do this event for the first time, then they'll pit after," said Webber, of Caledon, Ontario. "It definitely gives me some advantages."
Tough Mudder Inc. was founded in 2010 and has grown to include 2.5 million participants worldwide. There have been more than 200 events launched since its inception in more than 10 countries.
The 2017 season will feature new obstacles that will debut at Saturday's event. The Augustus Gloop puts participants in a large tube similar to the movie "Willy Wonka and the Chocolate Factory," and Funky Monkey The Revolution adds a revolving twist to a classic Tough Mudder event. Arctic Enema The Rebirth sends competitors down a dark tube into icy water, and The Reach Around is an inverted 45 degree angle climb up a nearly 20-foot wall.
Spectator suggestions include watching the beginning of the race Saturday and returning for the conclusion at noon Sunday. Check-in for spectators begins at 8 a.m. Saturday and 7 a.m. Sunday.
Contact Justin Emerson at jemerson@reviewjournal.com or 702-387-2944. Follow @J15Emerson on Twitter.
EXTREME RACING
What: World's Toughest Mudder
When: Saturday, Sunday
Where: Lake Las Vegas
Schedule: Saturday — spectator check-in, 8 a.m.; event begins, noon. Sunday — Spectator check-in, 7 a.m.; event ends, approximately noon.