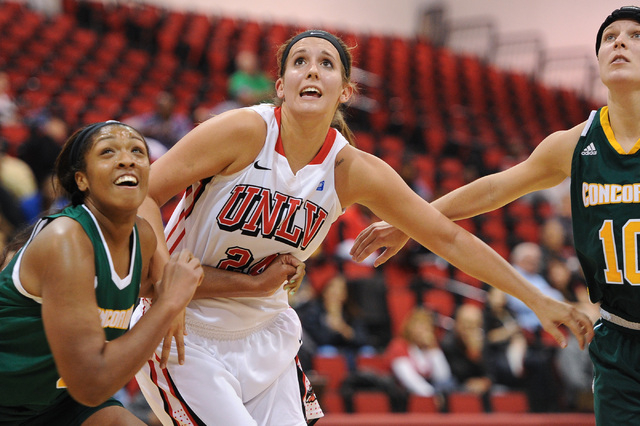 It's not often a student, especially one who aspires to become a doctor, turns down what amounts to a free ride to Harvard.
But that's exactly what Alana Cesarz did, choosing to attend UNLV over the prestigious Ivy League school.
"It just kind of came down to (wanting) more of a basketball school," the 6-foot-1-inch junior forward/center said. "Some people are surprised by (my decision), but I'm happy with the way things turned out here.
"I've learned more and more how good academics are here. I'm glad I came to UNLV."
Harvard doesn't offer athletic scholarships, but Cesarz — a Wisconsin native who graduated as salutatorian of her high school class with a 4.3 weighted grade-point average — said the Crimson promised her enough financial aid to cover her tuition.
That still wasn't enough to entice her to attend Harvard, which was in her final four schools with UNLV, Gonzaga and Wisconsin-Green Bay.
The latter two schools regularly advance to the women's NCAA Sweet 16, but Cesarz chose the Lady Rebels for the chance to help start a tradition.
"I wanted to be on a team like UNLV that could be building and I'd be playing a lot and make a name for myself," she said. "I wanted to maybe help lead UNLV to the Sweet 16."
Averaging 11 points and six rebounds per game for the Lady Rebels (1-2) after returning early from January knee surgery to repair a torn anterior cruciate ligament, Cesarz still plans on becoming a pediatrician.
"I've always wanted to be a doctor and I love kids, so it's perfect," she said.
She has earned all A's and B's, with one pesky C, at UNLV.
"I get upset with myself when I get anything but an A," she said. "I've always wanted to be the best at everything I do."
Cesarz is scheduled to shadow a local pediatrician during the spring and graduate from UNLV next summer — a year early — with a bachelor's degree in kinesiology. She then plans to take the remaining classes she needs for medical school her senior year.
Lady Rebels coach Kathy Olivier is proud that Cesarz picked UNLV over Harvard.
"I brag about that all the time, actually," Olivier said. "I didn't convince her by any means, but just the fact that she chose UNLV over Harvard says a lot about our university, the people on our coaching staff and the players on the team."
Growing up with five brothers, four of them younger, in an athletic family — her father played minor league baseball and her mother was offered a college basketball scholarship — Cesarz had plenty of chances to play doctor during backyard basketball and Wiffle ball battles.
"We played intense games of 4-on-4 and someone always ended up crying," she said. "It was very competitive. I always joke around that I have the hardest time getting along with girls, because I was literally like the guys and we'd fight it out and that was the end of it."
Those family feuds helped harden her for battles under the boards.
"I think it really helped me be more physical, having to deal with all of my brothers," she said. "They're crazy, but we get along real well."
About 100 family members and friends bused to Evanston, Ill., on Sunday to support Cesarz in the Lady Rebels' 57-53 loss to Northwestern.
"All my little cousins made me signs," she said. "It was cute."
Cesarz didn't play up to her usual standards, making only 2 of 12 shots to finish with six points and four rebounds.
"She was trying almost too hard," Olivier said.
A versatile inside-outside threat who averaged 15.6 points and 7.1 rebounds per game last season before suffering her season-ending injury Jan. 23 at Wyoming, Cesarz said her knee is fine but she hasn't regained her top shooting form.
"In shooting drills in practice, I'm usually the first to finish, but in games I haven't been shooting to the best of my abilities," she said.
Olivier is confident Cesarz will get better and better as the season progresses.
"She's a relentless worker," Olivier said. "She puts in extra time in the gym and wants to get A's in the classroom.
"She's an overachiever. She outworks people. She doesn't take a break."
Sounds like she'll make a great pediatrician.
Contact reporter Todd Dewey at tdewey@reviewjournal.com or 702-383-0354. Follow him on Twitter: @tdewey33.