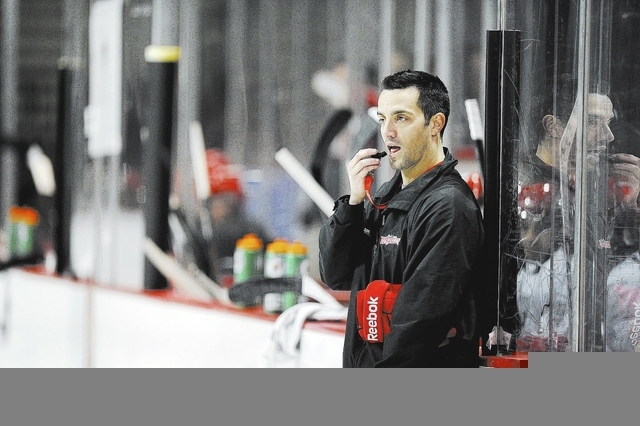 After playing dead for the vast majority of the ECHL season, the Wranglers are finally starting to show some signs of life.
Las Vegas, which produced only 12 victories in its first 52 games, has won four of its last seven — including a season-high three-game win streak to open March — and each of its last four games has been decided by a goal.
"We're doing a better job playing as a team," first-year Wranglers coach Mike Madill said. "The guys realized when they play together, we have more success. They're doing a better job of accepting their roles."
Las Vegas (16-37-6, 38 points) is playing its most consistent stretch of hockey this season heading into tonight's game against league-leading Alaska (39-17-5, 83) at Orleans Arena.
"We've had some really good games this season, but it's always one good game, then two or three bad ones," Madill said. "The last 10 or 12, we've been consistent with our style of play and work ethic and things like that."
The Wranglers will play seven of their next eight games at home, including four against the rival Aces.
"It's fun to play Alaska. It's a good, honest rivalry," Madill said. "They're very well-coached and structured and they stick to their system. That's why it's a big test for us, because they do it every night and it's what we're trying to do every night."
With 13 games remaining in the regular season and the ECHL Kelly Cup playoffs about a month away, Las Vegas is coming alive at an opportune time. Despite the Wranglers' franchise-worst record, they've already clinched a Western Conference playoff berth, thanks to San Francisco folding earlier this season.
"We're going in the right direction at the right time," Madill said. "That's been our goal since everything happened with San Francisco. Our plan is to be as healthy as we can and as structured as we can."
Health is still an issue for Las Vegas, which has dealt with its fair share of injuries this season. Several key players are sidelined — including defensemen Jeff May and Charlie Cook, forwards Matt Tassone and Geoff Irwin, and goalie Mitch O'Keefe — but most should be back by the playoffs.
After missing 23 games earlier this season with a lower-body injury, center Chad Nehring has come on strong for the Wranglers, scoring six goals and 10 points in his last seven games. He has 17 goals and 30 points in 36 games overall.
"Now that's he's back to being 100 percent, he's in amazing shape and playing the way he normally plays," Madill said. "He drives to the net hard. He does a lot of the simple things very, very well."
After recovering from offseason knee surgery, left wing Adam Hughesman is the team's leading scorer with 19 goals and 39 points. He and center John Armstrong have three goals and three assists apiece over the last seven games.
Acquired in a Dec. 3 trade with Kalamazoo, Armstrong has 13 goals and 25 points in 36 games for Las Vegas.
"John's found his game now, too," Madill said. "He's protecting the puck real well and using his body to drive to the net."
As the Wranglers experienced a rebirth, Madill and his wife Autumn experienced the birth of their first child, Grace Elana, on Feb. 22.
"It's pretty amazing. There's really nothing like it," Madill said of being a father. "Some things you think are big problems are really not at all. If you've got your health and your family, there's really not much you can ask for."
Contact reporter Todd Dewey at tdewey@reviewjournal.com or 702-383-0354. Follow him on Twitter: @tdewey33.