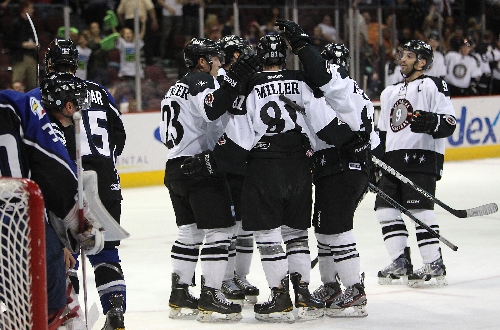 A member of the only Wranglers team to reach the ECHL Kelly Cup Finals, in 2008, Adam Miller returned to Las Vegas this season after a year in Europe intent on making another deep playoff run.
"It's been a good year individually for me, but I came here for team success," said Miller, a left wing who finished second in the league in scoring with 84 points (32 goals, 52 assists). "I think this team's just as good as the 2008 (team)."
Before the Wranglers can contend for a title, though, they will need to get out of the first round, something they failed to do in each of the past two seasons under coach Ryan Mougenel.
"We need to," said Miller, an all-ECHL second-team selection. "All these guys didn't come here to lose out in the first round and have individual success. (Mougenel) brought a team here that wants to win a championship. We have to get over that hurdle and win games on the road."
Third seed Las Vegas (42-22-8, 92 points) closed its regular season Saturday with a 4-3 shootout loss to Colorado (38-28-6, 82) at Orleans Arena. It opens its best-of-5 first-round playoff series against sixth-seeded Utah (33-33-6, 72) with road games at 6:10 p.m. Monday and Tuesday.
Game 3 is at 7:05 p.m. Thursday at Orleans Arena. Game 4, if necessary, will be here at 7:05 p.m. Friday, and Game 5 would be here at 7:05 p.m. Monday.
"I think we have the potential to go far," right wing Ryan Weston said. "We're excited about the opportunity, and Monday can't come quick enough."
The Wranglers, 4-5 against Utah this season, entered Saturday trailing Ontario (43-21-8, 94 points) by a point in the race for the Pacific Division title and second seed from the ECHL Western Conference. They settled for second place in the division as the Reign clinched the title with a 6-1 win over Alaska.
Las Vegas lost to Idaho in five games last year and was eliminated by Utah in five games in 2009-10 — Mougenel's first season here after replacing Dallas Stars coach Glen Gulutzan.
The third-year coach wants to at least advance beyond the first round this year. "It's everything for me," he said. "We've definitely fallen short the last two years."
The Wranglers have plenty of offensive firepower in Miller, Eric Lampe, Judd Blackwater and several others.
Lampe, an all-ECHL first-team pick, set the franchise record for goals in a season, with 37, and finished with 67 points in 52 games. Blackwater scored 56 points (21 goals, 35 assists) in 46 games.
Las Vegas also is led by rookie Scott Campbell (31 points), local product Chris Francis (35), and defenseman and team captain Mike Madill (38).
"We're pretty solid defensively, so if we get a few goals on the board, I think we'll have a great chance of winning each game," Miller said.
Madill and Jeff May anchor a depleted defense for the Wranglers, who are hoping to get back five key players from the American Hockey League — all-ECHL first-team goalie Joe Fallon (Houston), defensemen Jamie Fritsch (Houston) and Barry Goers (Lake Erie) and forwards Pete MacArthur (Lake Erie) and Josh Lunden (St. John's). But it's unclear when, or if, those players will return.
"We've done a great job all year battling through call-ups," Mougenel said. "I really like our lineup. I love this team. They're playing with confidence and playing the right way — the hard way — all the time."
Goalie Mitch O'Keefe (10-9-2, 2.74 goals-against average) will make his pro playoff debut for Las Vegas, which ran into a hot goalie in last year's playoffs in Idaho's Jerry Kuhn.
"If Okie can get on the same page — and he's right there — that will help us a lot," Miller said.
Contact reporter Todd Dewey at tdewey@reviewjournal.com or 702-383-0354.
COLORADO — 4
LAS VEGAS — 3
KEY: Damien Ketlo made 44 saves for the Eagles, who outscored the Wranglers 2-0 in a shootout.
NEXT: Wranglers at Utah, 6:10 p.m. Monday, Game 1, ECHL Kelly Cup playoffs, first round