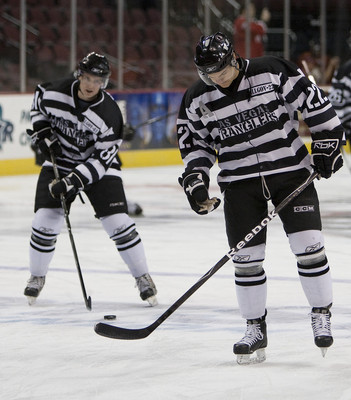 The inconsistent Wranglers appeared to have finally made significant progress last weekend by playing three solid games against Victoria, one of the ECHL's best teams.
But after a lackluster 2-1 victory over Phoenix on Tuesday and a grim performance in a 3-1 home loss to Bakersfield on Friday, Las Vegas has again regressed and pushed coach Glen Gulutzan to his breaking point.
His team hasn't won more than two games in a row all season.
"When you have mental problems, you can take whatever pills you want, but you're probably going to have them for a long time. That's what this team has — mental problems," Gulutzan said. "In the sports world, mentally, they're a weak hockey club."
On "Illinois Governor Rod Blagojevich Prison Uniform Night," in which both teams and the officials wore prison-style uniforms, the Wranglers acted as if shots on net were illegal and their power-play unit deserved to be impeached.
Bakersfield (14-23-6) scored three times in a 7:49 stretch that spanned the second and third periods to take a 3-0 lead. The Condors outshot Las Vegas 38-16, including 21-3 in the second period.
In the first period, the Wranglers (18-18-4) had four power plays but only eight shots, and they finished 0-for-5 with the man advantage. Their league-worst power play dipped to 11.3 percent (25-for-221), and only Tyler Mosienko's unassisted goal with 4:32 remaining prevented a shutout.
"Tonight we slid back a little bit further," Mosienko said. "It all comes down to energy and work ethic."
Gulutzan didn't soft-sell his disappointment.
"We got totally outplayed," he said. "These guys are all on different pages. As a coach, you can just question how badly do guys really want to play. There was no effort. We were looking for the easy way out, like we always do, but it wasn't there tonight."
After two straight off days, the Wranglers did little to aid a 35-save game by goalie Kevin Lalande, who was on his sixth game in eight days. He flew to Houston on Wednesday and notched his first American Hockey League shutout Thursday before returning.
"Our guys were sitting here all week going to the Palms, but they couldn't muster anything until there were five minutes left," Gulutzan said. "Nobody was ready to play, and no one really wants to play."
Bret Pilkington, Mark Derlago and Matt Pope scored for the Condors.
BAKERSFIELD 3
LAS VEGAS 1
KEY: The Condors scored three goals within 7:49 spanning the second and third periods and outshot the Wranglers, 38-16.
NEXT: Condors at Wranglers, 7:30 p.m. today, Orleans Arena