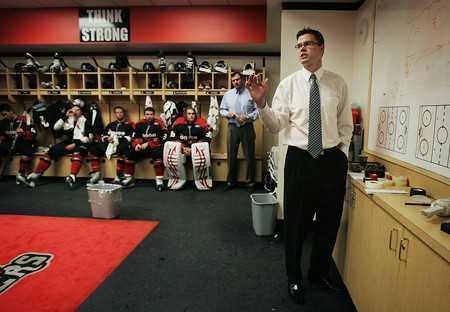 The Wranglers knew nothing but success during their first six seasons in Las Vegas. Now they're seeing how the other half lives, and it's not as much fun.
After advancing to the National Conference finals the last two seasons and recording three straight 100-point seasons through 2008, the Wranglers have stumbled out of the gate under new coach/general manager Ryan Mougenel.
Las Vegas is 10-14-3 after beating Ontario 2-1 on Saturday at the Orleans Arena to end a four-game losing streak. Having endured a seven-game winless streak in November, the Wranglers entered Saturday last in the 20-team ECHL in points (21) and goals scored (69) and near the bottom in goals allowed (98) and many special-teams categories.
Adam Miller, with a team-best 25 points, is the only Las Vegas player among the top 50 in scoring. Starting goalie Michael Ouzas (7-11-2) has a 3.27 goals-against average and entered Saturday 24th in the league in that statistic.
Mougenel, hired after coach/GM Glen Gulutzan went to the Texas Stars of the American Hockey League, has a young lineup and a payroll he says is the lowest in the league. With only a handful of returning players, the Wranglers have been streaky and inconsistent.
Since winning a season-high three straight games over Victoria at home this month, Las Vegas squandered leads in four straight games and lost them all.
"Every team goes through a slump. We're just going through a real long one right now," defenseman Jason Krischuk said. "We need to gel better as a team and learn from our mistakes. Right now, we keep on making the same mistakes."
A former ECHL All-Star, Krischuk said the team has sufficient talent.
"Skill-wise, on paper, our team looks really good," he said. "We have winners on our team. It's just trying to get those winners to all play together."
With five Wranglers — Matt Watkins, Francis Lemieux, Andrew Orpik, Justin Bernhardt and Nick Ross — called up to the AHL, Mougenel is counting on youngsters such as Jeff Hazelwood (three points) and Matt Kang (two) and veterans such as Shay Stephenson (nine) and Josh Prudden (13).
"Those are the players that need to step up and contribute, and right now we're not getting it from everybody," Mougenel said. "When they do, we're going to be a real good team.
"It's going to come. I like where our lineup is, but we have to be better on (defense). That hasn't been our strong suit."
Mougenel has little choice but to hope his current players contribute more because his paltry payroll prevents him from making significant moves.
"We have the lowest payroll in the ECHL," he said.
ECHL teams are allowed a weekly salary cap of $11,800, not including players on injured reserve. Mougenel said he's "operating nowhere near $11,800."
"It's tough," he said. "Alaska has five or six guys on IR and their cap is like $16,000. Ours is $10,300 with IR."
A higher payroll doesn't seem likely because team ownership is in flux. The franchise is in the process of being sold, Mougenel said.
Charles Davenport, the team's principal owner since its inception in Las Vegas in 2003, recently sold his share to co-owner Jonathan Fleisig, who also owns the Bakersfield (Calif.) Condors.
With attendance at the Orleans Arena down more than 20 percent from four years ago — from 5,075 to 3,945 per game — and corporate sponsorships also down during the recession, Fleisig appears intent on keeping his expenses in Las Vegas as low as possible.
Fleisig declined comment, and Davenport didn't return phone calls, but Mougenel confirmed the change in ownership.
Contact reporter Todd Dewey at tdewey@ reviewjournal.com or 702-383-0354.
LAS VEGAS 2
ONTARIO 1
KEY: Adam Miller scored in the second period, then assisted on Shay Stephenson's power-play goal in the third as the Wranglers ended a four-game skid.
NEXT: Ontario at Las Vegas, 7:05 p.m. Saturday