Wranglers fall flat in home opener
October 24, 2008 - 9:00 pm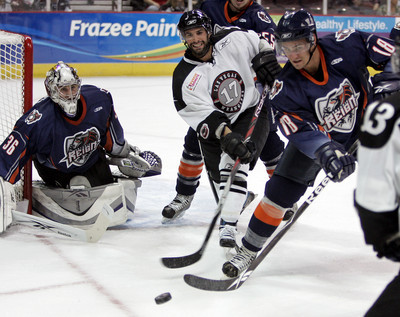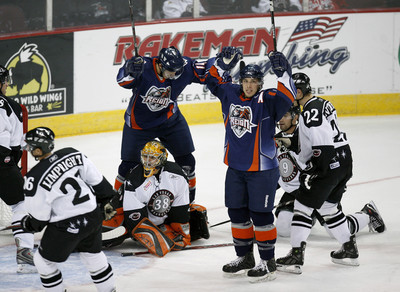 Facing an expansion team in their home opener, the Wranglers were the ones that looked like a first-year franchise Thursday night at the Orleans Arena.
Las Vegas struggled in all phases of the game and incurred several "stupid" penalties in a 4-2 loss to the Ontario (Calif.) Reign in front of 5,019 fans.
The Wranglers, who had won their last three home openers, fell behind 2-0 midway through the first period and never recovered.
They fell to 0-2-1 with the loss and are winless after three games for the first time in their six seasons. Ontario will take a 2-0-0 mark into tonight's rematch.
"They out-competed us in the tough areas, and that was the difference," Las Vegas coach Glen Gulutzan said. "We sputtered a little bit. We made some preventable mistakes."
Wranglers center Mike Hamilton made one of the biggest miscues midway through the second period. With Las Vegas trailing 2-1, Hamilton was penalized two minutes for interference and then incurred another minor penalty for unsportsmanlike conduct when he hit the glass outside the penalty box with his stick.
Ontario capitalized on its extended power play as Jon Francisco buried a rebound in front of the net to give the Reign a 3-1 lead at 14:29 of the second period.
"Stupid penalties hurt us," Gulutzan said. "(A) 2-1 (game) to (a) 3-1 (game) is a huge difference against a stingy team like them."
Brad Mehalko gave Ontario a 4-1 edge with 1:57 left in the second period when he skated around the back of the Las Vegas net and scored an unassisted goal on a wraparound shot past Wranglers goalie Martin Houle, who finished with 20 saves.
The Wranglers closed within 4-2 early in the third period when defenseman Mike Madill scored a power-play goal on a shot from the slot.
Las Vegas, which outshot Ontario 30-24 and went 2-for-7 on the power play, squandered another man advantage midway through the third period when Madill was whistled for cross checking. Adam Miller was penalized for tripping shortly thereafter, and, less than a minute after going on the power play, the Wranglers were shorthanded.
Ontario took a 1-0 lead at 5:31 of the first period when Darren McMillan banged home a rebound that was sitting in the crease. Geoff Walker made it 2-0 with 7:57 left in the first period when he scored a power-play goal on a slap shot from the left point.
The Wranglers answered 1:33 later when Chris Neiszner scored a power-play goal on a deflection in front of the net to make it a 2-1 game.
• NOTES — The Wranglers traded left wing Brandon Kaleniecki (to Gwinnett) and forward Jimmy Kilpatrick (to Cincinnati) for future considerations. … Las Vegas center Tyler Mosienko was placed on the seven-day injured-reserve list with a shoulder injury.
Contact reporter Todd Dewey at tdewey@ reviewjournal.com or 702-383-0354.
ONTARIO — 4 LAS VEGAS — 2
KEY: The Reign led 2-0 midway through the first period and held on.
NEXT: Reign at Wranglers, 7:30 p.m. today, Orleans Arena