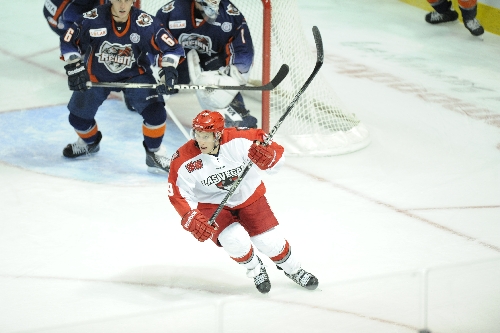 As several of his Wranglers teammates stood outside Orleans Arena on Friday morning, waiting for somebody to unlock the doors, Adam Hughesman already had been inside for an hour, working out.
A rookie left wing who is one of Las Vegas' leading scorers, Hughesman and rookie defenseman Bretton Stamler are the first players to arrive each day.
"He's a first key, last key – first one here and last one to leave," Wranglers coach Ryan Mougenel said of Hughesman, 21. "He brings his work ethic, which is awesome to see from a young player. A lot of young players come in now with a sense of entitlement that is through the roof.
"He's an extremely humble, amazing kid. I'm more impressed with that than with how tenacious and skilled he is. He's going to be a real good one."
Hughesman caught a ride with Stamler to the team's first practice, and the former Western Hockey League players have been driving to work together since.
"We're both rookies, and we're both trying to get to the American (Hockey) League," Stamler said. "You can control two things: your work ethic and your attitude. If you can control when you get here and put in extra work, it should help us in the long run."
A talented playmaker who tallied 89 goals and 197 points the past two seasons for Tri-City (WHL), Hughesman might have started this season in the AHL if not for the NHL lockout.
"I know a lot of teams were looking to sign him, but it's the business of the NHL right now. It's not a seller's market," Mougenel said. "He'll get there. He's extremely committed to the game, and he's got a lot of fire, which I love."
A native of Winnipeg, Manitoba, Hughesman increased his point total in each of his five seasons for Tri-City, capping his career with the major junior team with 116 points last season. He exploded for 15 goals in his final 14 games to finish with 50.
"I didn't really think it was possible, and then I went on kind of a streak and it's something I will never forget," he said.
Mougenel, who described Hughesman as "shifty, slippery and greasy" around the net, has been impressed with his all-around game.
"He's extremely committed to the defensive side, too," he said. "You usually don't get the two."
Despite an impressive training camp for the Toronto Marlies – the Maple Leafs' AHL affiliate – Hughesman was cut before joining the Wranglers.
"I have high expectations for myself," he said. "I'm really happy to be here, and it's a great opportunity, but I'm motivated to move on.
"My goal is to play in the NHL, and hopefully this is a good steppingstone toward that. I know what I have to do to get better."
Playing on a line with proven pros Scott Campbell and Chris Francis, Hughesman has made a smooth adjustment to the ECHL, compiling three goals and three assists in his first seven games for Las Vegas (3-3-1), which lost 4-0 to visiting Ontario (6-4-0) on Saturday night.
"He plays with a lot of energy in his step and gets things created," Francis said. "If we stick together, I think we'll be a pretty dominant line."
Hughesman shares his work ethic with his friends in Winnipeg, where they spend long hours together in the gym each summer.
"If you surround yourself with good people, I think good things will happen," he said. "That's what I try to do."
Just don't forget to leave the door open for your teammates.
Contact reporter Todd Dewey at tdewey@reviewjournal.com or 702-383-0354.
ONTARIO — 4
LAS VEGAS — 0
KEY: Colton Yellow Horn scored the first of his two goals at the 66-second mark, and Chris Carozzi stopped 26 shots.
NEXT: Alaska at Wranglers, 7 p.m. Wednesday