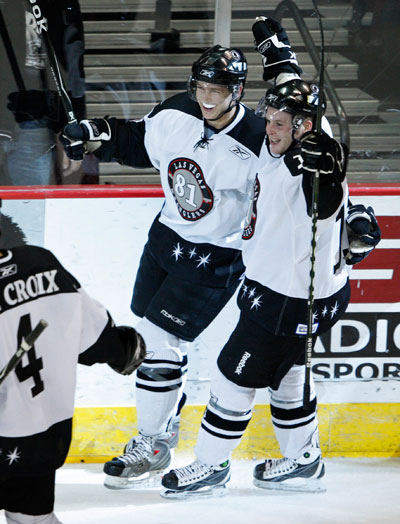 Home ice hasn't been a reliable advantage for the Wranglers or Bakersfield Condors during their ECHL first-round playoff series, with both teams winning once on the road.
Starting now, Las Vegas has no choice but for the home-ice advantage to revert to its usual dependability. The season is riding on it.
Trailing three games to two in the best-of-7 Pacific Division semifinals, the Wranglers' task is cut and dried. They must beat the Condors in Game 6 tonight at the Orleans Arena and again Wednesday to survive the first round.
"This is why you fight for home ice," Wranglers defenseman Chris St. Croix said. "We worked hard to get home-ice advantage. We went up (to Bakersfield) and won (Game 4) to bring it back here.
"We knew we'd get Game 6 at home, and we're going to come out, give everything we've got and throw everything at them."
Las Vegas split the first two games at home, winning the opener 3-1 and blowing a 2-0 lead in a 3-2 defeat in Game 2.
The Wranglers won one of three games at Bakersfield, Calif. They squandered a pair of two-goal leads in a 6-5 overtime loss in Game 3, finally preserved a lead in a 4-0 victory in Game 4 and then losing Game 5 in heartbreaking fashion, 4-3 in overtime when the Condors' Mark Derlago scored from the blue line 11 seconds into the extra session.
Las Vegas, 4-4 all-time in elimination playoff games, has outshot Bakersfield in four of five games and led in every game.
"We've played hard all series," coach Glen Gulutzan said. "They've had a little bit better execution than we've had and gotten a couple more bounces than we've had, but that's the way it goes.
"You've got to work hard to create your chances. We've just got to stay the course and continue to work. … We're down 3-2, but if you don't have any adversity then you're not in the playoffs."
The Wranglers' top priority must be to contain the Condors' high-flying line of Chad Painchaud, Derlago and Dave Bonk, which has combined for 22 points.
"When they have good, quality chances, they can really put the puck in the net. So we can't give them chances," said Las Vegas forward Adam Miller, who has six points in the series. "We didn't give them chances in Game 4, when we won 4-0. That's what we've got to do in Game 6.
"It's just about coming back hard, and our forwards helping out our defense."
The Wranglers, who overcame a 3-1 playoff deficit to Idaho in 2006, remain confident they can win the series if they extend the Condors to a must-win Game 7.
"The pressure's on us for Game 6, but if we (win) the pressure turns to them for Game 7," Miller said. "We got home ice for a reason and we're coming back home to win."
Contact reporter Todd Dewey at tdewey@ reviewjournal.com or 702-383-0354.
GAME DAY
LAS VEGAS VS. BAKERSFIELD
WHEN: 7:30 p.m. today
WHERE: Orleans Arena
RADIO: Internet broadcast at www.lasvegaswranglers.com