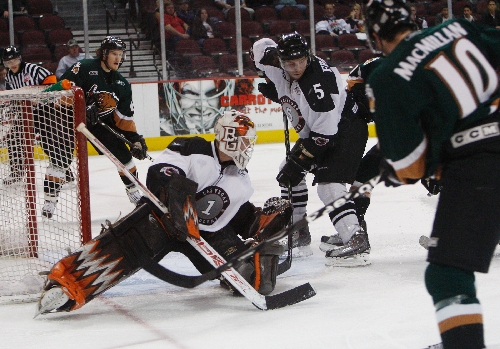 Eleven seconds.
That's all the Wranglers needed Tuesday to erase a two-goal deficit and build some much-needed momentum against Utah in Game 1 of their first-round ECHL playoff series.
Trailing 3-1 early in the second period, Las Vegas exploded for four straight goals — the first two 11 seconds apart — to take control in a 6-4 victory over the Grizzlies at the Orleans Arena.
"The key was how we responded after we got scored against," Wranglers coach Ryan Mougenel said. "It's all about momentum in the playoffs."
Utah started fast in the first two periods, taking a 1-0 lead 35 seconds into the game on a goal by Malcom MacMillan and netting two goals in the first 1:43 of the second period for a 3-1 advantage.
Grizzlies defenseman Tim Maxwell, who had two goals, scored on the power play at the 20-second mark, and Tim Crowder scored on a blast from the left point 83 seconds later to silence the sparse crowd of 1,882.
But the quick strikes only served to inspire the Wranglers.
Kyle Hagel rifled home an unassisted goal from the left circle at the 5:16 mark and then fed Chris Neiszner for the tying score at the 5:27 mark.
"We just had to kind of crank it up a little bit, kick it into a higher gear and get back in the game," Hagel said. "We got (four) goals pretty quick there, and after that we were rolling again."
Hagel, who scored seven goals for the Wranglers in the regular season, tallied his second of the night midway through the second period to give Las Vegas the lead for good at 4-3.
Emerging with the puck from a scramble in front of the net, Hagel punched it past 6-foot-7-inch goalie Mikko Koskinen, who gave up five goals on 15 shots in his first loss of the season for Utah.
Josh Prudden chased Koskinen a couple of minutes later, when he scored a power-play goal from the right circle with 7:49 left in the second.
Ryan Weston made it 6-3 when he beat Koskinen's replacement, Mike Morrison, midway through the third period.
Las Vegas prevailed despite failing to convert two penalty shots by Alex Bourret and Andrew Orpik.
Rookie goalie Jimmy Spratt stopped 17 of 21 shots for the Wranglers, who will try to take a 2-0 lead in the best-of-5 series today at home.
"They're going to come at us hard," Hagel said. "We've got to have a better effort if we want to win. (Today's) game is absolutely huge. We don't want to go back to square one."
Contact reporter Todd Dewey at tdewey@reviewjournal.com or 702-383-0354.
LAS VEGAS – 6
UTAH – 4
KEY: Kyle Hagel had two goals and an assist for the Wranglers, who scored four straight goals in the second period.
NEXT: Game 2, Grizzlies at Wranglers, 7:05 p.m. today