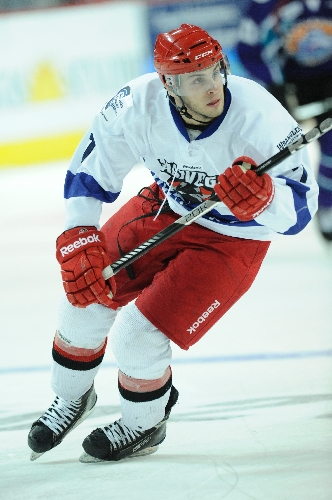 When the game is on the line, Eric Lampe is at his best.
The speedy left wing delivered a pair of overtime playoff game-winning goals for Las Vegas last season – when he led the ECHL in goals with a franchise-record 37 in 52 games – and he was up to his old tricks again Thursday, netting an overtime winner in the Wranglers' 6-5 victory over San Francisco at Orleans Arena.
"I just want to do it," Lampe said. "I want the puck, and I want to get the win for the guys."
Las Vegas coach Ryan Mougenel likened Lampe's self-confidence to that of a surgeon.
"I was talking with someone the other day and he said this surgeon was really cocky. I said, 'You know what, how else would you want your surgeon to be?'" he said. "It's the same thing with a goal scorer. You've got to have a swagger.
"He's a player that plays with confidence, and that's an important thing."
After flying out of the gates last season – when he scored four goals in his first four games for Las Vegas – Lampe got off to a slow start this year.
He didn't score a goal until his fifth game, when he tallied two in the third period, including the winner with 1:18 left, in a 4-3 home win over Colorado.
"Like all goal scorers, he's a little bit streaky," Mougenel said. "He just needs a couple bounces to go his way."
Despite his less than stellar start, Lampe, 26, leads the teams in goals with seven and points with 15 after notching an assist in Saturday's 4-0 win over Orlando at Orleans Arena.
The Madison, Wis., native still hopes to match his numbers from last season, when he tied for the league lead in playoff points, with 21, and finished with 44 goals and 88 points in 69 games overall.
"Hopefully I can do it again," he said. "It's a team game and wins are more important, but hopefully I can start contributing more. I'm starting to get in the swing of things."
Lampe, who lost two talented linemates from last season in Pete MacArthur and Wranglers career scoring leader Adam Miller, is still trying to get in sync with rookie linemate Adam Hughesman (13 points) and Judd Blackwater (14 points), whom he played with last season.
"It's a work in progress," he said. "I think we're getting better."
The trio clicked Thursday, combining for five goals and four assists.
Coming off a career year, Lampe was expected to contend for a spot in the American Hockey League this season, but his chances were hampered by the NHL lockout, which flooded the market with players. He was cut by the AHL's Houston Aeros during a crowded training camp.
"It's frustrating, but you've got to have fun with it. I'm here now and I've got to perform," he said. "Hopefully the lockout ends and there will be a lot of open spots. I've got to play good down here to get seen."
Lampe is one of several Las Vegas players who expected to be in the AHL this season.
"A lot of guys would've had a lot of opportunities," Mougenel said. "The lockout's painful on everybody."
Including the Wranglers, who, coming off their second appearance in the Kelly Cup Finals, have managed only a mediocre 7-7-3 mark in a league that has gotten better because of players who would've otherwise been in the AHL or NHL.
"Last year, we benefited from not having an (NHL) affiliation, but this year a lot of teams have really benefited from having strong affiliations," Mougenel said. "They've got some pretty special players who would absolutely not be in the ECHL (if not for the lockout)."
Lockout or not, Mougenel said Lampe is more than capable of excelling at the next level.
"He's got a gift," he said. "If you score 40 goals in our league, there's no reason you can't score 20 in the (AHL)."
Contact reporter Todd Dewey at tdewey@reviewjournal.com or 702-383-0354.
LAS VEGAS — 4
ORLANDO — 0
KEY: Josh Godfrey had two goals and an assist, and Joe Fallon stopped 27 shots as the Wranglers recorded their first shutout of the season.
NEXT: Wranglers at Thunder, 7 p.m. Tuesday, Stockton Arena