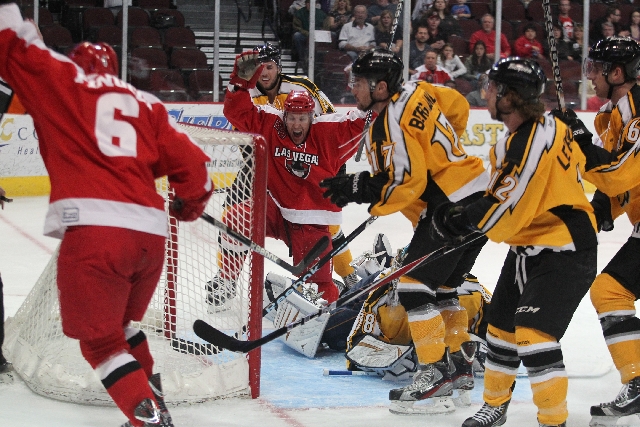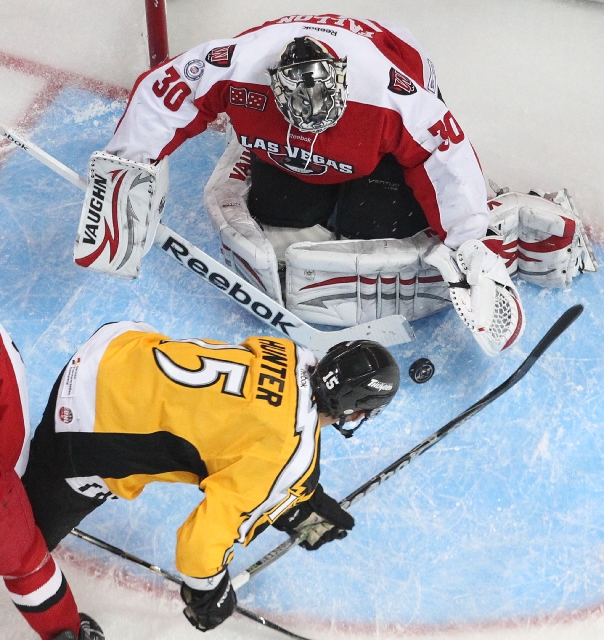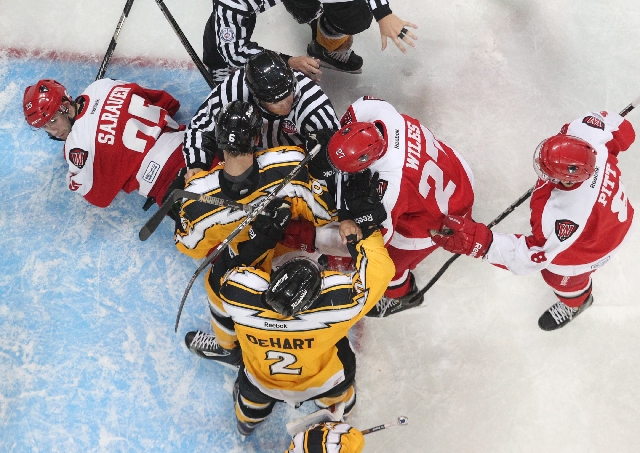 One of the Wranglers' leading scorers in the regular season, Chris Francis was held scoreless in Las Vegas' first three playoff games.
That changed Tuesday night, when Francis scored two goals to help lead the Wranglers to a 5-2 victory over Stockton at Orleans Arena that evened their best-of-seven ECHL Western Conference quarterfinal series at two games apiece.
"He was invisible the first couple of games. We had a chat today, and we talked about him being the best player on the ice," Las Vegas coach Ryan Mougenel said. "That was evident when he blocked a shot with four minutes left.
"He scored two goals and that is great, but blocking shots wins you games, and that's what he did."
Las Vegas, which has scored first in every game and has yet to trail in regulation, exploded for three goals in less than five minutes to take a 3-0 lead midway through the first period.
Francis, a local product who attended Eldorado High School, scored a power-play goal at 9:47 and then helped seal the victory at 2:55 of the third period, when his blast from the slot made it 4-2.
"I just got more involved," Francis said. "I went out there and hit the body and I wanted the puck more."
Carlo Finucci scored for the second straight game at the 5:08 mark, burying a rebound in front of the net.
The Wranglers, who entered 1-for-11 with the man advantage, then netted a pair of power-play goals in less than two minutes to chase Olivier Roy.
Marc Cantin rifled a shot into the top of the net from the right circle at 7:59 and Francis scored on a rush to the net.
Tyler Bunz replaced Roy, and Las Vegas appeared poised to blow the game open before defenseman Nik Pokulok put the Thunder on the board at 10:41.
Matt Reber then beat Joe Fallon with 2:27 left in the first period to make it 3-2 and suck the life out of the crowd of 2,668.
"It was really important to come out and make a statement," Francis said. "We kind of let up about 10 minutes there, but then we came back and didn't give them much of anything the whole game."
After a scoreless second period in which Las Vegas went 0-for-4 on the power play, including a two-man advantage, Francis beat Bunz on a blast from the slot for an insurance goal. Judd Blackwater assisted on both of Francis' goals.
Fallon made the score stand up, turning away 31 of 33 shots.
Scott Pitt added an unassisted, empty-net goal — his third in three games — with 28 seconds left.
While the Wranglers had some success on the power play, Mougenel was more impressed with their penalty kill, which killed all six man disadvantages.
"That basically won us the game," Mougenel said. "The penalty kill says a lot about your team. We've been fortunate to have guys like Geoff Paukovich, who gets no accolades but does a lot of things people probably don't see.
He puts his body, his face and everything on the line. He's done that every game."
Game 5 will take place today at Orleans Arena, with Game 6 scheduled for Friday at Stockton Arena. Game 7, if necessary, is slated for Sunday in Stockton.
"All we've done is bought ourselves another day," Mougenel said.
Contact reporter Todd Dewey at tdewey@reviewjournal.com or 702-383-0354.
LAS VEGAS — 5
STOCKTON — 2
■ KEY: Chris Francis scored two goals for the Wranglers, who led 3-0 midway through the first period and evened the series 2-all.
■ NEXT: Thunder at Wranglers, Game 5,
7:05 p.m. today