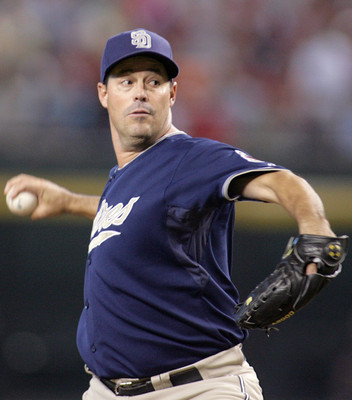 • It's possible Greg Maddux will pitch beyond this season because he has said nothing about retirement plans.
After all, the San Diego Padres are paying the 42-year-old right-hander $10 million. If you're getting paid that well, and still can play, why retire?
It's a good question for Brett Favre.
Maddux is from Las Vegas, but one of his biggest supporters is Kansas City Star columnist Joe Posnanski, who wonders if Maddux, with 352 career wins, is baseball's greatest living pitcher.
Posnanski blogged on Maddux this week: "I've always been a Greg Maddux guy.
"Lots of people like Maddux. But I would say that I probably have taken that Maddux fandom beyond the realm of most non-Braves fans. For a few years there in the mid-1990s, I would never (if at all possible) miss a Maddux start.
"I would count down days. I would start to get psyched the morning of a start, I would plan my day around it, I would tell friends that I had plans when he was pitching. I never thought of this as weird — it just got to the point where I enjoyed watching Maddux pitch more than I enjoyed going to a movie or hanging out at a bar or seeing some low-level band."
Posnanski recalled his favorite Maddux game. It was July 2, 1997, and Maddux beat the New York Yankees and Dwight Gooden, 2-0.
"Maddux started 20 of the 28 Yankees he faced with first-pitch strikes, and still they seemed befuddled," Posnanski said. "The final numbers: nine innings, three hits, no walks, eight strikeouts, one pickoff, one double play, 84 pitches.
"I just recall being spellbound. Like everyone else, I saw Maddux good on a lot of other days, but I never saw him that good. He should have worn a tuxedo for that game."
• POLICE SHUT DOWN PIERCE — Las Vegas police did what the Los Angeles Lakers could not do — stop Paul Pierce, the Most Valuable Player of the NBA Finals.
The Boston Celtics star was handcuffed by police about 3 a.m. Sunday after Pierce was initially uncooperative following a traffic stop for driving erratically on the Strip.
Pierce calmed down, and the cuffs were removed after about 15 minutes. He was not cited for a traffic infraction, and he did not drive the car after he was stopped.
The rumor is two Celtics teammates showed up, put Pierce in a wheelchair and pushed him back home.
Lakers coach Phil Jackson expressed disbelief at the whole scenario.
• LEROY'S LATE SHOW — After a two-month absence, John Kelly is back on the air in Las Vegas with the "Leroy's Sports Hour." The new time is 10 p.m., and the new station is KLAV-AM (1230).
The sports gambling program, sponsored by Leroy's sports books, will run 365 days a year. Kelly, aspiring to be the Cal Ripken of broadcasters, said he hopes to do almost every show.
"I will have a backup, I think," Kelly said. "A one-hour show is not that taxing."
Kelly, a former host of "The Stardust Line," noted the 10 p.m. slot is good for sports bettors. "This is a late-night town," he said.
COMPILED BY MATT YOUMANS REVIEW-JOURNAL