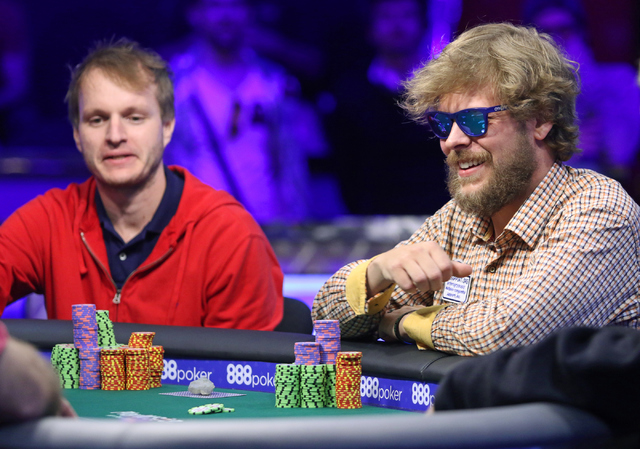 World Series of Poker player Ben Keeline has walked away from a table in the middle of play only a few times in his career, but a group text in February five years ago forced him to get up.
The text said his nephew, Lucas, had been born. It was a text that came after weeks of concern because Lucas was diagnosed with Arthrogryposis Multiplex Congentia (AMC), a rare muscle and joint condition, at his mother's 20-week ultrasound.
Now when he steps up to a poker table Keeline wears a patch to support his nephew. While in town for the WSOP, Keeline helped organize the AMC Miles Matter Family 5K at Wayne Bunker Family Park on Friday night to raise money and awareness for the condition.
"(Lucas is) a huge inspiration to me," said Keeline, who has one WSOP bracelet. "He's a little rock star."
Keeline is organizing the event, which features a 1-mile walk and a 5K race that starts at 8 p.m. Online registration costs $20 and day-of registration is $25, with the proceeds going toward AMC awareness.
The event's goal is to raise $10,000 toward awareness of the condition, which affects roughly one in every 3,000 births and causes multiple joints in the body to have an abnormal range of motion. Lucas has gone through multiple surgeries on his knees and elbows just to be able to perform everyday tasks, but Keeline said he still runs around like any other 5 year old.
"He plays soccer with me. He's thrown me a ball," Keeline said, noting his nephew's range of motion is still limited. "He's amazing."
The event takes place on AMC Awareness Day, at a busy time in his life as he is engaged and trying to buy a house while competing in the WSOP. He's hopeful that after his time in Las Vegas the race and poker will provide him extra funds to donate toward their cause.
"It's been quite an adventure, but I'm excited for Friday night," Keeline said. "Hopefully I'll see a lot of smiling faces out there."
Tennis
Two local players are taking part in the United States Tennis Association's inaugural National Junior Tennis and Learning Excellence Team Playoff Camp in Orlando, Florida, which started Monday and runs through Thursday.
Las Vegans Nikola Dobrijevic and Rocco Mendez, both 11 years old, are spending time at the USTA National Campus receiving training and coaching from USTA staff.
Dobrijevic and Mendez will also have the chance to compete for potential wild card entries into the National Clay Courts and National Championship tournaments this summer.
The recreation notebook appears Tuesdays online and Wednesdays in print. Contact Ben Gotz at bgotz@reviewjournal.com. Follow@BenSGotz on Twitter.
Calendar
Friday: AMC Miles Matter Family 5K, Las Vegas
Monday: Summerlin Firecracker 5K, Las Vegas
Tuesday: 4th of July 5K Blast!, Las Vegas