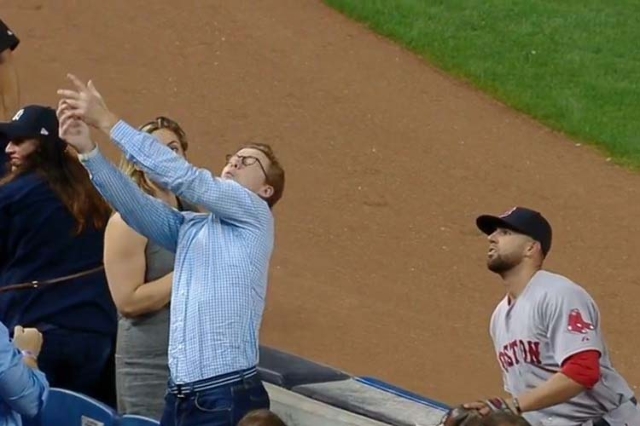 Most Major League Baseball fans will never get the chance to catch a foul ball at a game. But one Yankees fan got multiple chances in one game Tuesday night … and missed all of them.
The fan, Will Smith, (not that Will Smith) was sitting in the front row along the third base line at Yankees Stadium during Tuesday's game against the Boston Red Sox when the first foul ball started coming his way.
"That first foul was that high foul down the base line," Smith told the New York Daily News. "And I was thinking, That's going to track back a little further, and it got lost in the stadium lights and I was like, oh s–t, that's coming right at me."
Then another foul ball was coming at him — this time it was a bouncy grounder that popped up and hit him in the chest.
"(The second ball) was a chopper coming down the line and I thought one of the crew was going to grab it, but the next thing I know it's right on me and it bounced out of my hands," Smith said.
And the third chance was by far the easiest of the night for Smith — the Yankees third base coach literally tossed the ball to him from a few feet away. And he still missed it.
"(He) didn't do me any favors because it was a short throw, and after half a dozen beers at a baseball game, you're not working your best," Smith said.
Smith did finally get his hands on the third ball after it bounced to the ground.
To be fair, he was trying to catch each foul ball without a glove, which isn't the easiest of tasks.
Check out the video above.
Contact Kira Terry at kterry@reviewjournal.com. Find her on Twitter: @kiraterry
Like Sports News on Facebook: