Youth, hunger among Wranglers' strong suits
October 6, 2010 - 11:00 pm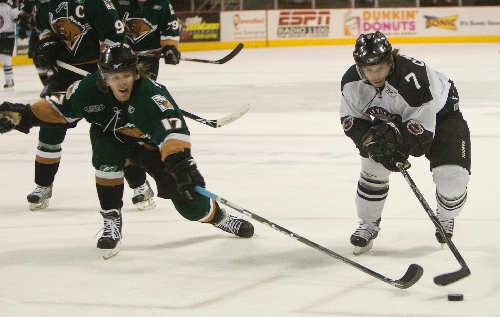 A few familiar faces and a bevy of fresh ones will take the ice today for the Wranglers in their only home preseason game at the Orleans Arena.
Las Vegas, coming off its sixth playoff appearance in its seven ECHL seasons, will take on the Bakersfield Condors at 7:05 p.m. in the first game of a home-and-home series.
The teams will meet again in Bakersfield, Calif., at 7 p.m. Saturday for their final preseason game, and the Wranglers will open their regular season there Oct. 16.
Las Vegas will start a seven-game homestand at the Orleans Arena on Oct. 22 against the Victoria Salmon Kings.
Left wing Ned Lukacevic, who was second on the team in scoring last season with 65 points in 61 games, leads a group of eight returnees from last season's team, which finished 34-30-8 and lost to the Utah Grizzlies in the first round of the ECHL playoffs.
"We look better," Lukacevic said. "We've got a lot of good forwards, our defense is really strong, and we've got good goaltending. We've got a lot of good players, and I'm not just saying that."
Also returning to the Wranglers are center Justin Bernhardt, forwards Jerry Pollastrone and Greg Collins, defensemen Craig Switzer, Barry Goers and Sean McMonagle and goalie Michael Ouzas.
Former Las Vegas center Tyler Mosienko returns to the Wranglers after playing last season in Germany, and former Las Vegas defenseman Aaron Power returns to the team after playing the past two seasons in Germany and Italy.
Former Stockton Thunder forward Jamie Bates leads a talented cast of newcomers. The 6-foot-3-inch, 195-pounder scored 27 goals and 73 points in 60 games last season for Stockton. He was assigned to Las Vegas, along with Lukacevic, Mosienko and Bernhardt, from the American Hockey League's San Antonio Rampage.
The Wranglers also feature former Stockton center Ryan Huddy and former Thunder left wing Geoff Paukovich, a 6-4 former NHL second-round draft pick who played the past two seasons in the AHL.
Las Vegas also features newcomers Dan Bellissimo, a center who spent the past three seasons in Italy, and Matt Price and Danny Bertram, a pair of speedy forwards and former team captains at Boston College.
Switzer, Goers, McMonagle, Power, Kevin Schaeffer and Jamie Fritsch will anchor the defense, and 6-6 goalie Scott Darling, a University of Maine product, will compete with Ouzas for playing time.
"We're young, hungry and committed. That's my biggest thing," second-year Las Vegas coach Ryan Mougenel said. "They're extremely committed to get to the next level, and at this level that's what you want, because if you don't you get into a little bit of complacency with playing in Las Vegas. We had complacency here last year, so I cleaned house of guys who weren't committed to it."
The Wranglers lost six of their top seven scorers from last season, including Adam Miller, who compiled a franchise-record 86 points before signing with a team in Finland this year.
Las Vegas opened training camp Friday and has looked sharp.
"We've already kind of made leaps and bounds in five days of camp," Mougenel said Wednesday. "I'm excited about the group, and they're excited about playing with each other."
Contact reporter Todd Dewey at tdewey@reviewjournal.com or 702-383-0354.