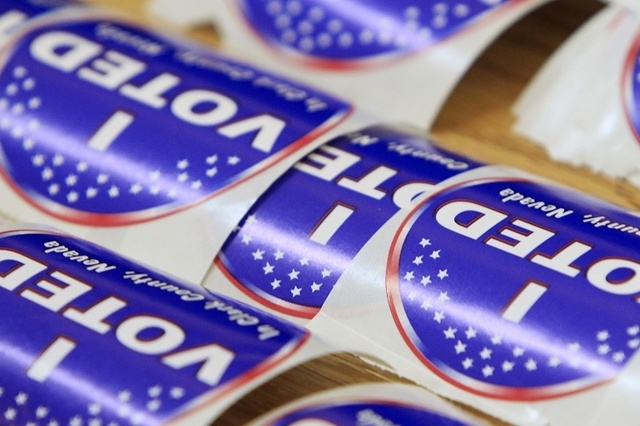 If you thought the overwhelming defeat of the Education Initiative Nov. 4 was the end of tax talk in Nevada, you couldn't be more wrong. If anything, the election results were the start of a larger discussion.
But that discussion is complicated by groups competing for primacy, differing priorities and a frustrating lack of specifics on the part of big players. And that's even before we get to Carson City and meet the new speaker of the Assembly, who says taxes should be a last resort rather than a top priority.
Let's start with business.
Starting immediately after the Education Initiative, otherwise known as Question 3, was defeated, the Las Vegas Metro Chamber of Commerce announced its support for school funding and reforms. "Now that the election is over, it's time for our community to come together to address education in a meaningful way, with an eye to both funding as well as reforms that will improve classroom results," wrote Chamber President Kristin McMillan and Government Affairs Chairman Hugh Anderson.
"We cannot expect to fund a modern school system with a decades-old tax structure," added The Chamber of Reno, Sparks and Northern Nevada Executive Director Len Stevens and Government Affairs Director Trey Abney. "The point is, we must do something to reform our tax structure and fund education properly."
Fair enough. But if you ask for specifics, either for education reform or tax ideas, the reply is vague talk about stakeholders coming together to evaluate ideas that are broad-based and won't harm businesses or jobs. "We have an open mind," said Las Vegas Metro Chamber spokeswoman Cara Clarke. "We're open to all possibilities."
Well, not all possibilities. After all, the Chamber was one of the prime opponents of the Education Initiative. But other than that, what does the Chamber want? I pressed repeatedly for details, but didn't get far. "No, we don't have the answers right now," Clarke said, adding later, "I'm not commenting on any specific proposals."
Meanwhile, the Las Vegas Global Economic Alliance will host an event Thursday featuring incoming Senate Majority Leader Michael Roberson, R-Henderson, Assembly Minority Leader Marilyn Kirkpatrick, D-North Las Vegas, the Clark County Education Association, and the Henderson and Urban chambers of commerce (but not, it must be noted, the Las Vegas Chamber). The eclectic group will take a stab at coming up with ideas for better education funding, albeit without the support of other major players.
The Nevada Resort Association and the Retail Association of Nevada specifically distanced themselves from the LVGEA event, writing to its president and CEO, Tom Skancke, to remind him he doesn't have the authority to negotiate a deal for the rest of the state's business community.
The reprovals grew out of meetings Skancke had during the fight over the Education Initiative, efforts to get teachers to abandon the hated margins tax and embrace a comprehensive solution that had the endorsement of business, the gambling industry and others. But the prevailing mood — first kill the Education Initiative, then talk alternatives — held sway.
And two sources confirmed gambling industry CEOs are looking at a margins tax (sans some of the problems of the recently defeated Education Initiative) and/or a variant of a gross receipts tax as a solution, and not just for education. Other state problems including transportation, Medicaid and mental health also need funding.
At least that was the approach, prior to the election. Now, Speaker-designate Ira Hansen, R-Sparks, sitting atop a new 25-member Republican majority (at least nine of whom have committed to voting against higher taxes), says the tax talk can wait.
"Nobody is saying no to anything until we see what the governor wants," Hansen told the Review-Journal. "Obviously, I have a very conservative group. So taxation is like the very last line of defense. It's the easy way out. We need to look at all the options in the budget before we just say yes or no to something as big as taxes."
So there you have it: If the business community can overcome its differences, if it can figure out the specifics of a plan and if the governor agrees, the prize will be figuring out how to get it through a Legislature the likes of which no person alive has ever seen. Hold on: This could get bumpy.
Steve Sebelius is a Review-Journal political columnist who blogs at SlashPolitics.com. Follow him on Twitter (@SteveSebelius) or reach him at 702-387-5276 or SSebelius@reviewjournal.com.