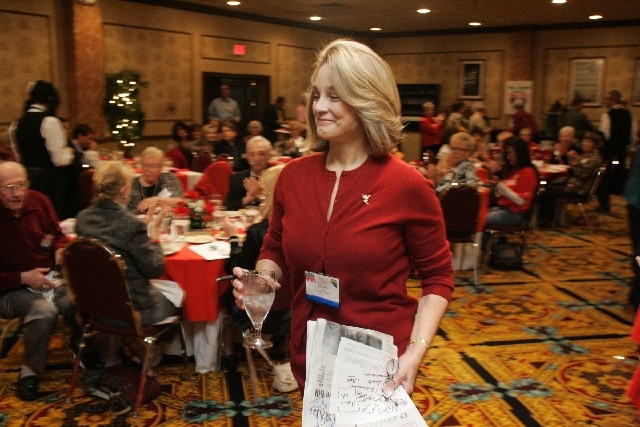 They say man plans and God laughs.
Last week, the best-laid plans of Gov. Brian Sandoval were interrupted — just slightly — with the announcement that former state Sen. Sue Lowden was thinking of entering the race for lieutenant governor.
Of course, the establishment has already made its pick for that job, in the person of state Sen. Mark Hutchison, R-Las Vegas. Sandoval endorsed Hutchison minutes after the Twitter announcement of his candidacy, and he's since gathered support from U.S. Sen. Dean Heller and Rep. Joe Heck.
Lowden described herself in a news release as "a strong fiscal conservative with extensive business experience in gaming, banking and real estate." She also touted support from Las Vegas Councilman Bob Beers, a former state senator himself.
The message: Lowden is the conservative in the race, compared with Hutchison, who voted for a budget that contained an extension of taxes supported by Sandoval. For conservatives, Hutchison's fair-minded, bipartisan approach means compromise, and compromise means losing to the liberals.
For Hutchison, who was handpicked by ex-Gov. Jim Gibbons to sue the federal government to strike down the Patient Protection and Affordable Care Act, who represented the Republican Party in the redistricting process and whose voting record is mostly conservative, being cast as the liberal in the race must be amusing at best, disconcerting at worst.
But Lowden — whose campaign for the Republican nomination against U.S. Sen. Harry Reid in 2010 collapsed under the weight of her stray comments about bartering for health care in the "olden days" — might be as close as conservatives get to a statewide candidate of their own in 2014.
Sandoval himself won't face a challenger from the right, perhaps someone like Beers, who consistently opposed taxes in Carson City and has shown himself the voice of fiscal restraint on the Las Vegas Council.
But that's not to say there aren't plenty of conservatives disenchanted with the Republican governor. After being recruited to run by top lobbyists (Greg Ferraro, who helped negotiate Apple Computer's sweetheart Reno relocation deal, and Pete Ernaut, who represents the most powerful interests in the state), Sandoval ran to the right of the anti-tax Gibbons in 2010.
But after a court ruling prevented the state from stealing money from local governments to balance the books — no new taxes and "balanced" budgets indeed! — Sandoval reversed course, extending a package of taxes set to expire in 2011.
It's probably equally unlikely that conservatives will field candidates for any of the other top statewide posts, including attorney general (sought by current Democratic Secretary of State Ross Miller and perhaps state Sen. Greg Brower, R-Reno) or secretary of state (targeted by Democratic state Treasurer Kate Marshall).
But conservatives will make runs at Assembly and state Senate seats: Last week, Carl and Richard Bunce — supporters of former Texas U.S. Rep. Ron Paul — announced bids for state Senate and Assembly, respectively. (Their targets, Senate Minority Leader Michael Roberson and Assemblyman Lynn Stewart, both R-Henderson, are not particularly liberal, but they are certainly not as conservative as the Bunce brothers.)
It's not as if conservatives can't win seats; rural counties send plenty of unimpeachable conservatives to Carson City. It's just that the establishment finds it easier to deal with establishment Republicans than those who are philosophically pure. Sure, Sandoval will cater to conservatives in speeches and letters (a recent fundraising missive signed by Sandoval produced guffaws on the right), but when it comes to lawmaking, comity breaks down.
Whether Lowden makes a dent in the lieutenant governor's race remains to be seen — she's got some flaws, including the fact that she still owes more than $500,000 to vendors for her 2010 campaign. But if the governor had his way, it's clear he'd rather she sat this one out.
That laughter you hear just might be God's.
Steve Sebelius is a Review-Journal political columnist and author of the blog SlashPolitics.com. Follow him on Twitter (@SteveSebelius) or reach him at 387-5276 or SSebelius@reviewjournal.com.