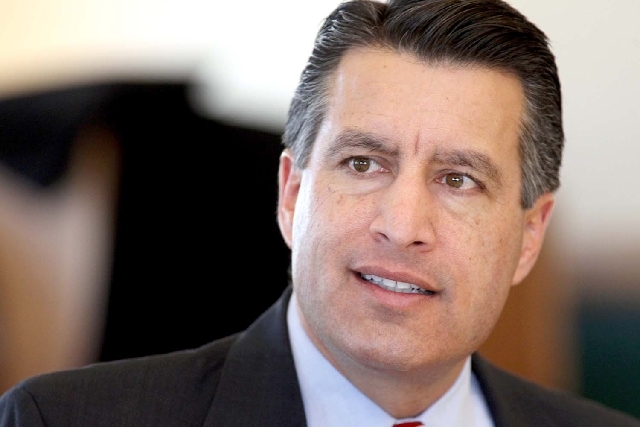 Fundraising is one of the most distasteful things about politics. Sometimes, you have to say things so out of character, they can surprise even the people who know you.
Take a recent fundraising letter from Gov. Brian Sandoval, asking for money for his 2014 re-election. It's full of phrases I've never heard the real Brian Sandoval say.
"… the roots of my unwavering belief in overcoming any challenges are anchored in economic freedom, ordered liberty and that freedom is a God-given trust that are the eternal promises of our Constitution as written by our Founding Fathers"? Really?
"It's optimism that powers prosperity," the letter adds. "Small government primes the pump, but big government sucks it dry." Who writes this stuff?
But it's when Sandoval's overwrought ghostwriter gets to the governor's accomplishments that things get out of hand.
"We've stopped not one but four attempts by Democrats to raise billions in higher state taxes, and these victories have you keeping more of your hard-earned money in your pocket," the letter says. What it doesn't say is that the governor has twice extended temporary taxes that were supposed to expire in 2011, adding more than $1 billion to state budgets. And he signed bills to allow county commissions in Clark and Washoe counties to raise taxes.
"We've balanced two consecutive state budgets without raising your taxes and we are working non-stop to provide the best in public schools," the letter says. But the state is required to balance budgets, so it's not clear how much credit Sandoval should get for simply following the law. And those balanced budgets were made possible because of the extended sunset taxes. (Those aren't tax increases; the amount people pay remained the same. But we would have paid less if they'd expired.)
Best in public schools? That may be the craziest line in the letter.
Or maybe it's this: "I vetoed the liberals' attack on the Second Amendment that would have criminalized the transfer of a gun to a family member." That's ridiculous — background checks of the kind proposed in a bill in the 2013 Legislature are well established as entirely legal under the Second Amendment, which Sandoval surely knows as a former attorney general and federal judge. But the claim is also false: Senate Bill 221, Section 7.8(4) specifically allows transfers of firearms to family members as loans or gifts without a background check. (A gun sale between family members presumably would have triggered a background check, however.)
The saddest thing about Sandoval's fundraising missive — obviously intended for his Republican base — is that it omits some real reasons voters should consider his re-election.
For example, in extending those sunset taxes, Sandoval refused to put campaign trail anti-tax philosophy ahead of the needs of real people. Plenty of Republicans would never think of doing that, but Sandoval did it without hesitation to prevent deeper cuts to school budgets.
The governor decided to expand the state's Medicaid program under the Patient Protection and Affordable Care Act, as well as to establish a state-based health insurance exchange. While other Republican governors ranted against the law, Sandoval was working to get federal funds to the state and ensure more people will have access to health care.
Sandoval called for dedicating money to English Language Learner programs and reducing class sizes in all-day kindergarten programs, critical to helping students improve their ability to learn and be successful later on in finding a job.
And Sandoval has signed controversial bills, such as those extending hate-crime protections to transgender people and granting driver authorization cards to illegal immigrants, rejecting anti-gay and nativist rhetoric opposing those ideas.
Sadly, those legitimate accomplishments apparently don't bring in the right-wing dollars. Big government may suck the prosperity pump dry, but it sure loosens the fundraising spigot.
Steve Sebelius is a Review-Journal political columnist and author of the blog SlashPolitics.com. Follow him on Twitter (@SteveSebelius) or reach him at 387-5276 or SSebelius@reviewjournal.com.