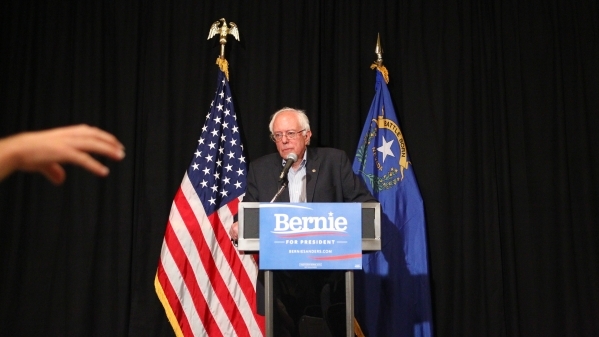 U.S. Sen. Bernie Sanders of Vermont emerged Tuesday from his address to the Nevada AFL-CIO at the Luxor hotel-casino with a simple message for a cadre of reporters and photographers: It's time for a change.
"It's too late now for establishment politics," said Sanders. "It's too late for establishment economics. We need bold changes in America, we need a mass political movement, I call it a political revolution, which essentially makes clear that our government has to work for all of the people and not just a handful."
In an election year that has seen more than is share of decidedly non-establishment politics on the Republican side in the form of Donald Trump, Sanders may be right. But while Trump has drawn cameras and notebooks and social media attention, the more interesting debate is happening among Democrats.
Sanders has drawn huge crowds at his rallies around the country, a response that even he says surprised his campaign and outpaced its ability to organize. But Sanders isn't the only non-establishmentarian in the race: Former Maryland Gov. Martin O'Malley — who will be speaking to the same AFL-CIO convention today — is also part of the fray. And O'Malley's ideas compete with Sanders' for the title of most progressive.
"People want their elections back," O'Malley told me in a telephone interview in advance of his trip to Las Vegas. He and Sanders both want to overturn 2010's Citizens United v. FEC ruling, O'Malley with a constitutional amendment, Sanders with a Supreme Court appointment to swing the 5-4 vote the other way. But O'Malley adds he wants a second election-related amendment, one that would guarantee the right to vote in America.
With former Secretary of State Hillary Clinton ahead in the polls, it's probably no surprise that Sanders and O'Malley want more Democratic debates. There are six sanctioned debates, which aren't nearly enough, Sanders said Tuesday. He said groups such as the AFL-CIO or environmental groups should sponsor more debates.
If they do, they'll hear about O'Malley's plan to totally phase out fossil fuels and switch to 100 percent green energy by 2050. They'll hear Sanders and O'Malley try to one-up each other on proposals to break up big banks and return to the regulatory days of Glass-Steagall in order to protect consumers. And they'll hear both candidates talk about putting people back to work rebuilding crumbling American infrastructure.
"As a nation, we need to act like Americans again," O'Malley said. The recovery would be happening a lot faster if government had been allowed to do more discretionary spending, including on infrastructure, O'Malley said. Sanders has called for spending $1 trillion over five years on roads, bridges, ports and the like, which he says would create 13 million good-paying jobs. O'Malley says his clean jobs initiative doubles as a robust jobs program, too. "I think there needs to be more work, period," he said.
But so what? Sanders may get big crowds, but Clinton leads in polls and fundraising. O'Malley may have some of the most detailed plans in the campaign, but he's got low name recognition. Voters may flirt with the anti-establishment candidates in primaries, but they'll always come home to the establishment pick, won't they?
Maybe not so much.
"Democrats got killed in the November election because voter turnout was abysmally low, abysmally low," Sanders said. "Democrats … will not do well unless there's excitement, unless there's grassroots movement where people are coming out and voting in large numbers, where voter registration numbers go way up."
And there's definitely excitement among progressives in the campaign so far.
—Steve Sebelius is a Las Vegas Review-Journal political columnist. Follow him on Twitter (@SteveSebelius) or reach him at 702-387-5276 or ssebelius@reviewjournal.com.