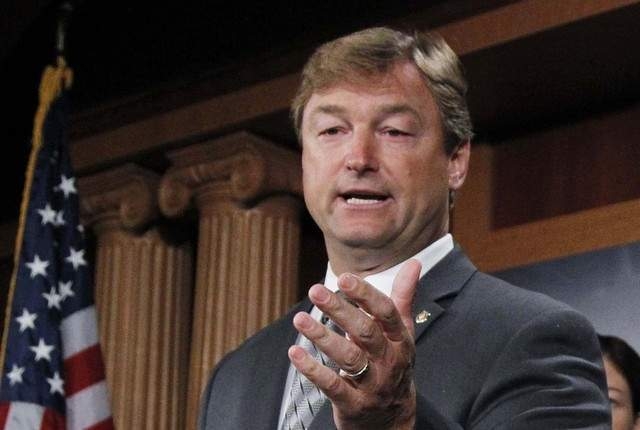 At long last, it appears there's a glimmer of sanity in Washington, D.C. on the issue of medical marijuana. And Nevada's own Sen. Dean Heller is part of it.
Heller has signed on to a piece of legislation called the Compassionate Access, Research Expansion and Respect States (CARERS) Act of 2015, a bill that would allow medical marijuana patients in states where the drug is legal to use the prescribed medication without fear of federal prosecution.
Even better, the bill would do something truly dramatic, and long overdue: move marijuana from a Schedule I controlled substance (drugs with no legitimate medical value, such as heroin, LSD, mescaline, Ecstacy and other "club drugs) to Schedule II (drugs with legitimate medical value).
And there's also a provision that would allow banks and credit unions to provide financial services to medical marijuana businesses, fixing a longstanding problem for the industry, which now must operate in cash.
In addition, the legislation would allow doctors in federal programs to prescribe medical marijuana to patients, and direct the federal government to do research on marijuana.
Notably, it would not legalize medical marijuana nationwide; it would only provide protections in states that choose to legalize medical marijuana. (Twenty-three states and the District of Columbia have legalized medical marijuana, and 12 more are preparing to legalize a marijuana derivative used to treat seizures in children.)
"The time has come for the federal government to stop impeding the doctor-patient relationship in states that have decided their own medical marijuana policies," Heller said in a statement announcing his co-sponsorship of the bill. "This bipartisan legislation puts Americans who are suffering first by allowing Nevada's medical marijuana patients, providers, and businesses that are in compliance with state law, to no longer be in violation of federal law and vulnerable to federal prosecution.
"I look forward to working with Senators [Cory] Booker [D-N.J.], [Dr. Rand] Paul [R-Ky.], and [Kirsten] Gillibrand [D-N.Y.] on this legislation and to ensure states setting their own medical marijuana policies without federal interference becomes a reality."
Paul, the primary sponsor of the bill, has long campaigned for a more sensible drug policy.
"For far too long, the government has enforced unnecessary laws that have restricted the ability of the medical community to determine the medicinal value of marijuana and have prohibited Americans from receiving essential care that would alleviate their chronic pain and suffering," said Paul, an ophthalmologist. "I am proud today to stand with Sens. Gillibrand and Booker to introduce a bill that will fundamentally change our nation's drug policies and have a positive impact on the lives of our Veterans and children."
This is a terrific bill, one that will address some of the longstanding problems associated with medical marijuana. It resolves the federal-state tension that exists in current law, with the federal government banning all marijuana use while states are allowing it for medical (and, now, even recreational use). Moving the drug to Schedule II brings the government's approach to marijuana in line with the medical community, where most doctors acknowledge the therapeutic usefulness of the drug.
And the provisions on banking will be a tremendous help to medical marijuana businesses, which have suffered because banks are reluctant to do business with them (or loan money to them) because of the illegal nature of marijuana in current law. We've seen the impact of that as medical marijuana dispensaries work to get set up in this state.
Let's hope that the bi-partisan gang of Paul, Booker, Paul, Gillibrand and Heller get this bill through the Congress and to the president's desk, and that he signs it.
You can read the bill for yourself below.