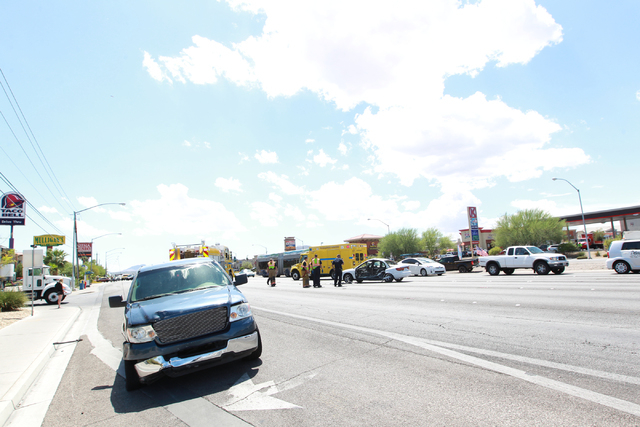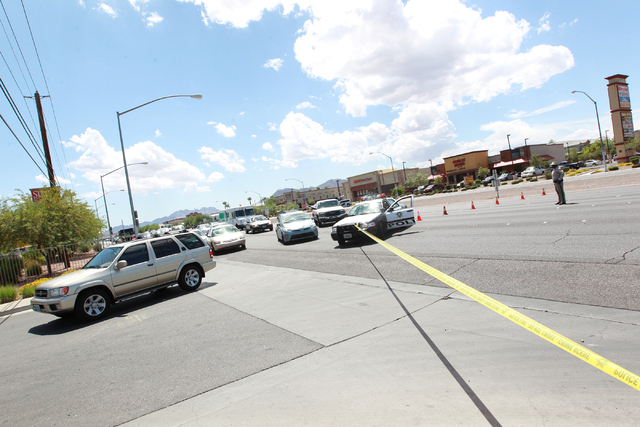 A 76-year-old man is dead following a two-vehicle crash Wednesday morning near Boulder Highway and Russell Road, Las Vegas police said.
Police received a call about the crash at 11:16 a.m. A blue pickup and white sedan had collided just north of the intersection.
Victor Mejia, 50, was approaching a green light in a 2005 Ford truck north on Boulder Highway, near Russell Road, when a 2000 Saturn SL2 driven by the 76-year-old man exited a private driveway near 6451 E. Russell, police said.
Mejia's truck hit the Saturn's driver side, causing "severe damage," police said. The Saturn's driver was pronounced dead at University Medical Center, police said.
Mejia remained at the scene and was not injured. The crash remains under investigation, police said. The Clark County coroner will identify the deceased after family has been notified.
Northbound lanes of Boulder Highway were closed while police investigated.
Review-Journal writer Ricardo Torres contributed to this report.
Contact reporter Cassandra Taloma at ctaloma@reviewjournal.com or 702-383-0381.