'Big Squeeze' construction project ends ahead of schedule
November 15, 2017 - 5:31 pm
Updated November 15, 2017 - 11:17 pm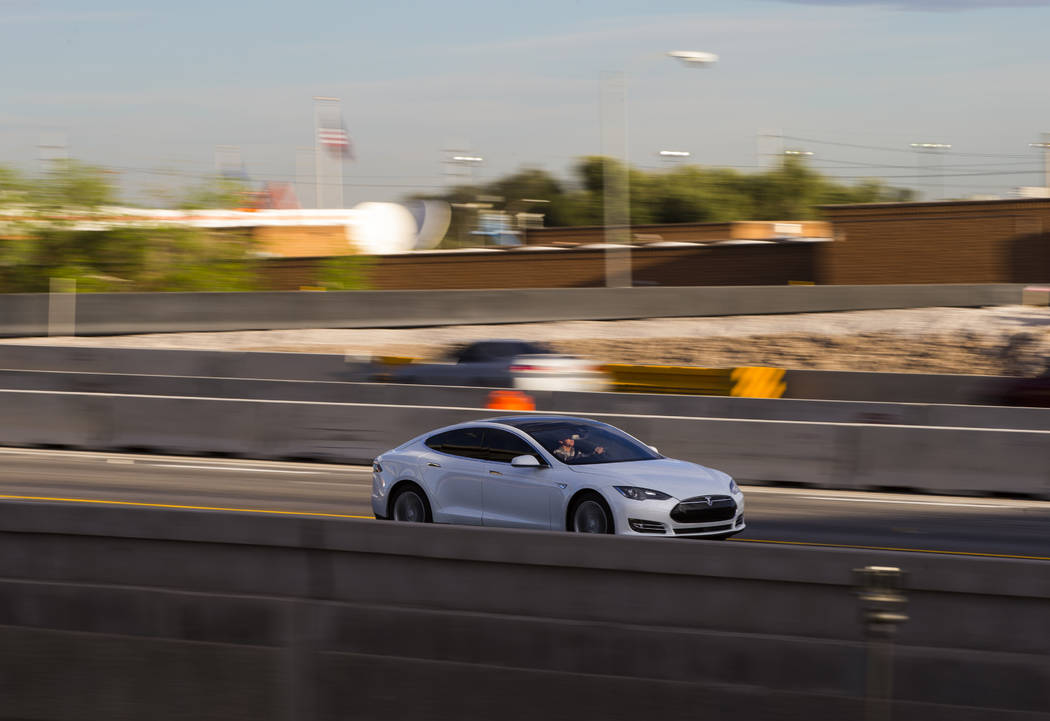 Downtown Las Vegas commuters will have something to be thankful about next week.
The latest traffic nightmare known as the "Big Squeeze" will end nearly two months earlier than expected, with lane restrictions lifting from U.S. Highway 95 in the days leading up to Thanksgiving, the Nevada Department of Transportation said.
Southbound U.S. 95 will be restored to three lanes between Interstate 15 and Rancho Drive on Sunday, while the northbound lanes will return to normal next Wednesday, Transportation Department spokesman Tony Illia said.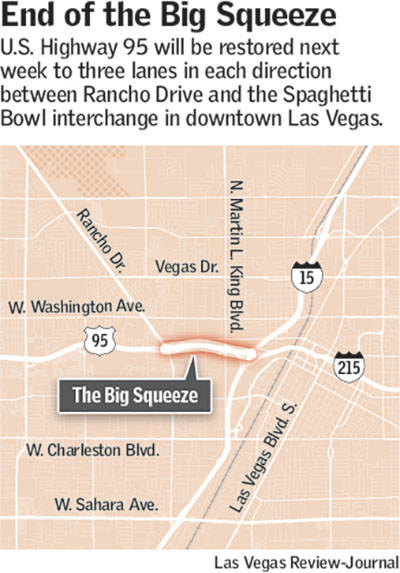 Kiewit Infrastructure West Co. will receive more than $5 million in early completion bonuses for finishing the work well before the January deadline, Illia said.
Commuters lost a traffic lane in each direction of U.S. 95 when the Big Squeeze started in mid-March, providing crews enough room to split the northbound and southbound lanes by roughly 70 feet.
That created enough room to start construction of an 81-foot-tall flyover ramp that's starting to take shape for high-occupancy vehicles. The carpool ramp will have one lane for drivers headed from southbound U.S. 95 to southbound I-15 and another connecting northbound I-15 to northbound U.S. 95.
The Big Squeeze, with its monstrous predecessor "Carnado," are part of the larger umbrella of Project Neon, a $1 billion effort to redesign and add traffic lanes along I-15 from the U.S. 95 interchange to Sahara Avenue by fall 2019.
Motorists can breathe a sigh of relief, for now.
A third and final yet-to-be-named project is scheduled to start in March, when the ramp linking southbound U.S. 95 to southbound I-15 will be reduced to one lane as it undergoes modifications, Illia said. Lanes on I-15 will be affected during the next round of work, which is expected to end by November 2018.
Contact Art Marroquin at amarroquin@reviewjournal.com or 702-383-0336. Find @AMarroquin_LV on Twitter.
Big effect
The Big Squeeze affected roughly 219,000 vehicles daily from the time it started in mid-March, according to the Nevada Department of Transportation.