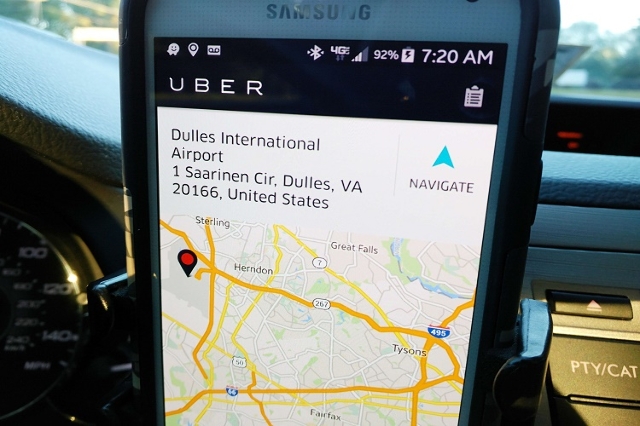 Drivers of ride-hailing companies in Clark County might face another requirement: obtaining a county business license.
County Commission Chairman Steve Sisolak is proposing an ordinance that would require individual drivers with ride-hailing companies to get a county business license.
It's another wrinkle in a widening dispute between the county and the ride-hailing companies Uber and Lyft, which allow passengers to get rides through cellphone apps that connect them to drivers.
The companies decided to begin operations before county officials approved a business license ordinance for the industry, mainly because they already had state permits in hand. That county business license proposal, which would be for companies and not drivers, is pending before county commissioners and up for a vote on Oct. 20.
County officials have begun issuing citations to ride-hailing companies at McCarran International Airport. By the end of Tuesday, the county had given 419 citations to drivers since the companies began operating without county permits earlier this month.
Under Sisolak's proposed ordinance, each driver would have to pay a semi-annual fee of $50, or $100 a year. County business license officials could suspend or terminate licenses of drivers who have a change in their driver's license status or vehicle registration, but don't notify the county within 30 days. Other reasons include a change in driving or criminal history.
"These are the questions we're going to now get answers to," Sisolak said. "We'll know how many drivers are out there. We'll know how many vehicles there are. It will give us access to more information that … the companies did not provide us."
The relationship between the county and Uber and Lyft nose-dived at the Sept. 15 commission meeting. At the time, county officials weighed whether they could issue the companies temporary licenses so they could start operating by Oct. 15. The timing was an issue for the companies because the state license issued by the Nevada Transportation Authority required them to start operating within 30 days of gaining state approval. The vote on the county business license ordinance for companies isn't up for a vote until Oct. 20.
Frustrated county commissioners repeatedly asked the company representatives if they felt they had the right to start operating without a county business license in hand. The company representatives at the time didn't directly answer, saying that they didn't know.
Later on that day, Uber and Lyft both announced they were beginning operations in Southern Nevada, with 1,000 contracted drivers for each company.
Sisolak said ride-hailing company drivers are independent contractors and should be required to get individual business licenses.
The county uses that system for other industries, such as real estate agents.
Uber didn't respond to a request for comment late Wednesday. But a Lyft representative said the company is reviewing the proposal.
The ordinance will be introduced on Tuesday. The county will then solicit business impact statements from the companies, with a final vote coming on Nov. 17.
Sisolak said he hasn't contacted the companies for feedback on the latest proposal, but noted they'll have a chance to weigh in.
Contact Ben Botkin at bbotkin@reviewjournal.com or 702-387-2904. Find him on Twitter: @BenBotkin1