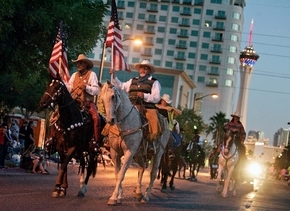 Helldorado Days, the city's annual five-day tribute to its Wild West heritage, includes a parade that will close downtown streets Saturday.
Portions of the Fourth Street parade route will be closed to traffic between Gass and Ogden avenues beginning at noon.
The 2½-hour parade begins at 5 p.m.
In addition to Fourth, small parts of side streets will be closed for staging, bleachers and portable performance stages.
Bridger Avenue will be closed one block east and west of Fourth Street for bleachers and a mobile stage.
Coolidge, Hoover and Gass avenues will close between Casino Center Boulevard and Fourth by 2 p.m. Remaining side streets from Garces to Stewart avenues will close by 3 p.m. on both sides of Fourth Street.
Fourth Street will be completely closed for the parade from Las Vegas Boulevard to Stewart Avenue beginning at 4 p.m. All streets should reopen to traffic by 9:30 p.m.
This year's Helldorado Days has been designated a Nevada Sesquicentennial event.
Several other Helldorado events scheduled Wednesday through Sunday won't close streets, but will result in additional downtown traffic. Rodeos and carnival events are scheduled all five nights. Concerts are planned Wednesday through Saturday evenings.
Contact reporter Richard N. Velotta at rvelotta@reviewjournal.com or 702-477-3893. Follow him on Twitter @RickVelotta.